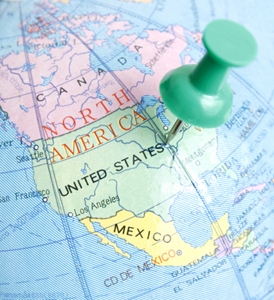 05/27/2014
For most people, traveling is a way to slow down from the pace of your busy life and immerse yourself in another place for a few days or weeks. Others subscribe to the philosophy of quantity over quality. In recent years, the idea of visiting all 50 states has become the ultra-marathon of United States travel.
Leave no state untoured
The All Fifty Club is devoted to honoring those with the time and the drive to set foot in every state in the U.S. Recognizing the monumental nature of the task, the club will consider anyone who has visited 35 or more states a member and award them with a personalized plaque.
Anyone can claim membership, as no proof is required, but as the website says, anyone choosing to lie to become a member has bigger issues to work through. Rather than being an award, the All Fifty Club's certificates are more of a reminder for a personal achievement. As such, there is only one actual rule governing what constitutes a visit: airports don't count.
Travel restrictions apply
Some, however, choose to impose their own restrictions for a bigger challenge. CNN reported that two friends, Kristin Sweetman and Katie Stern, made a goal to volunteer for at least one day in each state. Just one month into their seven-month trip, the pair has visited nine states. Their volunteering experience has included gardening for a food pantry and baking for an organization that distributes treats to the families of cancer patients.
Perhaps the most extreme version of the 50-state trip and student travel is being undertaken by two film students from Missouri, Meredith Jacob and Madeline Carl. The two plan to visit one state per day for 50 days and film the whole experience, according to the Columbia Tribune. And if that doesn't provide enough of a challenge, they also want to do it without spending a cent on lodging.
"We're still working on it, but we're finding friends and family and family of friends all over," Carl told the news source. "We're trying not to pay for a single hotel room."
On the trip, the film makers plan to visit one tourist attraction at each stop and to explore small shops while they're in town. The documentary they're filming with focus on asking locals the question, "Who supports you in your life?"
Whether you want to shoot a documentary, help people in need or just test your endurance, visiting every state in the Union is the ultimate United States travel challenge.