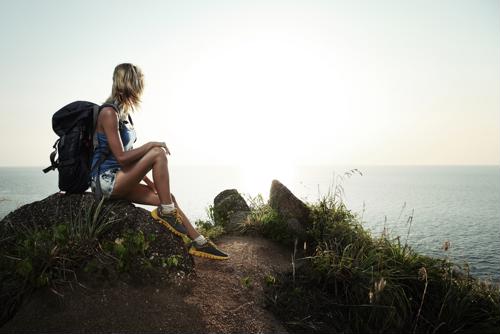 9/11/2018
Coordinating with a group of friends or family members to plan a vacation can be difficult, especially if everyone's schedules clash. If you're in desperate need of a getaway, however, you can just hit the road - or get in a plane - by yourself! Traveling alone may seem intimidating, but it's the perfect opportunity for a relaxed and rewarding adventure.
To ensure your safety and maximize the fun, consider the following mistakes you need to avoid if you want to get the most of your solo vacation:
1. Packing too much
Traveling on your own can be stressful enough, and packing too much will just add to the unnecessary anxiety. Not only does it drag you down from commuting fast and efficiently from point A to point B, but it also makes you more of a target, according to travel blog How To Travel. To avoid the extra attention and the - literal - weight on your shoulders, consider packing all of your things into one carry-on bag. This can make the commute easier, and it'll give you more freedom and safety while traveling.
2. Feeling obligated to stay in a hostel
Solo travelers tend to assume that staying in a hostel is their best bet for a few reasons:
It's generally cheaper than a hotel.
It's a simple way to meet like-minded travelers.
But don't feel obligated to book a hostel if you're not comfortable doing so. There are dozens of third-party websites that can help you find a reputable hotel for a decent price, and if that's what's going to make you feel best on your solo trip, you should go for it. Do your research before you make a final decision on lodging.
3. Arriving at a destination after dark
If at all possible, make it a priority to land before the sun sets. Arriving to a new location in the dark is intimidating, as it can make navigating freely and safely more difficult. Getting to your destination before night falls also allows you to get comfortable and explore before the day is over. There's no time to waste on a vacation, so be sure to plan accordingly!
4. Running out of cash
Traveling abroad can be intimidating if you don't bring enough cash to last you throughout the trip. This is especially critical if the country you're visiting doesn't accept the major credit card you carry. To avoid running into this mistake, make sure you set aside more than enough cash to last you throughout your vacation. Just be careful about how much you carry at a time - it's in your best interest to carry a small amount every day, and then leave the remainder locked up in your room. If the hotel, hostel, or other lodging option you chose has a safe in the room, make sure you take advantage of it.
5. Overscheduling yourself
A solo vacation should be packed with tons of adventurous activities, between sight-seeing opportunities, dining experiences and more. But you need to make sure you set aside enough time to relax. Avoid overscheduling yourself so that you're not feeling stressed out during your trip. It's smart to create an itinerary for yourself, but you should leave enough buffer in between travel plans and excursions to avoid over-tiring yourself during your vacation. Your top priority should be go with flow, not get in over your head.
6. Following someone else's itinerary
Remember: The point of this vacation was to travel solo Even if you meet like-minded people throughout your trip who want you to join in on their excursions, make sure you're doing what you want to do. Don't feel obligated to follow someone else's itiner.ary. Make memories the way you envisioned while planning your solo getaway!
7. Blowing off travel insurance
Travel insurance may seem like an avoidable expense while booking a trip that stays within your budget, but it can save you in the long run. Let's face it - life happens, and it doesn't pause just because you're going on vacation. By investing in travel insurance, you can prepare for the worst that could occur before you head out on your trip, or worse - during. Don't blow this tip off!