Mexico Travel Insurance
Familiarize yourself with Travel Guard's most important travel tips and safety information
to make sure you're prepared for your vacation to Mexico.
GET A QUOTE
One of the more affordable international destinations to visit, Mexico offers a wide range of experiences to suit every traveler. If you're looking to relax and recharge, Isla Mujeres off the coast of Cancun is the perfect island getaway with white-sand beaches and breathtaking coral reefs. If adventure travel is more your speed, try a kayaking trip in Baja where you might just spot some grey whales. While you handle the fun, we can help with planning.
In this article:
Travel Insurance for Mexico
Do I need travel insurance to visit Mexico?
Currently it is not required to have travel insurance to visit Mexico. However, given that most U.S. health insurance plans may not cover you when traveling internationally, having a travel insurance plan with medical expense coverage (in addition to other helpful coverages) is always a good idea.
What is the best travel insurance for Mexico?
Travel Guard has comprehensive travel insurance plans that are a great fit for travel to Mexico. Our Preferred Plan is a great place to start, it has medical expense coverage as well as trip interruption, trip delay, baggage coverage and more. Another important thing to consider is what you'll be doing on your trip. Travel Guard offers an Adventure Sports Bundle, which is a great add-on if you plan to do any adventurous activities like skydiving, scuba diving, or mountain climbing.
How much is travel insurance for a trip to Mexico?
Travelers often score great deals to Mexico, so many people question if travel insurance is worth it (it is!). Travel insurance typically costs between 5-7% of your total trip cost. There are several factors at play when pricing your insurance like the product you select and the number of travelers. Check out our article on how much travel insurance costs for even more detail.
Ready to book your travel insurance for your Mexico trip? Travel Guard's award-winning travel insurance provides excellent coverage options and access to 24-hour emergency travel assistance. Compare our travel insurance plans to find the best option for your travels today.
Mexico Travel Tips and Safety Information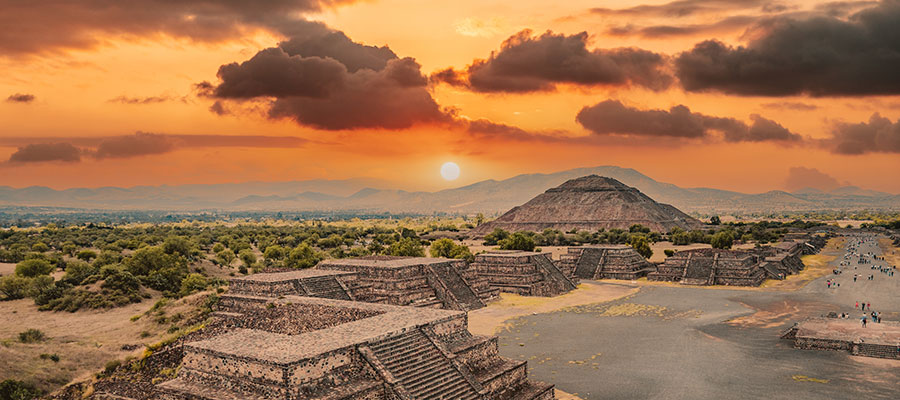 Travel Guard provides excellent travel insurance plan options for travelers to Mexico. We also want to ensure visitors to the country are safe and as informed as possible. We've compiled some popular questions that tourists traveling to Mexico may have.
Are there COVID-19 restrictions for U.S. visitors to Mexico?
For the latest information related to COVID travel requirements for Mexico, please visit the official U.S. embassy site.
Is Mexico safe to visit?
Mexico remains a top destination for tourists from all over the world due to its beautiful beaches, delicious food, and rich culture. Visitors staying in tourist destinations can feel safe knowing that crimes are rarely directed at travelers as long as they remain within tourist zones and book transportation, activities, and excursions in advance through reputable providers. The most common crime tourists encounter is petty theft. To help ensure that you are not targeted, avoid placing wallets in back pockets, keep designer clothing and jewelry to a minimum, and try to refrain from using expensive electronics on the street. Minimize your risk by trying to blend in as much as possible and by not being too trusting of strangers. Visit the U.S. Department of State website for up-to-date information on travel advisory levels and safety information for travelers to Mexico.
All U.S. travelers should enroll in the Smart Traveler Enrollment Program (STEP), a free service offered to U.S. citizens traveling and living abroad. Enrolling in this program allows you to receive important information from the Embassy as well as helps the Embassy contact you in an emergency.
What currency is used in Mexico?
The Mexican Peso is the currency used. All major cities will have places where visitors can exchange money from U.S. dollars to pesos. Debit and credit cards are commonly used at most well-known restaurants, hotels, and shopping malls. But if you're planning on shopping from kiosks or local markets, it's best to have pesos on you.
What language is spoken in Mexico?
Spanish is the official and most widely used language in Mexico. However, English is very commonly used throughout tourist destinations and cities near the U.S. border. It never hurts to learn a few common Spanish phrases in case you ever find yourself in a pinch. To ensure that you are never in a situation where you cannot communicate, try downloading a translation app that works without an internet connection.
Do I need a visa or passport to travel to Mexico?
Visas are not required for travelers with citizenship in the U.S., as long as the traveler's stay does not exceed 180 days. Please visit the State Department's Mexico country information page for the most up-to-date information regarding visa requirements and other legal travel considerations.
Whether you're traveling by car or airplane, U.S. citizens should be prepared to present a valid passport book or card when entering Mexico. If you're making your way to Mexico by car, have your driver's license and proof of car registration on hand as well. These documents will be especially important when returning to the U.S.
Some cruise lines permit passengers to forego a passport under certain circumstances. Closed-loop cruises (defined as cruises which begin and end at the same port of call) often allow travelers to present an enhanced driver's license along with a birth certificate in lieu of a passport. Different cruise lines have different policies, so be sure to check carefully with your cruise provider if you intend to travel without a passport.
How do I contact the U.S. Embassy in Mexico?
The United States Embassy in Mexico is in Mexico City. Visit the official U.S Embassy government website for a list of up-to-date phone numbers and addresses.
What is the weather like in Mexico?
Because Mexico is such a large country, the weather can vary significantly between regions and seasons. Northern Mexico largely consists of deserts and steppes, where the temperature can get hot during the day but cool at night. Central Mexico is mountainous, with hot summers, mild winters, and pleasant transition seasons. Southern Mexico is quite tropical, with hot, humid summers and warm winters and transition seasons. Regardless of seasonal differences between regions, a majority of Mexico is subject to a rainy season from June to October, and a dry season from November to May. Finally, do bear in mind that Mexico is subject to hurricane season from early summer through late fall. Given the climate diversity that Mexico experiences, be sure to check local conditions before embarking on your journey.
When is the best time of year to visit Mexico?
Dry weather, sunshine and warm temperatures generally make late spring (April – May) a very popular time to take a trip to Mexico. Not only does the pleasant weather make the ideal scenario for outdoor activities, but it also makes for the perfect time to experience food, music, and cultural events. If you're planning a beach vacation but hoping to avoid large crowds of other tourists, do keep in mind that beaches are often crowded from February to early April due to the U.S spring break season.
What is the dial code for calling to and from Mexico?
Mexico's dial code is 52. You can use this to call both Mexican landlines and mobile phone numbers. Be sure to consider the area code of the city you're calling as well as how much the call is going to cost. Calling a Mexican landline is often less expensive than connecting with a cell phone.
What kind of power adapter do I need for my electronics?
A power adapter won't be needed to use your U.S. electronics, as Mexico uses type A and type B sockets and plugs. Chargers and appliances can easily be used without an adapter.
Other Mexico FAQs
What vaccines do I need to travel to Mexico?
There are certain vaccines that are recommended, but not required, to travel to Mexico. You can find a list of currently recommended vaccines by visiting the website for the CDC and WHO.
What should you tip in Mexico?
Like many countries around the world, tipping is an essential income for staff working in hospitality. While it's ultimately up to you how much you tip, the recommended amount is between 10- 20% of the total bill. In most parts of the country, it's acceptable to tip in either pesos or dollars, but pesos are typically preferred.
Will my phone work in Mexico?
Most major carriers will allow you to use your cell phone in Mexico. However, be sure to check with your provider and phone plan specifically before departure, as there may be fees associated with making calls and using data while in Mexico. No matter your provider, you will be able to use Wi-Fi and take pictures without worrying about additional fees, if your phone's cellular connection is turned off or switched to airplane mode.
Can I drive in Mexico?
Both residents and visitors are required to have a valid driver's license in order to operate a vehicle in Mexico. Your U.S. license is acceptable, as well as your car's registration and insurance if you're driving your personal car across the border. If you decide to rent a car in Mexico, you will need to be at least 21 years old and may need to purchase temporary auto insurance while there. Be sure to check Travel Guard's rental car insurance offerings before you rent to ensure you're getting adequate coverage.
Travel Guard offers comprehensive and customizable travel insurance plans for travelers heading to Mexico. With excellent coverage and specialized emergency travel assistance representatives ready to help you at any time, Travel Guard is there for you. Compare our popular plans and find the best one for you!
GET A QUOTE