‹ Education Center
How Much Does Travel Insurance Cost?
Let's break down how travel insurance is priced.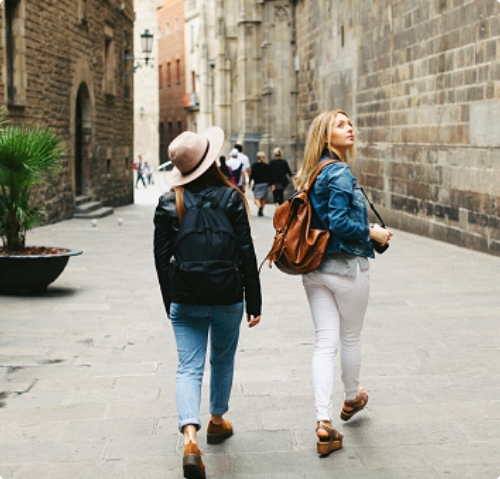 In general, your insurance will be about 5 to7% of your total trip cost.
When you consider it like that, it can be a small price to pay in order to protect your trip investment.
But what goes in to calculating the cost of your travel insurance? A lot goes into pricing! Most Travel Guard® plans are multi-factor plans, meaning multiple factors go in to calculating the risk of a given trip, which in turn informs the premium price you could pay. Those key factors could be things like your age, trip cost, trip length, number of people on the policy, product type and optional add-ons. Let's take a closer look at some of those factors below.
Product Type
We offer several different product options to choose from. Our Essential Plan is ideal for basic domestic trips because of its great price, but it offers the least amount of medical expense coverage. On the other hand, our Deluxe Plan can be a good fit for international travel because of its higher limits on most coverages, including medical expense coverage.
For example, if an accident occurred, and you had to put in a claim for a covered medical expense, you would have a higher coverage limit available to you to claim against and could get more (or even all) of your medical expense bill covered. Because of the differences in coverages and coverage amounts, the Deluxe Plan costs more than the Essential Plan.
Visit our Compare Plans page to see the difference is benefits and coverage limits available with our popular plans. Having higher limits on coverages and more benefits included in your plan may cost you more, but it may make the most sense for your trip investment and type of trip.
Optional Add-Ons
In addition to different products, Travel Guard has optional add-on coverages that you can purchase with certain plans. Add-ons like Cancel for Any Reason, Rental Vehicle Damage Coverage, the Adventure Sports Bundle, or an increase in medical expense coverage which all increase the cost of your insurance – but they give you more coverage as well!
Number of People on a Policy
Multiple people included on a policy will mean a higher premium than a single-traveler policy. Just like trip length, the more people there are, the greater the chance of something unexpected happening.
Trip Cost
Trip cost reflects the nonrefundable expenses that may be covered by your travel insurance. The more expensive the trip, the more there is to lose, and the more expensive it is for your insurance to cover any covered losses. So a luxury, once-in-a-lifetime trip that features multiple flights, an expensive hotel and excursions will likely cost more to insure than a simple weekend getaway.
Age
Statistically speaking, travelers are at greater risk as they get older. Often times those travelers may have a pre-existing medical condition (which can be covered with our waiver if you purchase your insurance early) or be more likely to see a doctor while on their trip. Because of this, premium will increase as the age increases.
Trip Length
Everything comes back to risk with insurance, and the longer you are on your trip, the risk increases that something may happen where you'll need your insurance (like a medical issue or lost belongings, for example). That's why a 30-day trip is going to be more expensive to insure than a seven-day trip.
---
As you can see, a lot goes in to pricing your travel insurance plan for your upcoming trip. While it's important to have your trip details accurate when purchasing your insurance, you can use estimates to get a quote either online or through our call center. That way you have an idea of what to expect and can calculate the cost of insurance into your overall travel plans.
When you consider what travel insurance can do for you in the event that something happens before or during your trip – it's a smart idea to protect your trip investment. If you'd like more information on what travel insurance is, be sure and check out our helpful article in our Education Center.
Get travel insurance the way you want it!

800-826-5248