Australia Travel Insurance
Familiarize yourself with Travel Guard's most important travel tips and safety information
to make sure you're prepared for your vacation to Australia.
GET A QUOTE
Whether you're a thrill seeker or looking for a tamer adventure, Australia is one of the most popular destinations to step out of your comfort zone. With over nine million tourists a year, it's not hard to see why this continental escape is popular amongst visitors. From the Sidney Opera House to Great Barrier Reef, you'll find lots of architecture, landscapes and unusual critters to fill your vacation with excitement.
In this article:
Travel Insurance for Australia
Do I need travel insurance to visit Australia?
While it's not a requirement to get travel insurance for Australia, it's not a bad idea. Infamous for its various venomous creatures, you'll want to make sure you're covered from medical expenses to last-minute interruptions you might not have predicted.
What is the best travel insurance for Australia?
Travel Guard has comprehensive travel insurance plans to help protect your investment for your Australian vacation. Because of its location, flights to Australia may be pricey, and that doesn't include accommodations once you're there. Because of the high trip investment, it makes sense to look at our Deluxe plan, which provides higher coverage limits in the event you need to use travel insurance. Our plans are customizable with additional add-ons to create the plan that's perfect for you. If you're planning a lot of physical activities consider the Adventure Sports Bundle as an add-on for activities such as scuba diving, surfing or skydiving.
How much is travel insurance for a trip to Australia?
Protecting your travel investment for a trip across the world can feel intimidating, especially in a country with so much adventure. Travel insurance usually ranges between 5-7% of your total trip cost. Several factors come into play when pricing your insurance, such as the product selected and the number of travelers in your party. For more information check out our article on how much travel insurance costs.
Ready to book your travel insurance plan for your Australia trip? Travel Guard's award-winning travel insurance plans provide excellent coverage options and access to 24-hour emergency travel assistance. Compare our travel insurance plans to find the best option for your travels today.
Australia Travel Tips and Safety Information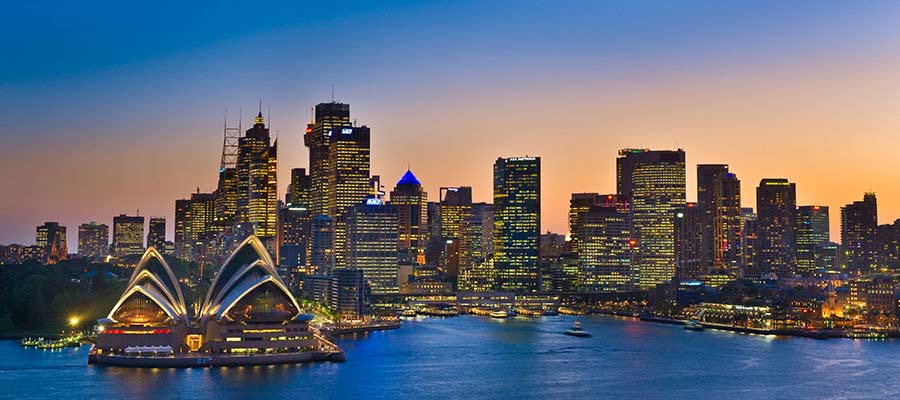 Travel Guard provides excellent travel insurance options for tourists heading to Australia. To ensure visitors to Australia remain as safe as possible, we compiled a list of the most asked questions tourists have when visiting the country to keep you informed.
Are there COVID-19 restrictions for U.S. visitors to Australia?
For the latest information related to COVID travel requirements for Australia, please visit the official U.S. embassy site.
Is Australia safe to visit?
Australia is generally a low-risk destination. With a low crime rate, you can feel safe in most areas. Make sure to still follow standard safety advice such as being on the lookout for petty thieves and avoiding isolated areas, especially at night. Many travelers are more concerned with the natural safety elements like the animals, spiders and reptiles you may encounter in Australia. While this may not be as big of a concern in cities, be sure to follow all local guidance regarding wildlife no matter where you go. Australia's beaches can also be dangerous due to strong currents as well as sea life. Don't travel to isolated beaches and always heed warnings from lifeguards and local officials. Finally, if you head to the outback, only travel with an experienced guide and never go alone. Australia's more remote areas can have extreme weather conditions and few available resources. It's important to be well prepared to keep yourself safe. Visit the U.S. Department of State website for up-to-date information on travel advisory levels and safety information for travelers to Australia.
All U.S. travelers should enroll in the Smart Traveler Enrollment Program (STEP), a free service offered to U.S. citizens traveling and living abroad. Enrolling in this program allows you to receive important information from the Embassy as well as helps the Embassy contact you in an emergency.
What currency is used in Australia?
Australia's official currency is the Australian dollar. Visitors can exchange money in all major cities. Debit and credit cards are also commonly used at restaurants, hotels, and shopping malls, just be sure to give your bank a heads up before your trip. And if you're planning an excursion to a less-populated location, remember to bring cash.
What language is spoken in Australia?
English is Australia's official language and is largely used across the country. You may find some other languages being spoken, but as a former British colony, it's no surprise that English is the most common language.
Do I need a visa or passport to travel to Australia?
To visit Australia, you'll need both a valid passport and an approved visa. Visitors from the U.S. can stay up to 90 days for business or leisure with a visa. Learn more about the Australian visa process on the U.S. Department of Sate site.
How do I contact the U.S. Embassy in Australia?
The U.S. Embassy in Australia is located in Canberra. Visit the official embassy government website for more information and up-to-date details such as phone numbers and addresses.
What is the weather like in Australia?
Depending on the time of year you're scheduled to visit, you'll encounter vastly different circumstances. If visiting in the "dry season," which is from May to October, you can expect clear, sunny days and cool nights with temperatures averaging around 77°F to 91°F (25°C to 33°C). In the "wet season" (November through April) expect wet, rainy days with temperatures ranging from 69°F to 89°F (20°C to 32°C).
When is the best time of year to visit Australia?
If you're looking to visit Australia, consider visiting in the spring or autumn to avoid the drastic summertime temperatures and the cool winter. Plus, you may find travel costs to be lower during these times of year. If you do plan a springtime trip, be sure to explore the blooming wildflowers across the continent or take in the wonderful reds of the outback during Autumn.
What is the dial code for calling to and from Australia?
The dial code for Australia is +61, which can be used to call both landlines and mobile phone numbers. Remember to add the area code of city you're calling and make sure you're aware of the price it is to call. Often connecting with a landline is cheaper than a cell phone.
What kind of power adapter do I need for my electronics?
Power plugs and sockets in Australia are type I. The standard voltage is 230 V and the standard frequency is 50 Hz. To make sure you have your bases covered, we recommend a universal adapter that you can bring along on this trip and other abroad trips you may have in the future.
Other Australia FAQs
Do I need any vaccines before traveling to Australia?
Before traveling to Australia, the CDC recommends being up to date on vaccines for COVID-19 as well as Hepatitis B, Measles, Rabies, Yellow Fever and routine vaccines. For a full list of vaccines, head to the CDC website and find more ways to stay safe and healthy on your trip.
Can I rent a car in Australia?
To be able to rent a car in Australia, you must be at least 21 years of age, though drivers under 25 may face additional charges. Make sure to know the rental company's 's age limit as well, since the cut off may be around 75 years old. Make sure to bring your driver's license with you, to be able to rent a car, you'll need to have had your license for at least a year. U.S. drivers will need to obtain an international permit. Additionally, you'll need rental car insurance for collision damage and theft protection.
What time zone is Australia in?
There are three main time zones used in Australia, but nine in total across the region. The primary ones are Australian Eastern Standard, Central Standard and Western time. Before your trip, be sure and research the area you are staying in to more accurately predict the time difference back home.
Travel Guard travel insurance offers comprehensive and customizable plans for travelers heading to Australia. With excellent coverage and specialized emergency travel assistance representatives ready to help you at any time, Travel Guard is there for you. Compare our popular plans and find the best one for you!
GET A QUOTE