Bahamas Travel Insurance
Familiarize yourself with Travel Guard's most important travel tips and safety information to make sure you're prepared for your vacation to The Bahamas.
GET A QUOTE
Experience crystal clear ocean waves on pink sand beaches while catching up on much needed rest and relaxation. As one of the most popular Caribbean Island vacations, The Bahamas offers a wide range of experiences to suit every traveler from bathing in the island sun to adventure sports and jeep tours alongside the ocean. While you prepare for the fun, we'll help with planning.
In this article:
Travel Insurance for The Bahamas
Do I need travel insurance to visit The Bahamas?
It is no longer required for visitors traveling to The Bahamas to have travel insurance. However, U.S. health insurance plans may not cover you while traveling internationally, so having a travel insurance plan with medical expense coverage is always a good idea to ensure you're covered.
What is the best travel insurance for The Bahamas?
Travel Guard has wide-ranging travel insurance plans that are a great fit for traveling to The Bahamas. An ideal place to start is our Preferred Plan since it includes medical expense coverage as well as coverage for trip interruption, trip delay and baggage.
Remember to consider the activities you'll be doing on your trip as well. If you're considering extreme sports like skydiving or jet skiing, consider Travel Guard's optional Adventure Sports Bundle for additional coverage.
How much is travel insurance for a trip to The Bahamas?
Visiting The Bahamas can be quite pricey, as it's one of the most expensive places to live. Popular for all-inclusive resort vacations, you may find yourself paying for additional excursions or day trips. And if you're staying outside of an all-inclusive, your expenses might add up even more. For this reason, travel insurance is great to protect your travel investments.
Typically, travel insurance plans cost between 5-7% of your trip, but there are several factors at play when it comes to pricing, i.e., the product you select and the number of travelers in your party. For more details on pricing, check out our article on how much travel insurance costs.
Ready to book your travel insurance plan for your Bahamas trip? Travel Guard's award-winning travel insurance plans provide excellent coverage options and access to 24-hour emergency travel assistance. Compare our travel insurance plans to find the best option for your travels today.
The Bahamas Travel Tips and Safety Information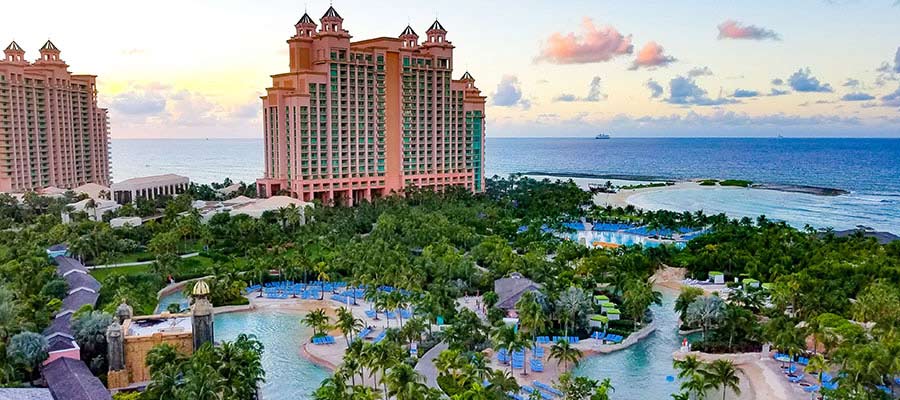 Travel Guard provides excellent travel insurance plan options for travelers to The Bahamas. To help ensure visitors to the country are safe and as informed as possible, we compiled a few of the most popular questions that tourists traveling to The Bahamas may have.
Are there COVID-19 restrictions for U.S. visitors to The Bahamas?
For the latest information related to COVID travel requirements for The Bahamas, please visit the official U.S. Embassy site..
Is The Bahamas safe to visit?
The Bahamas is one of the top island destinations for tourists; however, when traveling to the islands there are a few precautions you should take to remain safe. There are risks of both petty and violent crime, even within tourist areas. Don't stray from populated tourist areas, especially after dark.
Water activities are popular in The Bahamas, but there are safety concerns associated with equipment rental services and excursions. Be extremely careful if you choose to participate. Finally, make sure you keep track of storms during hurricane season, so you can stay prepared for potential trip disruptions.
Visit the U.S. Department of State website for up-to-date information on travel advisory levels and safety information for travelers to The Bahamas.
All U.S. travelers should enroll in the Smart Traveler Enrollment Program (STEP), a free service offered to U.S. citizens traveling and living abroad. Enrolling in this program allows you to receive important information from the embassy and helps the embassy contact you in an emergency.
What currency is used in The Bahamas?
The Bahamian dollar (BSD) is the official currency of The Bahamas. The Bahamian dollar is on par with the U.S. dollar (USD) meaning 1 BSD is equal to 1 USD. However, you don't need to exchange currency, as the USD is commonly accepted. Debit and credit cards are majorly accepted as well, just be sure to let your bank(s) know about your travel plans. Remember to keep some cash on hand for smaller vendors and markets.
What language is spoken in The Bahamas?
English is the official language of The Bahamas. However, there are some words or phrases that may be more local to the culture. To ensure there's no confusion during your travels, get familiar with common phrases used on the island.
Do I need a visa or passport to travel to The Bahamas?
Visas are not required for U.S. travelers visiting the island for 90 days or less. U.S. citizens are still required to bring a valid passport upon entry to The Bahamas.
How do I contact the U.S. Embassy in The Bahamas?
The U.S. Embassy in The Bahamas is in Nassau. Visit the official U.S Embassy government website for a list of up-to-date phone numbers and addresses.
What is the weather like in The Bahamas?
The weather in The Bahamas can vary by season. During the summer, temperatures are in the low to mid 80°sF on average, with nights being slightly cooler due to the ocean breeze. In the winter, temperatures drop down between 70 °F and 78 °F. The Bahamas wet season is from June to November, however there is an average of 300 sunny days per year and showers tend to pass quickly – so you'll likely have more than a few gorgeous days no matter when you travel!
When is the best time of year to visit The Bahamas?
The best time of year to visit this island destination is in the beginning of the year, January to mid-April, as this is when The Bahamas experiences its dry season. Not only does this limit your chances of rain during your travels, but it lessens your exposures to hurricanes – The Bahamas is on the hurricane belt and experiences most storms between June and November.
What is the dial code for phoning to and from The Bahamas?
Just like the U.S., the dial code for The Bahamas is +1 plus the area code to where you're calling, which is likely to be 242, followed by the seven-digit phone number.
What kind of power adapter do I need for my electronics?
A power adapter won't be necessary for your U.S. electronics, as The Bahamas uses type A and type B sockets and plugs. Chargers and appliances can be used as normal without an adapter.
Other Bahamas FAQs
Is The Bahamas an independent country?
Yes, The Bahamas has been an independent country since 1973 ending British rule and is now part of the Commonwealth of Nations.
Are there any kid friendly islands in The Bahamas?
Yes, just like any island in the Caribbean, it's possible to find family friendly resorts to allow you to vacation with the kids. One of the most ideal family islands in The Bahamas is Eleuthera, a peaceful isle with some of the most beautiful beaches in the country. The island has tons of activities, like snorkeling and diving, to allow for plenty of adventure and fun to be had on your vacation for the whole family.
Is it possible to travel between islands in The Bahamas?
Yes, travel between islands is common in The Bahamas. So much so that there are water taxi's available to take you between different island destinations like Nassau, Eleuthera, The Abaco and more.
Travel Guard offers comprehensive and customizable travel insurance plans for travelers heading to The Bahamas. With excellent coverage and specialized emergency travel assistance representatives ready to help you at any time, Travel Guard is there for you. Compare our popular plans and find the best one for you!
GET A QUOTE