United Kingdom Travel Insurance
Familiarize yourself with Travel Guard's most important travel tips and safety information to make sure you're prepared for your vacation to the United Kingdom.
GET A QUOTE
It's no secret the United Kingdom (U.K.)is home to some of the most iconic landmarks – Big Ben, Buckingham Palace, Edinburgh Castle and Giant's Causeway to name just a few. You'll find history and culture around every corner (and maybe a pub too!). It's no wonder tourism is one of the fastest growing industries in the U.K.!
In this article:
Travel Insurance for the United Kingdom
It's no secret the United Kingdom (U.K.)is home to some of the most iconic landmarks – Big Ben, Buckingham Palace, Edinburgh Castle and Giant's Causeway to name just a few. You'll find history and culture around every corner (and maybe a pub too!). It's no wonder tourism is one of the fastest growing industries in the U.K.!
Do I need travel insurance to visit the U.K.?
Insurance is not required for U.S. travelers heading to the U.K. However, there are two important things to think about when deciding if you'll purchase insurance for your trip. First, you're likely spending a fair amount of money in air travel, accommodations and excursions. If you need to cancel or rearrange travel, a Travel Guard travel insurance plan can be there to help. It's also possible your U.S. health insurance may not cover you out of country. Having a travel insurance plan with medical expense coverage may help save you from unexpected expenses while you are on your trip.
What is the best travel insurance plan for the U.K.?
Travel Guard's comprehensive travel insurance plans offer options for every type of traveler. For travelers visiting the United Kingdom our Preferred or Deluxe plans might have exactly what you need. Depending on variables like your age, trip cost, and itinerary, the coverages included with these plans might suit your needs best.
How much is a travel insurance plan for a trip to the U.K.?
The cost of your travel insurance plan will be calculated based on factors like number of travelers, length of stay, and the plan you select. In general, the cost of a travel insurance plan tends to be between 5-7% of your total trip cost. You can read our article on how much travel insurance costs for more detail. Many travelers find the assistance, coverage and reassurance that a travel insurance plan provides to be invaluable – especially on overseas trips.
Ready to book your travel insurance plan for your trip to the United Kingdom? Travel Guard's award-winning travel insurance plans provide excellent coverage options and access to 24-hour emergency travel assistance. Compare our travel insurance plans to find the best option for your travels today.
United Kingdom Travel Tips and Safety Information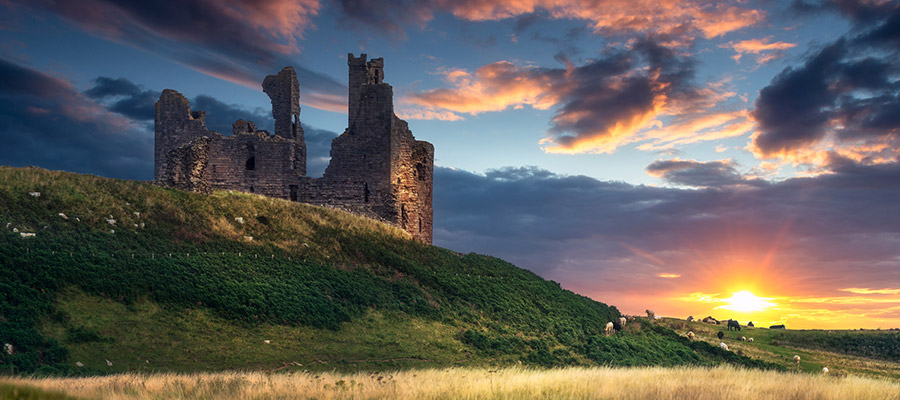 Travel Guard provides excellent travel insurance options for travelers to the U.K. We also want to ensure visitors to the country are safe and as informed as possible. We've compiled some popular questions that tourists traveling to the United Kingdom may have.
Are there COVID-19 restrictions for U.S. visitors to the U.K.?
For the latest information related to COVID travel requirements for the U.K., please visit the official U.S. Embassy site.
Is the U.K. safe to visit?
The U.K. is considered a very safe place to both visit and live. Tourists who travel to any of the countries that make up the U.K. can feel assured that taking general safety precautions will help to guard against most security incidents. As in most countries, crime is higher in major cities, around tourist destinations and on public transportation. Travelers are most affected by petty crimes such as theft of unattended items, snatch-and-grab incidents, vehicle break-ins and ATM fraud. Be sure to research and avoid high-crime areas in larger cities, keep an eye on your belongings and be aware of your surroundings.
Visit the U.S. Department of State website for up-to-date information on travel advisory levels and safety information for travelers to the UK.
All U.S. travelers should enroll in the Smart Traveler Enrollment Program (STEP), a free service offered to U.S. citizens traveling and living abroad. Enrolling in this program allows you to receive important information from the embassy as well as helps the embassy contact you in an emergency.
What currency is used in the U.K.?
The Pound Sterling, also known as the British Pound (GBP), is the official currency used in the U.K. Travelers often make the mistake of thinking that the Euro is a commonly accepted alternative to the Pound. While it's possible to find a few places that will accept the Euro, like some airports and major train stations, most will not.
When it comes to exchange rates, keep in mind that processing fees can vary depending on your location and city. You should be able to exchange currencies at banks and post offices, with major cities most likely to have more options and better exchange fees. If you're planning to travel to a more rural area within the U.K., it's a good idea to exchange your money upon arrival in a larger city first.
What language is spoken in the U.K.?
English is the official language in the U.K. and is widely spoken throughout the area. This means that whether you're visiting tourist destinations or venturing away from common attractions, you're likely to encounter English-speaking people. Visitors to other areas may also hear languages like Welsh, Gaelic, Irish or Cornish.
Do I need a visa or passport to travel to the U.K.?
Yes, you will need a valid passport to enter the U.K. Make sure that your passport is up-to-date throughout your entire stay so you can return back home without any issues. A visa is not required for tourists who are staying less than six months. Always confirm entry and exit requirements prior to leaving on your trip. You can do so at the U.S. Department of State travel website.
How do I contact the U.S. Embassy in the U.K.?
The U.S. Embassy in the U.K. is in London. Visit the official U.S. Embassy government website for a list of up-to-date phone numbers and addresses.
What is the weather like in the United Kingdom?
Weather in the U.K. ranges throughout the year and will depend on the country you're visiting. However, travelers can most likely expect to experience cool temperatures and cloudy skies while avoiding both extreme heat and extreme cold.
When visiting the U.K., it's a good idea to pack an assortment of clothes to be prepared for quickly changing weather conditions. The country is known to have fluctuating weather, meaning you can experience a variety of temperatures and conditions in a single day. Even when heading out for the day, be prepared with extra layers or wet-weather clothing just in case.
When is the best time of year to visit the U.K.?
Many visitors opt to book their U.K. travels in the spring or autumn due to mild weather conditions and beautiful landscapes, as well as festivals and markets to visit. The U.K. offers amazing tourist attractions, prominent historical sites, scientific museums, and notable landscapes. This, along with moderate weather year-round, makes the U.K. popular to visit at any time of the year.
In England, attractions like Roman Baths or the Tower of London are ideal in the warmer spring and summer months, while Warwick Castle or London's Natural History Museum may be more enjoyable outside of the busier summer season. In addition to these destinations, you could pop over to Scotland and visit the Scottish Highlands during peak season, usually June to August.
What is the dial code for phoning to and from the United Kingdom?
The dial code for the U.K. is 44. To make a call from the U.S. to the U.K., first dial the exit code, 011, and then dial the country code, 44. From there, you can dial the area code followed by the phone number. You can use this dial code when calling both landlines and mobile devices in the U.K.
If you are trying to dial out of the country, here are the steps to do so: First, dial 00 (Europe's international access code), then dial 1, which is the code of the U.S. and Canada. Next, dial the phone number including the area code and you are ready to place your call.
What kind of power adapter do I need for my electronics?
When planning a trip to the U.K., the types of plugs and outlets available are a common concern for travelers. Because the outlets in the United Kingdom only work with one type of plug, visitors from the U.S. should bring a power adapter to use their electronics. The U.K. uses a G plug type, which has three rectangular pins arranged in a triangle shape. A U.S-to-U.K. power adapter or travel adapter will likely be able to charge most of your American devices.
Other United Kingdom FAQs
What countries are part of the U.K.?
The U.K. is an island nation located in northwestern Europe. It's made up of England, Scotland, Wales and Northern Ireland.
Will my phone work in the U.K.?
For your U.S. cell phone to work in the U.K., it will need to be technically compatible with the radio frequencies overseas. Luckily, nearly all smartphones made today are automatically equipped to operate on different frequencies and will work in the U.K.
If you're unsure if your smartphone is technically compatible, it's best to reach out to your phone service provider before your trip. They can also help you confirm if your cell phone is automatically "network unlocked." This means that the phone is not solely tied to a singular carrier. If it isn't, you may incur roaming charges or need to purchase the appropriate U.K. SIM card, which will allow you to use your phone and all its features as soon as you touch down in the U.K.
What time zone is the U.K. in?
The U.K. operates on British Summer Time (BTS), which is the standard time zone for Ireland as well as the United Kingdom's Wales, Scotland, England, and Northern Ireland. BTS is one hour forward of the standard time Greenwich Mean Time (GMT) and begins at 1:00 GMT on the last Sunday of March and ends at 1:00 GMT on the last Sunday of October.
Travel Guard offers comprehensive and customizable travel insurance plans for travelers heading to the United Kingdom. With excellent coverage and specialized emergency travel assistance representatives ready to help you at any time, Travel Guard is there for you. Compare our popular plans and find the best one for you!