Puerto Rico Travel Insurance
Familiarize yourself with Travel Guard's most important travel tips and safety information to make sure you're prepared for your vacation to Puerto Rico.
GET A QUOTE
Puerto Rico is a popular island escape and it's not surprising why. From black-sand beaches to the El Yunque National Forest, the only rainforest within the U.S. national park system, there are tons of sights to see, land to explore, and adventures to be had. Are you ready for your island escape?
In this article:
Travel Insurance for Puerto Rico
Do I need travel insurance to visit Puerto Rico?
It's not necessary to have travel insurance to enter Puerto Rico, but it might be the right choice to bring along coverage on your island vacation, especially if you plan on participating in adventurous activities like scuba diving. Make sure to look at Travel Guard's Adventure Sports Bundle add-on so you have all the coverage you need!
What is the best travel insurance plan for Puerto Rico?
Travel Guard has customizable travel insurance plans for your unique trip to Puerto Rico. Start with our Preferred Plan, which includes medical expense coverage, trip interruption and delay coverage, baggage coverage and more.
How much is a travel insurance plan for a trip to Puerto Rico?
Travelers may question if travel insurance is worth it, especially when scoring a great deal on a destination like Puerto Rico. But when something unexpected happens, you'll be happy to have coverage. Travel insurance typically costs 5-7% of your total trip cost. Other factors come into play when pricing as well, like the number of travelers in your party and the plan you select. Check out our article on how much travel insurance costs for even more detail.
Ready to book your travel insurance plan for your Puerto Rico trip? Travel Guard's award-winning travel insurance plans provide excellent coverage options and access to 24-hour emergency travel assistance. Compare our travel insurance plans to find the best option for your travels today.
Puerto Rico Travel Tips and Safety Information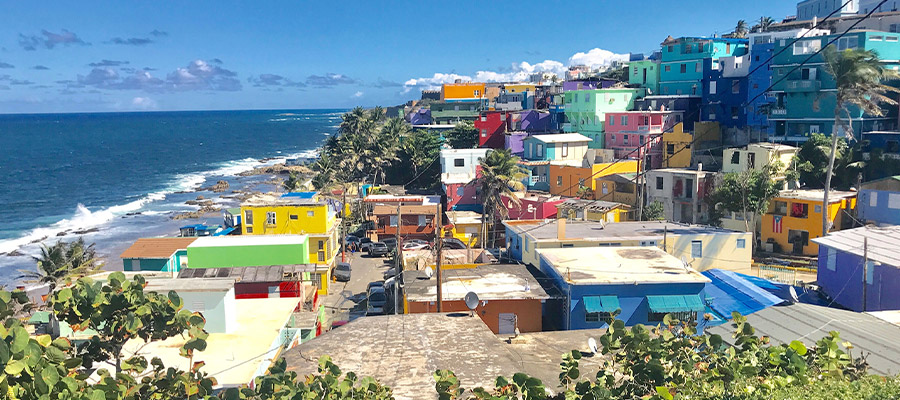 Travel Guard provides excellent travel insurance plan options for travelers to Puerto Rico. We also want to ensure visitors to the country are safe and as informed as possible. We've compiled some popular questions that tourists traveling to Puerto Rico may have.
Are there COVID-19 restrictions for visitors to Puerto Rico?
For the latest information related to COVID travel requirements for Puerto Rico, please visit the official CDC website.
Is Puerto Rico safe to visit?
As a popular tourist destination, Puerto Rico is safe to visit. The crime rate is relatively low, and most crimes involving travelers consist of petty theft and pickpocketing. Still, it's always best practice to take basic safety precautions like keeping your valuables secure and staying aware of your surroundings, particularly when leaving resorts, traveling alone or walking around after dark.
Visitors to Puerto Rico should also keep close watch of the weather during hurricane season, as the island is at risk of severe tropical weather. It's always a good idea to prepare for the potential of a trip cancellation if you are traveling during higher-risk months.
Like other Caribbean destinations, there are plenty of opportunities to visit the beach and take part in various water activities. Always be aware of risks of rip tides and general water safety best practices. If you are booking any tourist activities, be sure to only use trusted services, preferably arranged in advance of your travel.
What currency is used in Puerto Rico?
There is no need to exchange money when traveling to Puerto Rico as this island paradise is a territory of the United States. Be sure and give your bank a heads up that you'll be traveling so there are no issues when using a debit or credit card. Remember to keep some cash on you for smaller vendors as well.
What language is spoken in Puerto Rico?
There are two main languages spoken in Puerto Rico, English and Spanish. Spanish is the first official, and most common, language spoken on the isle. English is most commonly spoken in tourist destinations.
Do I need a visa or passport to travel to Puerto Rico?
Puerto Rico is a territory of the United States. U.S. citizens do not need a travel visa or passport for entry to Puerto Rico. However, a valid ID, such as a driver's license, is required for entry.
How do I contact the U.S. Embassy in Puerto Rico?
As a territory of the U.S., Puerto Rico doesn't have a U.S. Embassy. If you need emergency assistance while traveling the number for emergency services is 911. If you need non-emergency assistance you can always call Travel Guard, and our representatives are happy to help with your travel needs.
What is the weather like in Puerto Rico?
You'll find warm, beautiful weather year-round in Puerto Rico. With an average temperature of 80 °F, summertime never leaves this lovely island. If you'd like a little bit cooler temperatures for your trip, visit in January, Puerto Rico's coldest month, with temperatures around 70 °F.
When is the best time of year to visit Puerto Rico?
To get the most out of your visit, consider visiting Puerto Rico between the months of April and June. This is because the temperature averages around 85 °F and is just before Puerto Rico's rainy season begins.
What is the dial code for phoning to and from Puerto Rico?
As a U.S. territory, Puerto Rico is a part of the North American dialing plan, which means it uses the same +1 dial code.
What kind of power adapter do I need for my electronics?
Visitors from the U.S. going to Puerto Rico do not need to bring a power adapter. Puerto Rico uses the same energy type as the U.S., so travelers can use and charge their devices as normal.
Other Puerto Rico FAQs
Is travel to Puerto Rico considered domestic travel from the U.S.?
As a U.S. territory, all flights to Puerto Rico are considered domestic travel. U.S. citizens do not need a passport to travel between the two countries.
Is it safe to drive in Puerto Rico?
Driving in Puerto Rico is typically safe. However, as you would anywhere, be sure to keep your eyes on the road and drive with caution as reckless drivers can be anywhere.
Travel Guard offers comprehensive and customizable travel insurance plans for travelers heading to Puerto Rico. With excellent coverage and specialized emergency travel assistance representatives ready to help you at any time, Travel Guard is there for you. Compare our popular plans and find the best one for you!