France Travel Insurance
Familiarize yourself with Travel Guard's most important travel tips and safety information to make sure you're prepared for your vacation to France.
GET A QUOTE
France is one of the top tourist destinations from the U.S., and it's not difficult to understand why. Whether you're seeking a world-class ski trip to the French Alps, a shopping and museum-filled sojourn to Paris, or a relaxing stroll through the luxurious southern coastline, France offers a great variety of activities to ensure that travelers with all different interests will be enchanted. While planning your trip to France, consider these frequently asked questions to ensure that your journey goes as smoothly as possible.
In this article:
Travel Insurance for France
Do I need travel insurance to visit France?
Travel insurance is not legally required to enter France as a U.S. tourist. However, with the wide range of activities that France has to offer, having travel insurance is highly recommended. Many U.S. healthcare plans do not offer coverage while you are abroad, so any medical emergencies would need to be paid for out of pocket. Furthermore, France tends to be quite prone to public transit strikes, which can cause major travel delays. A Travel Guard travel insurance plan can provide coverage if you happen to find yourself in any of these situations, making the purchase of travel insurance a worthwhile expense.
What is the best travel insurance plan for France?
All our travel insurance plans offer different levels of coverage, which makes it difficult to recommend a singular product to all travelers across the board. However, for European trips, many of our travelers tend to look at our Deluxe product, given that it offers the most comprehensive coverage with higher benefit limits. Be sure to compare our coverages and add-ons to ensure you have protection for what you may need.
How much is a travel insurance plan for a trip to France?
Pricing for our travel insurance plans is calculated using several different individual factors, ensuring that you have the proper coverage that you need for your trip. For this reason, the price of travel insurance plans can vary. If you have a rough idea of your trip details, get a quote now to see how much a travel insurance plan would cost for your trip.
Ready to book your travel insurance plan for your France trip? Travel Guard's award-winning travel insurance plans provide excellent coverage options and access to 24-hour emergency travel assistance. Compare our travel insurance plans to find the best option for your travels today.
France Travel Tips and Safety Information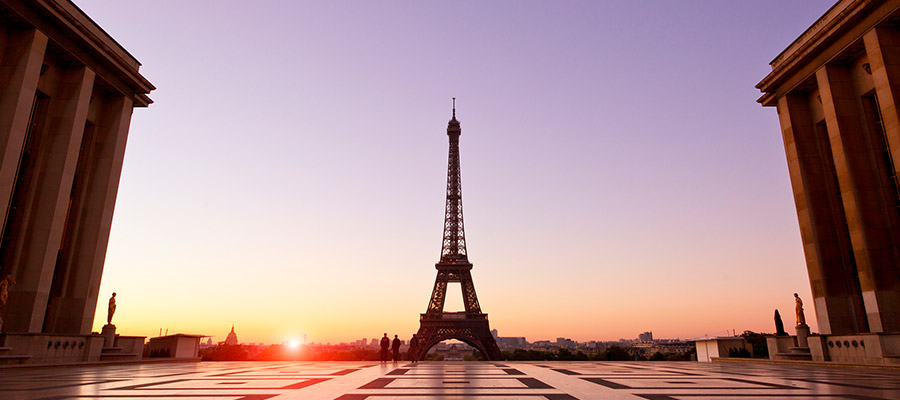 Travel Guard provides excellent travel insurance plan options for travelers to France. We also want to ensure visitors to the country are safe and as informed as possible. We've compiled some popular questions that tourists traveling to France may have.
Are there COVID-19 restrictions for U.S. visitors to France?
For the latest information related to COVID travel requirements for France, please visit the official U.S. Embassy site.
Is France safe to visit?
France is consistently ranked as one of the safest international tourist destinations in the world. The most common crimes directed at tourists are pickpocketing, theft of unattended items and vehicle break-ins. Criminals may even work in groups to target victims, so it is important to always stay aware of your surroundings, especially in crowds, at tourist sites and on public transportation. Violent crimes occur less frequently, but can affect these locations as well, and risks increase after dark. It is always best to avoid traveling alone and stick to populated areas, particularly at night.
France also has very active social, political, labor and activist groups, and strikes and protests are common. Make sure check for pre-announced transportation strikes to minimize your risk of issues and stay away from protests and demonstrations for your safety.
Visit the U.S. Department of State website for up-to-date information on travel advisory levels and safety information for travelers to France.
All U.S. travelers should enroll in the Smart Traveler Enrollment Program (STEP), a free service offered to U.S. citizens traveling and living abroad. Enrolling in this program allows you to receive important information from the Embassy as well as helps the Embassy contact you in an emergency.
What currency is used in France?
France uses the Euro, as do most other countries in the E.U. Fortunately for U.S. travelers, many establishments in larger French cities like Paris and Marseilles are equipped with credit card readers, which can accept most major card providers. However, it is always advised to keep some Euros on hand to avoid scrambling to find an ATM if a location doesn't accept credit cards.
What language is spoken in France?
French is the language predominantly spoken in France. Many resorts and higher-budget hotels will have staff who are able to speak English, but English is not widely spoken by locals throughout the country. As a best practice, it is always wise to learn a few key phrases in case you find yourself needing to communicate with a non-English speaker. We recommend downloading a translator app such as Google Translate. Many tools like this one will allow you to download a language so that you can translate without needing a cellular or Wi-Fi connection.
Do I need a visa or passport to travel to France?
As with all E.U. countries, U.S. citizens need a valid passport to travel to France. Be sure to check your passport's expiration date, as France requires three months of validity past your expected date of departure. Fortunately, the E.U. automatically issues tourist visas to vacationing U.S. citizens for stays of 90 days or less. If your trip does not exceed the three-month limit, no additional visa is required.
How do I contact the U.S. Embassy in France?
The U.S. Embassy in France is in Paris. Visit the official U.S. Embassy government website for a list of up-to-date phone numbers and addresses.
What is the weather like in France?
France is the third-largest country in Europe, so its climate can vary depending on region, elevation and time of year. Paris and other inland, low-elevation cities are generally subject to relatively cold winters and hot summers. Spring is particularly beautiful in this region due to pleasant temperatures and lower chances of rain than autumn.
Coastal regions toward the south of France experience a Mediterranean climate with hot summers, rainy autumns, cool winters and warm springs.
Coastal regions toward the north and west of France experience a climate similar to what would be expected of England – mild temperatures year-round with frequent cloud cover and very light intermittent rain.
Finally, the Alps and the Pyrenees – the two main mountainous regions of France – experience cold, snowy winters, which are ideal for winter sports. Their summers are generally cool and dry, allowing for beautiful outdoor activities like hiking and mountaineering.
When is the best time of year to visit France?
Given the diversity in both the climate and topography of France, the best time to visit depends on what you would like to do while you're there. That said, spring is our top recommended time to visit most regions of France. Spring will generally bring pleasant weather and smaller crowds to cities like Paris, countryside destinations like Provence and coastal destinations like Nice.
What is the dial code for phoning to and from France?
The dial code for France is +33. Be sure to check with your U.S. phone provider before traveling, as international charges can add up quickly if you haven't selected international coverage beyond pay-as-you-go. Most major U.S. phone providers have optional add-ons for a daily rate, which can be quite affordable for a short to mid-length trip. For longer trips, it may be worth looking into purchasing a French SIM card, as local pay-as-you-go rates are quite inexpensive and will allow you to skip the daily rate charged by many U.S. carriers when you're abroad.
What kind of power adapter do I need for my electronics?
France uses the same power sockets and voltage as all other E.U. countries – a Type C plug with two parallel pins and a 220-volt power supply. Most adapters will automatically adjust voltage for modern electronics, so you shouldn't need any additional equipment to ensure that your devices will work. If you encounter any issues with your power adapter, check with the manager of your accommodations, as they will likely have advice to help you troubleshoot.
Other France FAQs
Do I need to tip in France?
Tipping is not widely expected in France like it is in the U.S. Tipping in France can be reserved for standout service, and even then, only 10% is recommended. Additionally, you will notice that sales tax is factored into any price shown on a menu or in a store.
Is France a family-friendly destination?
France is generally quite family-friendly, but it is advised to use your best judgment on deciding whether to bring kids along on your vacation. As with most major cities worldwide, there are special considerations for bringing children along – navigating crowds, using public transportation, and climbing stairs up to a more dated accommodation often become considerably more tiresome when traveling with children. Furthermore, given that France is home to one of the world's most expensive cities, certainly take that into consideration when deciding whether to bring the kiddos along if Paris is on your destination list. That being said, France offers a huge variety of activities that children and adults alike can enjoy, so if you're willing to take on some extra planning and effort, it can be well worth it!
What are the easiest cities to reach by train in France?
France has an extensive high-speed rail network, making it simple, quick and affordable to travel across the country by train. The most popular destinations from Paris are Nice, Bordeaux, Lyon and Marseille, all of which can be reached by high-speed rail.
Travel Guard offers comprehensive and customizable travel insurance plans for travelers heading to France. With excellent coverage and specialized emergency travel assistance representatives ready to help you at any time, Travel Guard is there for you. Compare our popular plans and find the best one for you!