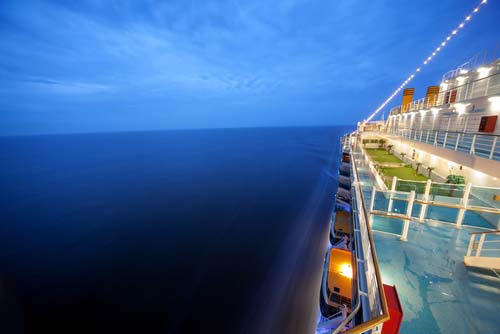 1/12/2016
Cruises can be a great vacation idea, with trips catering to family travel, honeymoon travel and everything in between. You can also book a trip at an extremely affordable price. However, inexperienced cruise travelers often find themselves spending much more money while on their cruise than they anticipated due to a couple of hidden costs. Next time your embark on a cruise, keep these travel tips in mind.
Factor in gratuities when planning your budget
Many travelers forget to include gratuities for crew members when planning their budget. Only a few cruise lines include gratuities in the original fare, so it's essential to find out whether the one you're on does before you leave for your trip. Otherwise, Conde Nast Traveler recommended factoring in tips for the concierge, wait staff, bartenders and room stewards for an average of $10 to $15 in tips per person each day. You can often add these expenses to your shipboard account.
Consider the expense of specialty restaurants
According to USA Today, one of the most popular features of a cruise are its specialty restaurants. Who doesn't want to eat at the most reputable restaurants while on vacation? The quality of these eateries can be extremely enticing as well. However, don't forget that most of the ship's featured restaurants can cost anywhere from $10 to $75 per person at dinner. The online travel source also recommended seeing if the specialty restaurant you're interested in is open for lunch. This way, you'll save money and experience some of the ship's top cooking.
Choose your beverages wisely
Most cruise lines don't include beverages in their all-inclusive packages unless they're luxury lines, according to Conde Nast Traveler. You and your travel companions can consider purchasing a beverage package as an alternative to spending a lot of money on drinks every day. Some ships offer packages for specific drinks, such as soda, wine or coffee, that will save you money if you plan on consuming more than one or two drinks per day, as the majority of cruise lines won't allow you to bring your own drink on board. You can also keep a close eye on the ship's daily drink specials to save a few bucks here and there.
Remember that treats will cost a little more
All vacationers deserve to treat themselves and cruises are the perfect place to do it. For example, most cruise lines have spas for travelers looking to put their feet up and be pampered. However, USA Today advised keeping in mind that cruise spas often charge around the same prices as high-end resort spas that you would find on land, so watch out for how many pedicures or massages you get. There are often discount packages available for travelers who know they will be frequenting the spa as well.
The same thing goes for daily treats such as morning lattes, according to the source. These are often small expenses, but can add up over the course of the trip, for the average latte on a cruise usually costs around $4 - a little more than at most popular coffee shops.