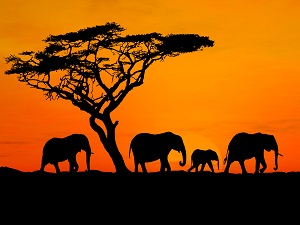 11/30/2019
When it comes to planning a vacation, many travelers picture white sand beaches, famous historic landmarks and lush landscapes filled with exotic flora and fauna. But some of the most unique destinations feature entirely different natural and manmade characteristics than those found in coffee table travel guides. According to the World Travel and Tourism Council, Africa is the second-fastest growing tourism region in the world, having expanded 5.6% in 2018 alone. This tourism boom is, in part, a result of North Africa's economic rebound and new policies aimed at promoting leisure travel to the continent.
If you're trying to map out your travel plans for 2020, taking a trip to Africa can allow you to experience some of the world's most unique ecosystems, from the Sahara Desert to the Nile River and more. But before you set off for the airport, it's important to make a variety of pre-trip preparations that will help keep you happy, healthy and safe.
Here are four Africa travel tips every vacationer should keep in mind:
1. Focus on exploring a specific region
The African continent is truly massive, making it almost impossible to see everything the landmass has to offer in a single trip. While some vacationers may be able to successfully traverse the 30.4 million square miles of the African mainland, most opt to explore a particular region that piques their interests. Keep in mind, every territory has its own climate, level of industrialization and cultural practices, so researching your destination in detail is always a must. To save you some time, here are a few hot spots for Africa travel you might want to consider:
East Africa: Comprised of over 20 territories - including Tanzania, Kenya and Ethiopia - this region of Africa is home to some truly remarkable natural wonders and nature preserves. According to Lonely Planet, the top travel destinations in East Africa include:
Serengeti National Park
Mount Kilimanjaro
Stone Town, Zanzibar
Southern Africa: This territory is home to some of the most popular tourist destinations in all of Africa, with more than 1.2 million foreign nationals visiting the region in 2018 alone, according to data from Statistics South Africa. In terms of foot traffic, Zimbabwe, Malawi, Botswana and South Africa often see the highest number of visitors thanks to these exciting landmarks:
Kruger National Park
Cape Town
Victoria Falls
Northern Africa: While most areas in Africa have something interesting to offer, the northern portion of the continent is loaded with world-renowned travel experiences. From the Egyptian pyramids to the Atlas Mountains in Morocco, there's no shortage of outdoor activities, historic sites and natural wonders to explore, including:
Sahara Desert
Siwa Oasis
Valley of Kings
2.  Always check for travel advisories
While most travel destinations in Africa are relatively safe for tourists, it's important to check for advisories before you book your vacation. No matter where you're headed, the health and safety of your group is paramount, which is why the U.S. Department of State operates an easy-to-use travel advisory tool on its website. It's crucial to avoid traveling to destinations with "Level 3" advisories and above, as these regions pose a credible threat to your wellbeing. For example, the Central African Republic is currently listed as a Level 4: Do Not Travel due to high levels of crime and civil unrest.
3. Ask your doctor about recommended immunizations
Health and safety hazards aren't always related to crime - Africa travel can also put you in contact with illnesses and infectious diseases that aren't native to North America. According to the Centers for Disease Control and Prevention, travelers who are planning trips to Africa should ensure they are caught up on their routine vaccinations, including measles, mumps, tetanus, polio and even their yearly flu shot. The CDC also recommends getting immunizations for the following diseases:
Hepatitis A
Typhoid
Malaria
Yellow Fever
One reason these diseases flourish in certain regions of Africa has to do with the climate and vegetation, according to the World Health Organization. For example, yellow fever is most common in the tropical rainforests located in the west and south where mosquito populations are highest. And although the risk of transmission is quite low if you're well-informed, a little extra caution can go a long way.
4. Get your documentation in order well in advance 
Before you can travel to any region of Africa, you'll first need to obtain an official passport from the U.S Department of State. While most travelers get their travel documents from the U.S. Postal Service, which typically takes 6 to 8 weeks, you can expedite the process by applying through a passport center. These convenient agencies can help you secure the necessary documentation for international travel in as few as 14 days, according to the State Department, though you will need to pay a $60 expedite fee.
It's also important to note that Africa's visa requirements vary by country, USA Today reported, which can complicate the first leg of your overseas adventure. For example, Egypt issues 90-day tourist visas when you first arrive (for a small fee), whereas South Africa does not require you to obtain one at all. Depending on where you're traveling, you may need to obtain your visa in advance, so don't wait until last minute to get everything in order.