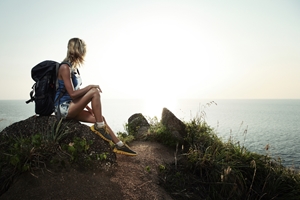 2/5/2014
Many young students travel to Europe to explore the beauty of its countries before they enter the working world. Travelers pursue many different avenues to reach the continent, from venturing with a group of friends to studying abroad for an entire semester. Adventurous individuals, however, decide to backpack across the area, sleeping in hostels and peer locations while living out of a bag. For those going on student travel excursions that involve backpacking, there are a list of travel tips and tricks to keep in mind:
Pack light
For the duration of your journey, you will be living out of whatever you pack inside of your bag. Everything will be in there: your wallet, clothes, emergency supplies and identification papers. With that in mind, remember that you will be carrying that one item with you throughout the duration of your travels. Keep it light and keep it stocked with the essentials: make sure you carry plenty of cash, paper copies of your passport, extra food and emergency communication devices, including flares and walkie-talkies. Depending on the type of adventure you are trying to have, you may be able to leave extra luggage wherever you are sleeping overnight, but it's best not to pack too many clothing items as they can easily weigh you down.
Don't be afraid to ask for directions
When traveling to an unfamiliar country, don't be afraid to ask locals, people at train stations or hotel workers for directions around town. Not only will most people gladly give you information about where you wish to travel, but they may be able to get you to your next destination using a much quicker route. Additionally, locals frequently know the best bars, restaurants and sights that other tourists may not be aware of.
Try to avoid planning
If you're looking for an authentic backpacking experience, avoid planning every moment of your travels. It's a good idea to have a general understanding of which countries you'd like to visit, but try not to plan each site, monument and city you have to see. Some of the best backpacking experiences may come from getting lost, or finding that you have to spend an additional day or two in a location you really connected with.
Stay safe!
While backpacking can be exciting for individuals interested in adventure travel, it can also be scary if you don't take necessary precautions. Be sure to watch your belongings at all times and only lodge in places that you know you can trust. Additionally, never find yourself impaired in a foreign country as individuals may take advantage of your lapsed judgment.