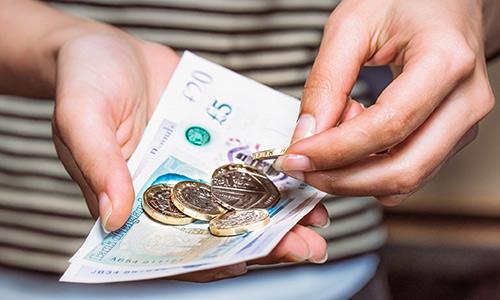 6/3/2021
Researching the local currency and creating a budget that factors in exchange rates will help you avoid any potential hiccups while planning your next trip abroad.
While it's a good idea to minimize the amount of cash you travel with, it's also important to always have some on hand in case of emergencies, or if you find yourself somewhere your card isn't accepted. But, depending on where you're heading, the local currency could substantially vary in worth from the U.S. dollar, complicating some important decisions during your trip.
Before you pack your bags and take flight, learn how planning ahead of time can help you get a better deal when it comes to exchanging currency.
What are exchange rates?
As you travel internationally, you'll quickly find that different countries' currencies are worth different amounts.
A pack of gum may cost you $3 in the U.S., but in Mexico, that could translate to nearly 60 pesos. However, that doesn't mean that the gum suddenly becomes 20 times more expensive as you cross the border. If you convert the peso into U.S. dollars, the price remains unchanged.
For most countries, the value of their currency constantly fluctuates depending on various economic and geopolitical factors. As the value of currency appreciates or depreciates, exchange rates — the price of one country's currency in terms of another's — change as well.
So what does that mean for your travel planning? Higher interest rates in a country increase the value of that country's currency compared to nations offering lower interest rates. Depending on where you're going and when you decide to exchange currency, you could get more —  or less — for your dollar.
Knowing when to make your conversion, as well as exploring your options for where you go to do so, can help you get the most out of every exchange.
How to Time Your Exchange
A little research can go a long way in planning your currency conversion.
It's easy to feel overwhelmed as you start to dive into international economics and the fluctuations of each country's currency. However, rest assured that there are several resources online that can help simplify things.
Conversion websites like XE, a trusted authority on international currency, provide users with free tools for checking exchange rates and fluctuations over time. All you need to do is input the U.S. dollar as well as the local currency of the country you plan to visit. Then, the site will provide you with a real-time update of the exchange rate as well as a timeline of its value over the past year.
If you're planning several months in advance, check often and keep an eye out for potential fluctuations, so you can time your exchange for when rates are lower.
Currency Conversion Apps
The XE website is also available for download on both Apple and Android devices. Its offline features mean that you can keep track of live rates of every currency even when you don't have access to the internet. As long as you download the conversion rate of any country you'll be visiting before you leave, you'll be able to refer to the app while on the go.
Downloading apps that can be used without internet access is especially important if you're keeping track of multiple rates or are worried about your phone service from country to country.
Some other popular (and free) apps that can help you make sense of foreign currency and exchange rates during your travels include:
Calconvert. If you're looking for some extra features, this powerful tool offers a calculator that allows you to save your calculations and convert multiple currencies at a time.
Currency Convert. Apple users will want to take the time to look into this easy-to-use currency converter that offers fully offline capabilities.
Vaulta+. For travelers who don't want to fuss with their phones during their trip, this user-friendly app allows you to save your go-to currencies to cut down on time.
As you begin to use conversion apps and calculators while planning your trip, you'll get a stronger sense of when the best time to make your exchange is based on interest rates. Once you know that, you can decide where you'll want to go to do so.
The Best Place to Exchange Currency
You'll have several opportunities before and during your trip to make your currency exchange. However, it's important to do some research ahead of time. Each service provider will come with their own advantages and disadvantages, such as additional fees and wait times:
Your own bank
If time is on your side, you'll want to do your exchange through the services offered by your local bank branch. As long as you have a checking or savings account with them, most major institutions will process the exchange for no additional charge. More common requests like the euro or Canadian dollar could be fulfilled the same day as your request, but plan for anywhere from two to four days for less-requested currencies.

Keep in mind that each bank has different order minimums and procedures for picking up your order. While Bank of America allows online ordering and only requires $100 to do the exchange, anything over $1,000 must be picked up directly at the bank. Comparatively, TD Bank doesn't require an account, but you'll still need to go in person to complete your order.
Before you place your order, read into your bank's policies to make sure you'll have enough time to pick up your exchange before you leave for your trip.
Converting currency online
If you're unable to go to a local bank, another option to look into are online currency exchange services. Providers like AAA offer both online and over-the-phone ordering, and will ship your exchange directly to your home (for an additional fee).
Similar to banks, each online exchange service has its own unique policies, so it's worthwhile to shop around to get the best price. In addition to possibly taking longer than ordering an exchange at your own bank, these services typically charge extra to process and ship your order.
Where not to make your exchanges
If you do find yourself in need of additional cash while already on your trip, there are a few places you'll want to avoid. Tourist traps, such as airport kiosks, hotels and travel centers, are the worst place to do your exchange because the conversion rates are usually not in your favor.
"Not only will you be hit with extra service fees when going with these methods, but the exchange spread, which is the rate the business will give you when you are selling your U.S. dollars to them minus the rate they will give you when you are buying U.S. dollars from them is very high," Derek Horstmeyer, an assistant finance professor at George Mason University, told U.S. News & World Report. "This means every time you go to a bank or a foreign exchange kiosk, you will lose 1% to 2% in an unfavorable exchange rate when changing your money."
If you're already traveling, your best option is to look for a foreign ATM that offers exchange services. Despite the fixed fees you may be charged, they'll provide more favorable rates overall compared to your other options abroad. Some U.S. banks like Bank of America even have worldwide alliances or affiliate banks in other countries that can make it easier for you to get money without as many fees.
Your local banking branch is typically the most affordable option when exchanging currency. However, if you happen to run out of time while planning or are short on funds while abroad, you'll still be able to make exchanges as needed — it might just come at a higher cost.
Conducting a Money Transfer
If you're not comfortable carrying cash during your travels, or you're in a more remote area where ATMs are scarce, another option for exchanging currency is to send yourself a money transfer.
Remittance services are becoming increasingly popular for the flexibility they afford travelers. As long as you already have sufficient funds in your bank account, you'll be able to select the amount of U.S. dollars you'd like to exchange for a foreign currency, which you can send directly to yourself. However, you'll need to pay two fees for this exchange: The first is a service fee to complete the transaction and the second is a margin of the exchange rate.
When using money transfers, travelers have two options to select from:
Traditional bank wires

Most travelers are already familiar with wire transfers, which are done through your own bank. These funds are transferred using international networks such as the Society for Worldwide Interbank Financial Telecommunications (SWIFT).

However, unlike doing currency exchanges at your bank, this service can come with higher fees and takes anywhere from three to five days. There's also the risk that your bank won't be able to send funds in the local currency of the country you're in. If you're planning on using a bank wire during your travels, you'll want to account for the potential waiting period to ensure that you receive your funds before you run out of cash on hand.

Online service providers

If you're looking for a speedier option, licensed money transfer companies offer same-day services that can help you to access your cash more quickly.

Providers like OFX

and

Xoom

allow users to pay using debit or credit — however, picking up the order varies from service to service. While Xoom offers cash pickup at supermarkets and other locations across the world, you'll need a foreign bank account to complete a transaction with OFX. 
On average, the World Bank reports that these international money transfers cost about 6.5% of the amount you send, but you might pay more or less depending on the service you use. So, while they aren't the most affordable option by comparison, they offer international travelers extra flexibility and security when in need of additional funds while abroad.
If you're in a position where you need to conduct a money transfer while abroad, look into the policies of the provider you go with to ensure you'll be able to access the funds you need.
What to Remember While Converting Currency
It's always best to plan ahead and make your currency exchanges in advance, so you can take advantage of the best rates. This way, you can ensure that you're getting the most out of each dollar allowing you maximize your time and budget while traveling.
Every exchange option comes with its own advantages. And, although your local bank can always help you complete your order with no or limited additional fees, take the time to consider which service provider makes the most sense for your travel needs. In the event of an emergency or if you just need some extra cash on hand, money transfers can also offer you a backup plan if you're already overseas.
While converting currency can feel complicated, there are several resources out there to help simplify the process as you spend time preparing for your travels.
Whether you're dreaming about future travels or already planning your next trip, keep Travel Guard in mind. We can provide travel assistance in the event of an emergency. Contact us today to learn more.