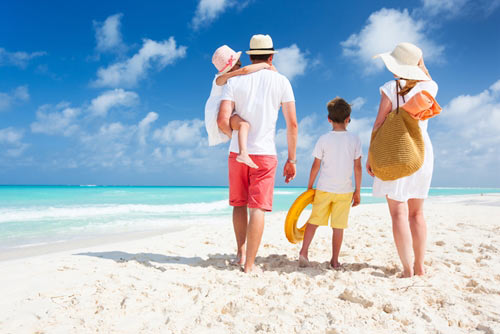 6/9/2017
Who doesn't love a sun-soaked vacation by the ocean? Trips to the Caribbean and other beachy destinations are popular at all times of the year, especially for family travel. Most children enjoy playing in the sand and exploring the ocean. Safe and affordable family beach hotels are also relatively easy to find, making seaside journeys a common preference among parents and their young ones.
Although beach vacations with children in tow can be a lot of fun, if you haven't packed the proper items or planned correctly, there are many aspects of your trip that could go wrong. Make sure that you and your family are prepared for everything with these travel tips and tricks for a stress-free oceanside escape.
1. Bring all necessary items
Belongings like beach toys aren't usually necessary for your family trip and will take up a significant amount of space in your luggage. Make room for the essentials and buy your kids' toys at your destination. Chances are they'll be happy with a couple of toys that you can purchase from a nearby tourist shop. It may even be worth it to ask your hotel if they have any plastic buckets or shovels that your children can use.
It's smart to do some research to see if there are any tips from parents who have recently taken their kids on a beach trip. For example, according to Parenting magazine, rain pants are a helpful article of clothing to have at the beach that many parents don't consider while packing for a seaside vacation. It can get windy by the ocean and rain pants are lightweight and will prevent your kids from getting sand up their clothing, which is a frequent issue that causes discomfort for toddlers at the beach.
2. Look for kid-friendly activities
If you happen to be at the beach on a day when the waves are particularly big, this doesn't mean that your children can't play in the water. If your hotel has a pool, consider spending a couple of hours there to give them a chance to enjoy swimming in the sun. You can also look for tidal pools at the beach, which often contain plenty of ocean life. For example, you may find a few crabs or starfish that your young ones can observe up close. These shallow pools are also a great place for toddlers and babies to splash around.
3. Make shade a priority
It's always best to have a large umbrella for shade while spending the day at the beach, especially if you haven't been exposed to the sun for a long period of time. However, when you have children in tow, bringing a small tent or a similar product for extra protection from the sun is crucial, as a child's skin tends to be very sensitive. The worst way to start your family vacation is with sunburnt toddlers. Not only do tents prevent painful sunburns, but kids also love to play in them.
4. Save time for family memories
Although it's nice to finally be able to relax under the sun or lose yourself in a good novel, remember that family time is what your vacation is all about. Keeping a close eye on your young travel companions is important, but so is spending quality time together.
Minitime suggested taking beachside strolls with the entire family. Collect seashells and coral as you walk and use them to decorate a sand castle when you get back to your setup. Your kids may also want to keep their discoveries for souvenirs. Be sure to take a lot of pictures to create lasting family memories as well.