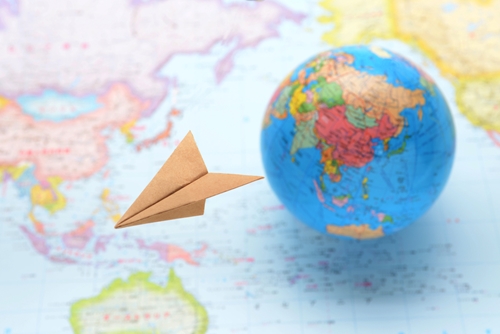 2/4/2016
Student travel is a wonderful opportunity to see the world before graduation. Whether you're going by yourself or with a group of friends, the destination in which you choose to spend your semester or year is crucial to the success of your trip. There are several different aspects that are important to consider when deciding where you want to learn and grow as a student. Ask yourself these important questions as you plan your study abroad experience.
Is there a language you want to learn?
Sometimes the primary goal for a student traveling to another country is to become fluent in another language. Therefore, the first step to choosing the best location for your experience is narrowing down your search to the countries that speak the language you're hoping to learn. It's common for colleges to offer specific programs and destinations for interested students, so narrowing your choices shouldn't be too overwhelming.
Once you have a couple possible destinations in mind, TransitionAbroad.com advised picking a program or university that offers the opportunity to live with a local host family. Dorms or apartments on the school's campus can also serve as an easy way to become immersed in the culture and learn the new language. However, a host family can introduce you to unfamiliar foods and traditions that will force you to try new things and make your journey unforgettable.
Does your potential destination suit your major?
There's a big difference between a semester in Washington D.C. and one in Costa Rica. Although it can be tempting to choose an exotic location to escape from the cold and relax at the beach in your free time, the best way to make the most of your travel opportunity is to pick a state or country that you're interested in exploring and that will also help you with your academic goals.
For example, if you're a political science major, a trip to Washington D.C. can be inspiring and offer opportunities that other destinations can't. Similarly, if there's a program in England that caters to your interests, but you wanted to go to Ireland, remember that there's always time to travel. You will also find that each location has its advantages and could end up loving your second choice more than your first.
Is your location safe?
Living as an exchange student in a political or economically unstable country can put you in incredibly dangerous situations. This is a particularly important factor to remember if you're traveling as a part of a volunteer service at your school, as developing countries are often unsafe.
Most popular student travel destinations in the U.S. and Europe are safe and student-friendly, so it may be to your benefit to spend your time there.
Do you have a specific budget to cater to?
If you find yourself only able to travel abroad if you stick to a strict budget, do some research and find where you will be able to most comfortably spend your abroad experience. There are some destinations that stand out immediately as being on the expensive side. England, for example, uses the pound which can take a toll on a traveler's bank account after a while. This is especially true if students don't plan to work while they're there. In fact, in many countries, students aren't permitted to work unless they have a student visa, which are only attainable if your trip lasts a certain length of time - usually over six months.
According to Student Universe, if you're planning on living in Europe, countries in Eastern Europe are far less expensive than in the western part of the continent. Destinations like Poland and Prague are popular student sites and are generally easy on the wallet.