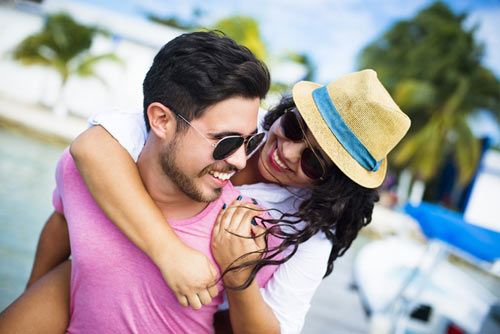 11/16/2016
Traveling can be a romantic experience for couples looking to unwind and spend a few stress-free days together. However, while this quality time is often a long-anticipated luxury, there are aspects of your trip that can go awry if you and your partner fail to plan with care.
Make sure that you and your significant other are on the same page before you leave for your couple's vacation. Here are a few tips to help ensure your romantic journey is everything you hope it to be.
1. Eliminate unnecessary stress
Every couple has something in particular that tends to make situations more tense while traveling. For example, if you and your partner are terrible with directions, always have a map or GPS on hand instead of driving each other crazy trying to navigate on your own.
Plan out your itinerary before you set off on your trip, getting a good idea of where all the attractions are in relation to one another so you don't end up spending hours getting lost. Similarly, if your significant other is a planner and gets stressed out when tickets and hotels aren't booked far ahead of time, make sure that everything is taken care of early.
2. Plan for solo adventures
According to Fodor's Travel, an essential step to planning a successful couple's escape is penciling in some solo time at various points of the journey. You and your loved one can spend the majority of the trip together going on dates and exploring the sites that you're both interested in.
However, there's bound to be a couple of activities that one of you wants to do more than the other. This is a perfect opportunity to reserve an hour or two for a solo adventure. After all, while relaxing with your partner can be fun, there's nothing like unwinding on your own every so often.
3. Leave a little room for spontaneity
While having your entire trip planned out before your take off will ensure that you see and do everything you had in mind, it's also a good idea to leave a few hours here and there on your itinerary open for spontaneous adventures.
Reader's Digest noted that saving room for unplanned activities will make the vacation more exciting and romantic. You may end up stumbling across a parade or a beach party that takes up a large chunk of your evening - the unexpected experiences usually make the best memories.
4. Don't be a slave to electronics
A couple's trip is all about spending quality time together, as certain aspects of life, such as work or school, tend to make this challenging on a regular basis. Try not to have your nose buried in your phone during outings. If you know you won't need it, leave it in your hotel room. Checking emails and surfing the Internet can also make it difficult to fully relax and live in the moment. Instead, make each other the center of attention.
5. Take advantage of traveling as a couple
Hotels often offer perks for couples celebrating special occasions, such as a honeymoon or anniversary. If this is the case, it never hurts to let your resort know to see if they'll give you a bottle of champagne or a discounted meal at the hotel restaurant.
Also, look for activities designed for two people that you and your significant other have never tried before like salsa dancing or tandem bicycle riding. It's also fun to keep an eye out for romantic opportunities like gondola rides or beachside dinners for two. These will remind both of you what the trip is all about after a long day of site seeing.