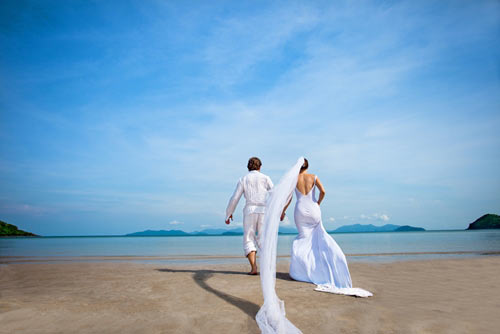 9/1/2016
Honeymoon travel is something that all newlyweds look forward to. Planning which hotel to stay at, considering expenses and how to get to your destination is a daunting task that should be taken seriously. This will ensure that you get the most out of your trip.
Before you and your spouse leave for your long-awaited honeymoon, remember this guide to make sure that your experience is the relaxing, romantic escape that you deserve.
Think carefully about room types
The hotel you choose is one of the most important aspects of your vacation. However, many travelers don't carefully consider the type of room that they want. Would a room in the heart of the resort close to all of the amenities help you make the most of your trip? Or are you and your partner looking to spend your time on the beach in a secluded villa with ocean views?
You should also take your budget into account when deciding on a room. The difference in prices can be a lot larger than most people expect, so always check the expense of your potential room before your pick it over another option.
Get your honeymoon as a gift
Travel registries are great options for couples who already have houses that are fully stocked with the usual gifts provided by guests at weddings. Instead, you can ask your friends and family to help eliminate costs, such as meals and activities, on your honeymoon. Many resorts offer programs that provide spouses with an array of options, including a destination, a tour guide and a cruise line.
At some resorts, the registry is free and will allow your loved ones to send you dinners or one of the accommodation's featured excursions during your trip so you'll constantly be surprised throughout your vacation.
Book early
One of the best aspects of planning a honeymoon is that you'll have plenty of time to do research and book early, as many couples set their wedding dates months in advance. Take this time to snag the best airfare deal and choose the hotel that suits you and your spouse best.
Reserving a hotel and flight in advance will also give you time to make requests to staff, such as special dietary needs.
Let your resort know you're on your honeymoon
A lot of luxury resorts tend to pamper their guests when they're aware that they're celebrating a special event. There are also packages that offer features like a bottle of champagne waiting for you upon check-in or a special suite or villa with unique features to help make the trip one of a kind. Look for all-inclusive honeymoon packages that give you access to hotel amenities like the spa for a truly relaxing experience.
According to Caribbean Honeymoon Travel, most hotels require a marriage license or a wedding invitation either in person or sent through email for couples to qualify for honeymoon deals and amenities.
Never plan a trip on holidays
Most of the time, newlyweds leave for their honeymoons within a day or two after their wedding. The most expensive time to travel is near Christmas, Thanksgiving, Easter and other holidays when people set off on family reunions. If you planned your wedding for the day before a major holiday or event, wait to embark on your trip for a few days instead of leaving right away.
For example, The Huffington Post recommended finding out when holidays take place in your destination. If you plan on honeymooning in the spring to ensure you avoid planning your trip within this time frame. Crowds also increase during peak travel days, making it challenging to have the rejuvenating and romantic vacation that most couples hope for.