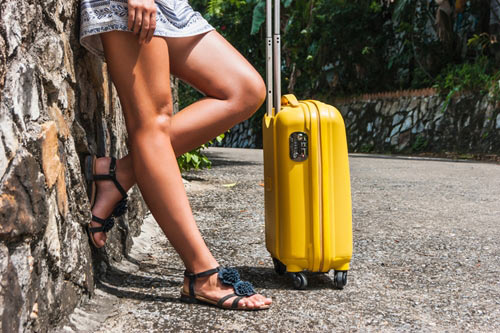 11/16/2016
Safety should be a concern no matter where you're traveling or who you're going with. There are pickpockets and thieves at every destination who see tourists as easy targets for robberies. To make sure that you don't become a victim of theft on your next trip, look for safety devices designed to protect travelers as they explore their destinations.
Although traditional items like first aid kits and flashlights are frequently recommended for backpacking trips, there are also newer devices that have been created specifically for travelers. Next time you leave for a vacation, bring a couple of these safety items along.
1. Luggage lock and cable
If you're staying in a hostel or at an open campsite, chances are you will have to leave your bag unattended at one point. To prevent yourself from having to worry over whether someone is going to steal your belongings while you're away, a lock and cable for your bag can keep your valuables out of the hands of robbers.
According to Corporate Travel Safety, the Transportation Security Administration created a product that features a combo lock and a 48-inch stainless steel cable that can't be cut. You can lock your bag to a fixed object or secure its zippers together so no one can get to your belongings. One of the most advantageous aspects of the TSA lock is that it fits the TSA's master key if officials ever need to search your luggage for security reasons. For bags with other locks, the administration would have to break it to get inside.
2. Alarms
Several types of alarms can be used in your room if you are skeptical about how efficient your door's lock is. These alarms can be the difference between a good night's rest and an uneasy evening with one eye open if you're staying alone at a hostel and feel unsafe.
Look for a door stopper with a built-in alarm that alerts you if anyone is trying to enter your room. If you're worried about a door stopper being too heavy to carry on your flight, invest in a lightweight version that attaches to a belt or bag as you travel. Simply turn it on and clip it to your door or luggage when you need it, and it will notify you if someone is trying to open the door or your suitcase.
A similar device is the personal alarm, which is becoming popular for solo female travelers. If you're being robbed, simply press the alarm, which is small enough to attach as a keychain to your bag, and it will create an ear-piercing noise that's designed to disorient thieves and alert those around you.
3. Windup phone charger
If you ever find yourself in an emergency situation, having the ability to call someone could be a lifesaver. If you find that your phone's battery is dead, however, you'll probably need a way to charge it without access to an electric outlet. Solo Traveler suggested packing a windup phone charger in your purse or backpack as you tour your destination. Even if you simply get lost and need to contact your travel companions, the charger can save you a lot of trouble.
Simply attach your phone to the device and wind it for two minutes. The online travel source noted that this usually supports a six-minute call. Having the peace of mind knowing that you will always be able to get in touch with someone during adventures like hikes and solo excursions throughout your destinations is worth the investment. There are also windup chargers that feature a built-in flashlight for extra security.