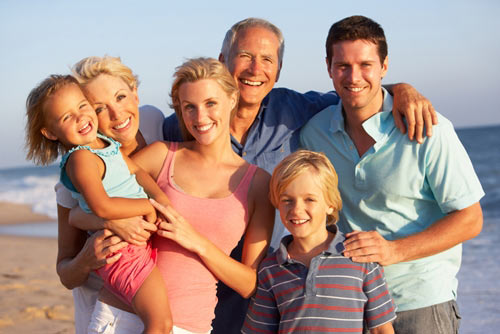 01/29/2016
Although family travel allows people to see their loved ones from all around the world, organizing a trip with so many people can be chaotic if not planned out correctly. With so many different aspects to the planning process, it's important that you don't get overwhelmed.
Ensure that everyone in your group is happy and that you have a stress-free experience on your next family gathering with these travel tips and tricks.
Consider your possible destinations carefully
You may have always wanted to take a week-long trip to the Caribbean at a resort where you can lay out on the beach and soak in the sun. However, when traveling in a large group you will most likely have to compromise - all of your family members may not be sun worshippers. Instead, Hotwire.com suggested planning for a cruise that stops in the Caribbean.
Aside from the variety of destinations that your ship will dock at, cruises are fun for groups because of the activities, food and games that suit everyone's interests. The online travel source pointed out that there are also plenty of ships that offer perks like rock climbing and surfing to keep the younger generations busy. Meanwhile, first-class spas and high-end dining opportunities give the adults a chance to kick back and relax as well. If you plan ahead and book early, a cruise may also be among the most affordable options, while it's also generally easier to book everyone's rooms together on a cruise than it is in a resort.
Leave no responsibility unattended
Everything from booking the flight and resort to organizing transportation and the itinerary are essential factors of planning your family travel. To make sure that all aspects of your trip are taken care of properly, assign a leader of the group and then divide the responsibilities among the rest of the adults. The group leader should be in charge of the basics, such as airfare and accommodation, to set the group up for a smooth travel experience.
To get all of the planning done in a timely manner, each traveler should be responsible for one or two details of the vacation. For example, it's always easiest when there's a rough itinerary outlining the activities that you will do as a group on each day. Have a couple people identify the needs and desires of each family member to better establish what the itinerary will look like. This will allow all age ranges to contribute an activity or two to the list, ensuring that everyone is happy.
Choose a family-friendly arrangement
Plenty of resorts offer accommodation options like villas, beach houses and condos to cater to big groups. Doing a little research and discovering which hotels in your destination offer these types of sleeping quarters is a smart idea because staying together can greatly enhance the overall experience of your trip.
If you plan on staying in a hotel that only offers smaller guest rooms, ask to see if multiple adjoining rooms are an option.
Try a mobile planner
What's one thing that people of nearly all ages have in common? Everyone has a smartphone. There are applications and online travel planners that enable everyone to view the itinerary and even collect money so that one person isn't getting stuck with the bill at family dinners.
Having all of your trip's information and essential details in the palm of your hand, such as flight times and the resort address, will ensure that everyone's in the loop and reduce the risk of something going awry. This is particularly important if your family is traveling from various locations by avoiding confusion and making sure that everyone ends up in the same place.