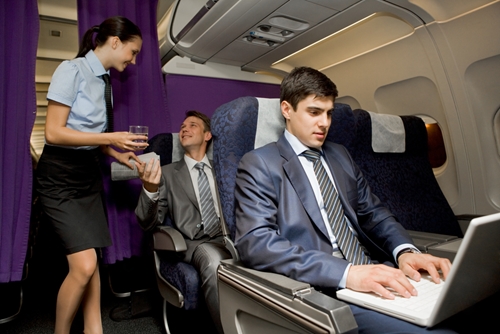 01/26/2016
Packing a suitcase for business travel can be a daunting task. Not only do you have to fit the regular travel necessities into your luggage, now you have suits, presentation materials and electronic devices to add to the pile of belongings to make room for.
In addition to fitting these items, ensuring that clothing doesn't get wrinkled and work materials aren't ruined during your flight is crucial. How do you pull this off? Here are five travel tips and tricks to packing for a business trip without hassle or inconvenience.
1. The right bag makes all the difference
Most people who travel frequently for business try to take only a carry-on with them, as checking luggage comes with numerous disadvantages in addition to extra expenses. Who wants to risk their bags getting lost or being late to a meeting because the baggage claim was delayed? This is why choosing the right travel bag is essential.

Real Men Real Style recommended a rolling suitcase that fits the general carry-on dimensions required by most airlines, which is currently 22" X 13" X 9". A bag this size will fit into the overhead bin and is large enough to fit the must-have items for business trips. Luggage with rigid edges will protect any breakable materials on your flight as well.
2. Make important documents easily accessible
There's nothing worse than needing your identification at security and having to sort through all of your carefully folded clothing. Avoid this and put all of your identification and electronic devices in an easily accessible location in your bag.

This way, when you get to customs you won't have to tear your bag apart to place your laptop in the X-ray machine. A lot of airlines allow a carry-on and a handbag, so keeping these belongings in your smaller bag can make your experience more convenient.
3. Mix and match
Most frequent business travelers would tell you that packing neutral colors is a must when choosing your outfits for your trip. Black, white and gray are ideal shades for your shirts, pants, ties, skirts or dresses. You will then be able to wear certain articles again, matching different tops and bottoms each day to open up more space in your suitcase.
USA Today also pointed out that it's a good idea to bring clothing that works for both business events and casual outings.
4. Avoid packing work materials
Travelers frequently find their luggage piled high with work documents and presentation materials. Not only does this take up a lot of space and make your bag heavier, but it also puts these items at risk of becoming ripped or creased during your journey.
Fox Business suggested waiting to print these materials if possible. Bring a flash drive with all of your documents stored and print them once you get to your destination. This will lighten your load and allow you to relax on your flight.
You can also consider shipping any important materials to your destination before you leave if printing once you're there isn't possible. Although it can be a bit pricey, it will likely be less expensive than paying for an extra bag and will be worth the peace of mind.
5. Fold efficiently
According to OneBag.com, successfully folding clothing for business travel takes a different packing method than your leisurely vacation. Start with your suit jacket on the bottom of your suitcase with the top inside and the end hanging out. Then lay the arms over one another as if you were crossing your arms. Place other items on top of your suit in the same fashion. Finally, fold everything over together, so that all of your clothing has only one crease, preventing a mess of wrinkles.