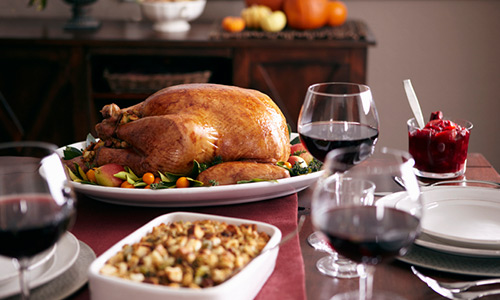 11/1/2021
We all know Thanksgiving can be one of the busiest times of year to travel as we all rush to visit our loved ones and spend the holiday season eating turkey and showing that we're thankful. There were five million fewer Americans traveling in 2020 compared to 2019, so many Americans may have spent the holidays celebrating virtually.
So, in 2021, what do we need to be aware of when traveling during the holiday season and how can we travel in the safest way possible?
Flying home for Thanksgiving
Traditionally it's best to bring something delicious for you and your fellow holiday guests to eat but the question is, how do you bring food from home if you're traveling by plane?
There are rules on ice packs, liquids and certain food items so it's advised to check the TSA website for more detail. There's even a dedicated Thanksgiving food page that outlines the rules around transporting our favorite holiday treats – like casseroles, meats, and baked goods (what is Thanksgiving without pie after all).  
It's worth checking with your airline to see if any health and safety measures are in place for before and during your trip, such as limited capacity at the check-in desks and if masks are required during your flight. Enhanced security and social distancing may mean that security and checking in takes longer than normal, so be sure to give yourself extra time.
If you've purchased insurance before your trip, it is always advisable to read the details of your travel insurance policy before you travel as this will contain details for any eligible reimbursements for your trip as well as what is and isn't covered.
Driving home for Thanksgiving
Americans are set to travel an average of 770 miles this Thanksgiving, and road travel seems to be the most popular mode of transport. Typically, the Wednesday before Thanksgiving sees a lot of traffic, so it might be worth planning your trip for the Tuesday before to minimize the chance of road congestion.  
Many people are planning to rent a vehicle for their holiday travel. Whether you're renting to have increased cargo space or to avoid putting miles on your personal vehicle, make sure you book your rental vehicle in advance to secure the vehicle type you need. It might be worth considering Travel Guard's rental car insurance so you have access to 24/7 assistance – even over the holidays.
If you're driving home for Thanksgiving, you'll have the luxury of loading up your car with as many festive goodies and belongings as you'll need! To keep your car clean and avoid spillage, line the bottom of the trunk with plastic bags, and use bungee cables to secure everything in place.
Keep yourself and any kids happy and download a playlist to get everyone in the holiday spirit or even bring some turkey jerky to really get you in the spirit!
We hope you have a safe and stress-free Thanksgiving. Happy Holidays!