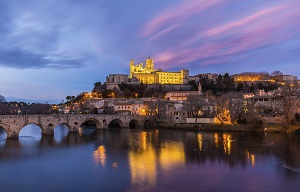 11/30/2019
As global tourism continues to pick up steam, more Americans are looking to plan their perfect European vacations. According to the National Travel and Tourism Office, an estimated 17.7 million U.S. travelers flew to Europe in 2018 alone, representing a 12% increase from the previous year. And while this tourism boom is certainly beneficial for travelers and European countries alike, it can be hard to create an itinerary that is both comprehensive and affordable.
If you're interested in Europe travel, it's important to spend some time researching your planned destinations before booking your trip. How long are you planning to stay? Which European cities are you hoping to visit? How will you travel between locales? To help you answer these and other important questions, we've put together a brief guide on how to make Europe travel easy and affordable.
Don't skimp on the travel planning
The best way to get the most out of your European vacation is to think carefully about the places you want to visit, the experiences you're most excited about and, of course, the cost. While some American tourists prefer to stick with a single destination, there are plenty of opportunities to explore several European cities in a single trip. For example, some travel companies offer vacation packages that are great for saving money without having to compromise your bucket list, USA Today reported. In contrast, travelers who prefer an a la carte vacation itinerary may be better served by an open schedule, as this allows for more spontaneity and unplanned detours.
In terms of European destinations, every traveler has their own short list of historic landmarks and natural wonders they want to see. According to U.S. News Report's latest destination ranking, the following cities topped the list of the best vacation spots in Europe:
Rome: Home to countless works of art and historic sites, Rome offers a truly unique cultural experience filled with mouthwatering local cuisine, breathtaking architecture and cultural activities. No visit to Rome is complete without a stop at some of the cities renowned landmarks, including the Colosseum, St. Peter's Basilica and Vatican City.
Paris: Known as a boldly romantic cosmopolis, Paris boasts a wide spectrum of museums, monuments and churches with differing architectural flair. This European city is a heartwarming fusion between old-world charm and modern aesthetic, making it a must-see locale for travelers of all ages. Be sure to set some time aside for Paris' most popular monuments, including the Eiffel Tower, the Louvre and the Notre Dame Cathedral.
London: Voted the second best European vacation spot by U.S. World Report, London contains a near endless variety of historic day-time excursions and night-time adventures. Vacationers can explore the Tower of London, the British Museum and West End at their leisure, or book a sightseeing tour for a more in-depth history of this two-millennia-old city.
Create a detailed pre-trip checklist
After you've narrowed down your travel plans, the next step is to ensure you have everything you need to keep your trip to Europe easy and affordable. Keep in mind, you'll need to secure a passport before you can travel abroad, which can take anywhere between 4 to 6 weeks to process, according to the United States Postal Service. This document can grant you access to 26 European countries, and should be carried with you during your travels.
Every pre-trip checklist should also include detailed information about your air travel plans, as getting the best deal on an overseas flight can be tough. As pointed out by Fareboom, European winters are a great time to travel if you're on a budget, though the holiday rush can get a bit hectic. Fareboom also found that booking your flight at least 160 days in advance can help you land the best deals on your airfare.
Sort out your transportation and lodging well in advance
Whether you're planning to spend a week in Rome or travel to several different European cities in a single trip, it's crucial to lockdown your transportation plans before you leave. Luckily, European cities have some of the best public transportation systems in the world, according to City Lab, as municipal planners specifically designed suburbs and cities to make transit viable. While this might not matter much to backpackers, the average tourist has a variety of transportation options both locally and across borders.
Keep in mind, the peak season for Europe travel falls between mid-June and August, so if you're looking to avoid the crowds it may be a good idea to visit during the winter months. Additionally, booking a mid-winter trip to Europe may allow you to capitalize on the cheapest prices for hotels, vacation packages, tours and more, according to U.S. Today. Vacationers looking for the lowest possible fares might want to consider staying at hostels, which can run as cheap as $10 per night in Eastern Europe or $40 per night in large Western Europe cities.
As a rule of thumb, the more time you spend working out the precise details of your trip to Europe, the fewer surprise expenses you'll have to contend with. Ultimately, the best Europe travel plans align with your personal interests and budgetary restraints, so be sure to keep an eye out for more travel tips and tricks before your next overseas adventure.