Italy Travel Insurance
Familiarize yourself with Travel Guard's most important travel tips and safety information to make sure you're prepared for your vacation to Italy.
GET A QUOTE
Once the center of civilization, Italy has managed to keep its cultural significance for over two millennia and is still a premiere destination for tourists from around the globe. Travelers flock to Italy to seek out world-class shopping, stellar cuisine, unique natural backdrops, and a glimpse into the history of one of the world's greatest empires. Whether you are looking to indulge in visits to the headquarters of luxury fashion houses in Rome, or find yourself basking in the sun on one of the stunning beaches of the Amalfi Coast, be sure to understand the importance of travel insurance with these frequently asked questions.
In this article:
Travel Insurance for Italy
Do I need travel insurance to visit Italy?
Travel insurance is not a legal requirement to enter Italy. However, having a travel insurance plan can be hugely beneficial if you encounter the unexpected during your adventure. Many major U.S. health insurance plans may not provide coverage while you're abroad, which could turn even a minor misstep into a major expense.
What is the best travel insurance plan for Italy?
No single plan will fit the needs of every traveler or destination. We recommend that you familiarize yourself with our plans before purchasing to ensure you have the type of coverage you may need most. For European destinations, our Deluxe plan might be the right fit, which provides enhanced coverage for baggage (including delays), medical expense coverage, travel inconveniences and even medical and security evacuation. Keep in mind that all our plans have optional add-ons, which can help tailor any plan to your specific needs.
How much is a travel insurance plan for a trip to Italy?
Our travel insurance plans are priced by several individual factors to ensure that you are getting the best coverage for your trip. For this reason, the price of a travel insurance plan can vary depending on the length of your trip and the plan you select. You'll find that typically the cost of a travel insurance plan is approximately 5-7% of your total trip cost. Check out our article on how much travel insurance costs for even more detail.
Ready to book your travel insurance plan for your trip to Italy? Travel Guard's award-winning travel insurance plans provide excellent coverage options and access to 24-hour emergency travel assistance. Compare our travel insurance plans to find the best option for your travels today.
Italy Travel Tips and Safety Information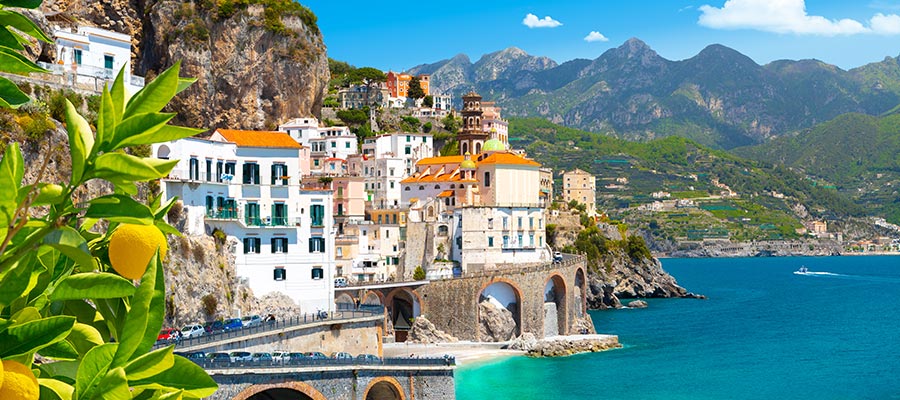 Travel Guard provides excellent travel insurance plan options for travelers to Italy. To help ensure visitors to the country are safe and as informed as possible, we compiled a few of the most popular questions that tourists traveling to Italy may have.
Are there COVID-19 restrictions for U.S. visitors to Italy?
For the latest information related to COVID travel requirements for Italy, please visit the official U.S. Embassy site.
Is Italy safe to visit?
Italy has consistently been ranked with a lower crime rating than the U.S., making it a safe destination. Most of the reported crimes directed at tourists are non-violent petty thefts. Despite having a favorable safety ranking, it is always advised to take general precautions in any unfamiliar location. Crime is more prevalent in major cities, and petty crime rates are of particular concern in crowded areas, at tourist sites and on public transportation. Be sure to leave all important valuables back at your accommodations, preferably in a safe. Keep all valuables out of plain sight when out and about, and always keep your most treasured possessions (cell phone, wallets and identification) in your front pockets. Finally, always keep a paper copy of your passport and another official form of identification on your person, as Italian law requires that travelers always carry identification.
Visit the U.S. Department of State website for up-to-date information on travel advisory levels and safety information for travelers to Italy.
All U.S. travelers should enroll in the Smart Traveler Enrollment Program (STEP), a free service offered to U.S. citizens traveling and living abroad. Enrolling in this program allows you to receive important information from the embassy and helps the embassy contact you in an emergency.
What currency is used in Italy?
Italy uses the Euro, as do most other countries throughout the European Union. While many establishments will have credit card readers that can accept most major U.S. credit cards, it is best practice to have some cash on hand in case you encounter somewhere that doesn't accept card payments. Most cities and towns will also have ATMs that will accept major U.S. card carriers, making it simple to withdraw cash while you travel – just be sure to check the international transaction fee with your bank before you go.
What language is spoken in Italy?
Italian is the predominant language used throughout Italy. While some tourist hotels and resorts in larger cities may have staff who can speak English, it is safe to assume that you will encounter some Italians who cannot. Fortunately, free translation services such as Google Translate can be installed on your smartphone and will work offline if the language has been downloaded in advance. This can come in handy if you have a specific piece of information that needs to be communicated. Otherwise, try to learn a few common phrases – Italians are generally quite friendly and will appreciate the effort on your part.
Do I need a visa or passport to travel to Italy?
As a U.S. citizen, you will need a valid passport to enter Italy. Be sure to check your expiration dates – as with many countries, Italy requires your passport be valid for three full months past your expected departure date. Since Italy is located within the European Union and has no special requirements or stipulations, tourists from the U.S. are allowed to visit for up to 90 days without needing an additional visa.
How do I contact the U.S. Embassy in Italy?
The U.S. Embassy in Italy is in Rome. Visit the official U.S Embassy government website for a list of up-to-date phone numbers and addresses.
What is the weather like in Italy?
Being situated along the Mediterranean, Italy generally experiences a Mediterranean climate, with hot, dry summers and cool, rainy winters. However, given its drastically varying topography and sub-regions, it is always best to check local conditions before embarking on your journey.
When is the best time of year to visit Italy?
The best time of year to visit Italy depends on where you are going and what you intend to do there. Given Italy's diverse terrain and climate zones, weather conditions can vary greatly across the country. The northern, mountainous portion of Italy is most desirable in winter for cold-weather activities like skiing or snowboarding, but this region is also stunning during the off-peak summertime given the mild, cool temperatures and gorgeous mountainous terrain.
Coastal and southern Italy experiences hot Mediterranean summers, which is often perfectly desirable for many beachgoers hoping to soak in Italy's picturesque coastline and coastal villages. Keep in mind that summer is the peak travel season for most of these destinations, so along with the heat, visitors can expect crowded city centers and beaches. If an Italian summer is in your travel plans, perhaps consider arriving as early in the season as possible to avoid the most crowded periods.
What is the dial code for phoning to and from Italy?
The Italian dial code is +39. Be sure to check your cellular plan before departure to make sure you don't encounter any unexpected charges. Keep in mind that international calling can be charged by the minute with most U.S. phone carriers, which can rack up quickly if you aren't careful. If you plan to stay in Italy for a longer period, consider purchasing a pay-as-you-go Italian SIM card to keep the cost of cellular services low.
What kind of power adapter do I need for my electronics?
Italy uses the same power sockets and voltage as all other E.U. countries – a Type C plug with two parallel pins and a 220-volt power supply. Most adapters will automatically adjust voltage for modern North American electronics, so you shouldn't need any additional equipment to ensure that your devices will work. If you encounter any issues with your power adapter, check with the manager of your accommodations, as they will likely have advice to help you make it work.
Other Italy FAQs
What is the best way to travel between cities in Italy?
Rail transport is often the most efficient mode of transportation between Italian regions, cities, and villages. The Italian rail network is highly advanced compared to that of the U.S., with trains traveling at speeds of up to 300 kph. Rail journeys can be affordable if booked in advance. Most trains offer a choice of first- or second-class travel, so you can choose to prioritize either comfort or your budget.
Is Italy in the Schengen Area?
As a full member of the European Union, Italy is located within the Schengen area. Therefore, crossing into all bordering countries is very simple, with no need to clear customs at any air or rail borders (given that your travels terminate in another Schengen country). Of course, when traveling, be sure to keep your passport with you.
Is Italy a family-friendly vacation destination?
Given its relative safety and the wide range of activities that are available, Italy is a family-friendly destination that children of all ages can enjoy. As with most vacations, bringing children along will always add an extra layer of planning, and Italy is no different.
Travel Guard offers comprehensive and customizable travel insurance plans for travelers heading to Italy. With excellent coverage and specialized emergency travel assistance representatives ready to help you at any time, Travel Guard is there for you. Compare our popular plans and find the best one for you!