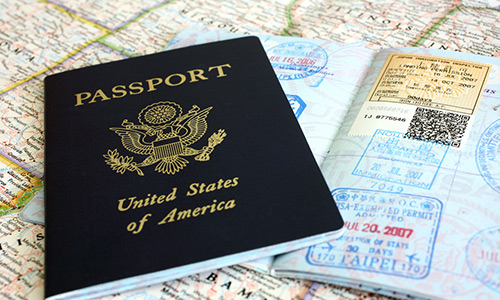 4/16/2021
Whether you're planning a trip in the future or you're still taking some time off from traveling, you still need to remember to get your passport renewed. Just like getting a new and improved driver's license, as a passport holder, you're expected to get this travel document renewed every 5-10 years, depending on how old you were when it was originally issued, according to the U.S. Department of State.
Passport renewal can seem like a tedious, overwhelming process if you've never done it before, but it doesn't have to be. Continue reading to learn the ins and outs of passport renewal, fees included, how to expedite the process and general tips and tricks to keep in mind:
Am I Eligible to Renew My Passport?
Ahead of getting into the step-by-step process of passport renewal, let's first determine whether you're eligible to get a new passport before filling out an application. According to USAGov, the Official Guide to Government Information and Services, you can renew your current passport if you fit one of the following scenarios:
Your original passport was issued before your 16th birthday.
It was issued more than 15 years ago.
It was lost, stolen or damaged.
It was issued with a previous name that you no longer use, and you have legal documentation that proves your new name.
If your situation matches one of the previously mentioned bullets, it's time to apply for a new passport. Read on to learn everything you need to know while filling out your application: 
How to Renew a Passport
There are several ways to get a passport renewed, depending on how quickly you need your new one. According to USAGov, someone who needs a new passport quickly will need to get it expedited and pay additional fees to ensure an early arrival. We'll touch more on this later.
Someone who doesn't need their newly issued passport immediately can still make an appointment with the Regional Passport Agency; passport holders can call to book an appointment or schedule one using the online passport appointment portal by the U.S. Department of State, Bureau of Consular Affairs.
Those who are simply preparing for the future and have no immediate plans for travel, or may have a trip planned in the coming months can do well by an application submitted in the mail. To successfully renew your passport by postage, follow these steps:
Fill out a DS-82: U.S. Passport Renewal Application for Eligible Individuals. Make sure to have your Social Security number and all necessary details to fill out your application.
Send in your most recent passport. Be sure to include your current passport with your application to receive your updated travel document.
If your name has changed, include the necessary documents to use your new name on your passport. This can include a certified copy of a marriage certificate, divorce decree or court-ordered name change document. Your documents will be returned to you in a separate envelope from your new passport.
Provide one new passport photo. This picture must've been taken within the last six months and must be a clear image of your face taken in front of a white background. Remember to remove your glasses and have someone else take the photo for you; many pharmacies and the post office can take the photo and print it for you, by appointment. Once your photo is ready, be sure to staple it to the front of your application. 
Calculate your application fees and include them by personal check or money order. Checks should be payable to the U.S. Department of State; cash will not be accepted. Application fees vary depending on the product you are applying for.
Gather your completed application, most recent passport, necessary name change documents, photo and application fees and use the United States Postal Service to mail in your application. The address you will send your application to depends on where you live. This information is available on the U.S. Department of State website.
If you're curious to learn about the status of your passport application, you can track it online or call the National Passport Information Center.


Passport Renewal Fee

There are varying passport renewal fees based on your age, where you apply and how quickly you need your passport. 
In general, if you are 16 and older and you want to renew your passport within a standard time frame, a passport card will cost $30, a passport book will cost $110 and together they will cost $140.
If you need a rushed passport due to an unexpected trip or failure to renew your passport on time, expedited service costs an additional fee of $60. If you're applying for a new passport book, there is a 1-to-2-day delivery fee of $17.56. Remember, this does not include the passport card.
If you are requesting a file search because you cannot submit proof of U.S. citizenship, you must pay a fee of $150 in addition to the other application and expedited fees.
Beyond renewing your passport online or by mail, you can also renew at a passport agency or passport acceptance facility, such as the post office, government office or library. If you plan to apply at one of the former locations, you will be expected to pay a $35 execution fee.  
Renew Passport Online
While you cannot specifically renew your passport online, you can set up an appointment online to make the application process simple and seamless. To get your appointment scheduled, click the previous link and scroll to the bottom of the page until you reach a box that's labeled "How can we help you today?"
From there, select the answer that best applies to your situation. Click next and it will take you through a questionnaire to get a better idea of how quickly you need your new passport so you can schedule an appointment within the necessary time frame.
At this time, you can only schedule an appointment at a passport agency if you have an upcoming international trip.
Expedited Passport Renewal
Whether you're in a pinch to get your passport quickly before a trip or you simply want your renewed passport to come quicker than the routine service can provide, you can apply for expedited renewal.
To get your passport in three weeks or less, you will be expected to pay a fee of $60.
Contact the National Passport Information Center to make an appointment at a Regional Passport Agency, or you can use the online portal to schedule your appointment as well. You can also expedite your renewal by mail if there isn't an initial reason for the rush.
If there is no reason for wanting your renewed passport at an expedited rate, your processing time will take about 4 to 6 weeks as opposed to the 10 to 12 weeks expected with routine passport applications.
How Long Does it Take to Renew a Passport?
Processing times for passport renewal range from season to season. Unexpected postal service overhauls, specifically during a global pandemic, may also have an impact on how quickly you receive your new passport if you applied by mail. In general, however, you can expect the following ranges:
Routine service. If you applied for your renewed passport by mail or in person with no expedited expectations, you can plan to receive your new passport within 6 to 8 weeks.
Expedited service.  If you applied for your renewed passport with the intention of receiving it at an expedited rate, you can plan to get it within 2 to 3 weeks by mail or in person.
Expedited service at an agency location. If you need your renewed passport because of unexpected travel in the next two weeks, or because of an immediate life-or-death emergency, you can plan to receive your new passport within 8 business days of sending in your application.


Remember: You can check the status of your passport online or by phone. It's recommended to wait 7 to 10 days after applying before you can successfully check the status.
Emergency Passport Renewal
There are certain instances in which you can speed up the renewal process even faster than expedited applications. Life-or-death emergencies also constitute for the quick renewal and retrieval of your passport. If one of your immediate family members has died or fell seriously ill or injured while in another country and you must travel outside of the U.S. within a 72 hour period, you may be eligible for an appointment to receive your renewed passport quickly.
For reference, an immediate family member can be parents, legal guardians, children, spouses, siblings and grandparents. All other family members or close relatives cannot be included in this emergency instance.
Someone seeking emergency passport renewal is advised to call the U.S. Bureau of Consular Affairs to set up an appointment as soon as possible. At your appointment, remember to bring your passport application with all supporting documents, proof of international travel such as an itinerary or travel ticket, and a death certificate, statement from a mortuary or another document that proves the life-or-death emergency situation.
Passport Renewal for Minors
Minors cannot receive a passport unless they have consent from both parents; this rule is put in place to ensure one parent cannot take their child out of the country without the consent from the other parent. Children must apply for their passports in person, and parents must be present and co-sign the application.
Because renewal age doesn't start until 16 years old, children are not required, nor would they need to, renew their passport.
General Tips for Renewing Your Passport
Typically, passport holders are recommended to renew their travel document around nine months before its actual expiration date; this is suggested just in case an emergency occurs or you need your passport earlier than anticipated. Taking care of passport renewal in advance can save you trouble in the long run. Additionally, some countries require that your passport is valid six months after your initial travel to allow you to travel internationally; because of this, some airlines will not let you on the plane unless you renew your passport in advance. Getting your passport renewed early will safeguard you from this potential situation.
No matter how long it takes to get your passport renewed, we hope that it's a smooth and seamless process. If you're planning a trip in the near future, keep Travel Guard travel insurance in mind. We can provide travel assistance in the event of an emergency.
Sources:
https://travel.state.gov/content/travel/en/passports/passport-help/faqs.html
https://www.usa.gov/passport
https://passportappointment.travel.state.gov/appointment/new/travelplans/72E0364F0A84FFB75ED429DA07054AA9
https://travel.state.gov/content/travel/en/passports/have-passport/renew.html
https://travel.state.gov/content/travel/en/passports/get-fast/emergencies.html
Expenses incurred from third-party vendors not part of a filed insurance plan are the responsibility of the traveler.