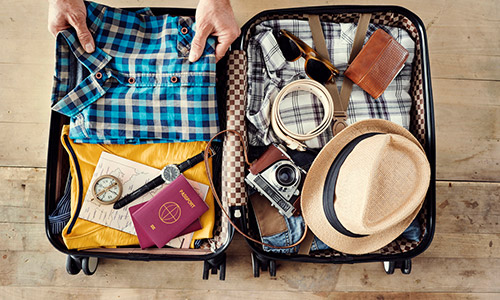 4/29/2021
Packing for vacation can be overwhelming whether you're going away for the weekend or on an extended trip. You may find yourself constantly checking and double checking to make sure you have everything. While packing is never going to be your favorite thing to do, here are some tips that will help:
Use a checklist. Ever get done packing and have that nagging feeling that you've forgotten something? Reduce the risk of leaving something behind by having a go-to packing list that you can organize by your destination's climate. 
Roll, don't fold. Tightly roll your clothes when you're packing instead of folding them. They'll take up less space and will be less prone to wrinkling.
Stick to neutrals. Resist the impulse to pack an entirely different outfit for each day. Pack pieces you can mix and match throughout your trip - it helps to stick to neutral colors that can be paired with almost anything. 
Try packing aids. Packing aids like compression bags can allow you to vacuum pack your clothes into tiny, tight bundles. If you're headed for a long trip or concerned about space, this is one way to help. 
Know the rules. If you're flying, knowing the luggage size and weight requirements before traveling will make your experience at the airport that much easier. 
Pack travel insurance. Whatever else you decide to pack for your vacation, make sure your checklist includes a travel insurance plan with 24/7 assistance.  Travel Guard travel insurance can go to work on your behalf re-booking flights and hotels, finding lost luggage and more.