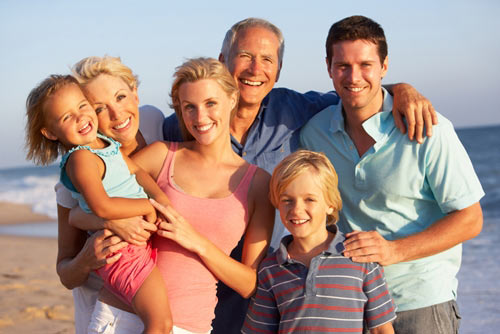 12/16/2016
Summer vacations with the whole family are a fun opportunity to spend quality time with your loved ones. What better place to catch up than on the shores of the beach or at a cafe in the center of your favorite city?
However, family travel requires a lot of preparation. One factor to think about before you leave is how to have a successful experience with your older relatives. Everything from mentally preparing to packing the appropriate medication is important for a smooth and pleasant trip with your older family member. Here are a few travel tips to remember before setting off on your long-awaited journey.
1. Check with the doctor
Your loved one may assure you with confidence that he or she is fit for flying or heavy amounts of walking. However, the Society for Accessible Travel and Hospitality noted that it's always best to seek a second opinion from the doctor, especially if your family member has recently experienced an illness or injury. Ensure that all aspects of his or her health are in check, especially factors like eyesight and hearing.
Once you get the OK from the physician, make a checklist of any medications your relative will need for the vacation. Ask the doctor for extra prescription refills just in case your loved one runs out and needs it before the end of the vacation. Bring all of these medications in the carry-on to make sure he or she has access to them at all times.
2. Get to the airport early
According to USA Today, one thing to keep in mind is that, although avoiding stress is always essential to a successful trip, when traveling with an elderly member of the family, it's crucial. Older people may not handle stress as well as younger individuals, and intense anxiety can even lead to conditions like stroke and heart attacks. You won't want to rush your loved one through a busy airport. Instead, get there as early as possible. If you have children in tow, make sure that you help them prepare beforehand so you're not scrambling to get them packed and ready to go.
3. Encourage frequent hydration
From the moment you leave for the airport to your departure, encourage your relative to consume a lot of water. Everyone should be drinking enough to prevent dehydration, especially if it's particularly hot out. A lack of water can interfere with blood sugar levels and cause extreme fatigue for older people, according to The New York Times. Limit your family member's caffeine and alcohol consumption throughout the vacation, as drinking high amounts can quickly lead to dehydration.
4. Remind everyone that patience is key
While there are bound to be plenty of memorable moments on your family vacation, there may also be some experiences that test your patience. Walking around all day with a large group of people will require you to be patient no matter the age of your travel companions. However, older family members may be slower or need to stop frequently. This can be difficult for energetic children when they're excited and anxious to explore.
"Patience is a valuable virtue when traveling with anyone - and it can be tested with family members of any age," family travel blogger Claudia Laroye told The Globe and Mail. "If your relative is slower, more forgetful or harder of hearing than you are, you should make the adjustments to cope, as they likely can't."
Sometimes having the adults take turns splitting up and chaperoning one of two groups - one with the younger crowd and one with the older relatives - can help ease any tension.