Norway Travel Insurance
Familiarize yourself with Travel Guard's most important travel tips and safety information to make sure you're prepared for your vacation to Norway.
GET A QUOTE
The natural wonders of Norway are a draw for tourists from all over the world. The breathtaking fjords, the fresh mountain air and the rich Viking history has all the makings for a once-in-a-lifetime trip. While you plan your next adventure, we have answers to some of your top questions.
In this article:
Travel Insurance for Norway
Do I need travel insurance to visit Norway?
It is not required for U.S. citizens to obtain travel insurance when traveling to Norway. However, many U.S. health insurance plans may not provide coverage when traveling out of country so having a travel insurance plan is a good idea.
What is the best travel insurance plan for Norway?
When selecting your travel insurance plan, consider the type of trip you're taking. If you're planning an action-packed trip or possibly bringing along expensive tech equipment, like camera equipment to capture the Northern Lights, then take a look at Travel Guard's Deluxe Plan, which has higher benefit limits for things like baggage and personal items as well as medical expense coverage just in case! If your trip is more low-key, then our Preferred Plan might have just what you need. Compare our plans to find the best fit for your trip.
How much is a travel insurance plan for a trip to Norway?
The cost of your travel insurance will vary depending on your exact needs. Typically travel insurance will cost between 5-7% of your total trip cost, but it can save you a lot if something unexpected happens on your trip. There are several factors at play when pricing your insurance like the plan you select and the number of travelers. Check out our article on how much travel insurance costs for even more detail.
Ready to book your travel insurance plan for your Norway trip? Travel Guard's award-winning travel insurance plans provide excellent coverage options and access to 24-hour emergency travel assistance. Compare our travel insurance plans to find the best option for your travels today.
Norway Travel Tips and Safety Information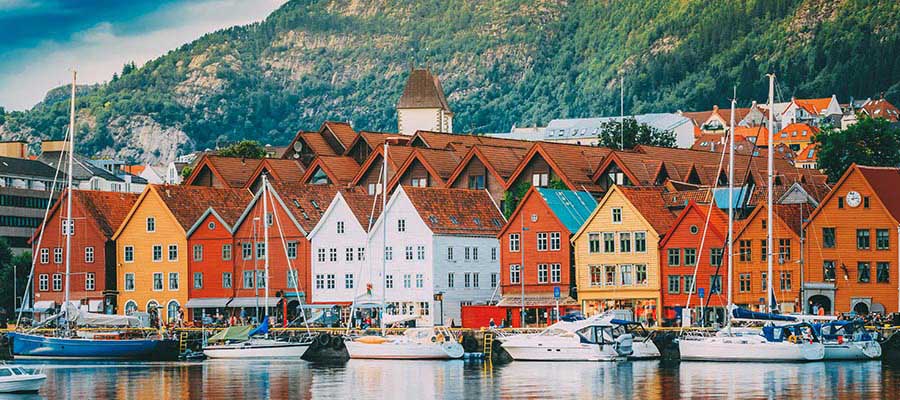 Travel Guard provides excellent travel insurance plan options for travelers to Norway. We also want to ensure visitors to the country are safe and as informed as possible. We've compiled some popular questions that tourists traveling to Norway may have.
Are there COVID-19 restrictions for U.S. visitors to Norway?
For the latest information related to COVID travel requirements for Norway, please visit the official U.S. Embassy site.
Is Norway safe to visit?
Norway is known to be one of the safest countries to visit. It has a very low crime rate even in major cities like Oslo. That said, petty criminals may target visitors in crowded areas and at tourist sites in Oslo and other major cities. Gang activity and terrorism risks can also be a concern, so it is important to stay aware of your surroundings and avoid traveling alone after dark.
If you are venturing to the Norwegian archipelago Svalbard or other areas with mountains and/or glaciers, avoid going alone. Weather, wildlife and terrain can be extremely treacherous. It is best to travel with an experienced local guide with reliable communication and purchase travel insurance that covers remote rescue and medical evacuation.
Visit the U.S. Department of State website for up-to-date information on travel advisory levels and safety information for travelers to Norway.
All U.S. travelers should enroll in the Smart Traveler Enrollment Program (STEP), a free service offered to U.S. citizens traveling and living abroad. Enrolling in this program allows you to receive important information from the embassy as well as helps the embassy contact you in an emergency.
What currency is used in Norway?
The Norwegian krone is the official currency used in Norway. Foreign currency is not typically accepted. You can exchange your money before you travel, but there are cash machines all over Norway to make it easy to exchange currency during your travels.
What language is spoken in Norway?
Norwegian and Sami are the two official languages of Norway. By far, Norwegian is the most widely spoken language throughout the country. Many Norwegians speak or understand some English, but you should still consider learning some key phrases to communicate before your trip. You can also consider downloading a translation app to help you converse!
Do I need a visa or passport to travel to Norway?
Visas are not required for U.S. citizens who are traveling to Norway for up to 90 days. You will need a valid passport to enter, and it's recommended your passport be valid for at least six months after your intended date of departure from Norway.
How do I contact the U.S. Embassy in Norway?
The U.S. Embassy in Norway is in Oslo. Visit the official U.S Embassy government website for a list of up-to-date phone numbers and addresses.
What is the weather like in Norway?
The coastal areas of Norway have mild temperatures during the winter and tend to be on the wetter side. While inland, you may experience harsher cold. Temperatures in the summer don't get exceedingly hot with highs usually around the upper 70s Fahrenheit. Year-round, Norway tends to be partly cloudy most days, but the landscape and views make up for it.
When is the best time of year to visit Norway?
Depending on what you want to see and experience in Norway will tell you the best time of year to visit. Cold winter months bring an opportune time to experience the Northern Lights, and Norway is known as one of the best places on Earth to see them. But if you're looking to cruise through the famous Norwegian Fjords, you may want to visit between June and August for the best chance at a sunny day.
What is the dial code for phoning to and from Norway?
Norway's dial code is +47. You can use this to call both Norwegian landlines and mobile phone numbers. Be sure to consider the area code of the city you're calling as well as how much the call is going to cost.
What kind of power adapter do I need for my electronics?
You will need either a "C" or "F" adapter to ensure you're able to charge and use your devices while in Norway as they use the standard Euro plug socket throughout the country.
Other Norway FAQs
Can I travel Norway by train?
Yes, Norway offers some of the most beautiful train rides you can experience. Taking you through fjords, along the coast and throughout the countryside.
Is it expensive to travel in Norway?
Norway is a wealthy country and that can translate into the prices you'll find while traveling. Plan your budget ahead of time and focus on the top two or three things you absolutely want to do to ensure you have the best visit possible.
Can I travel Norway without a car?
Yes, the public transportation in Norway makes it relatively easy to navigate around the country without a car. Within cities there are local bus services and between cities there are ample options like express coach or trains.
Travel Guard offers comprehensive and customizable travel insurance plans for travelers heading to Norway. With excellent coverage and specialized emergency travel assistance representatives ready to help you at any time, Travel Guard is there for you. Compare our popular plans and find the best one for you!