Hawaii Travel Insurance
Familiarize yourself with Travel Guard's most important travel tips and safety information to make sure you're prepared for your vacation to Hawaii.
GET A QUOTE
No matter which island you choose to visit, you're sure to find the island vacation of your dreams in Hawaii. From Maui to Kauai, you'll find relaxation, adventure and more with all-inclusive resorts and activities like surfing famous Hawaiian waves, hiking through the Hawai'i Volcanoes National Park and more. Wherever your island escape takes you, Travel Guard can help you plan.
In this article:
Travel Insurance for Hawaii
Do I need travel insurance to visit Hawaii?
Travel insurance is not a requirement for tourists visiting Hawaii. However, you never know what unexpected weather might affect your trip. Flash flooding, earthquakes and tropical storms can occur depending on the time of year you're planning to travel. Thankfully there are travel insurance options with 24/7 emergency travel assistance, like our Travel Guard travel insurance plans, to support you when unexpected issues come up while traveling. Consider a travel insurance plan to protect your trip investment.
What is the best travel insurance plan for Hawaii?
If you're looking to protect your trip, Travel Guard has comprehensive plans to bring along on your vacation. Our Preferred Plan is a great place to start as it includes medical expense coverage, trip delay coverage, baggage coverage and more. If you're planning activities like surfing, skydiving or jet skiing, consider an optional add-on such as our Adventure Sports Bundle to cover you while you explore.
How much is a travel insurance plan for a trip to Hawaii?
Typically Travel insurance costs between 5-7% of the total price of your trip. Several factors come into play when it comes to pricing your plan, such as the plan you select and the number of travelers in your party. For more details on pricing, check out our article on how much travel insurance costs.
Ready to book your travel insurance plan for your Hawaii trip? Travel Guard's award-winning travel insurance plan provide excellent coverage options and access to 24-hour emergency travel assistance. Compare our travel insurance plans to find the best option for your travels today.
Hawaii Travel Tips and Safety Information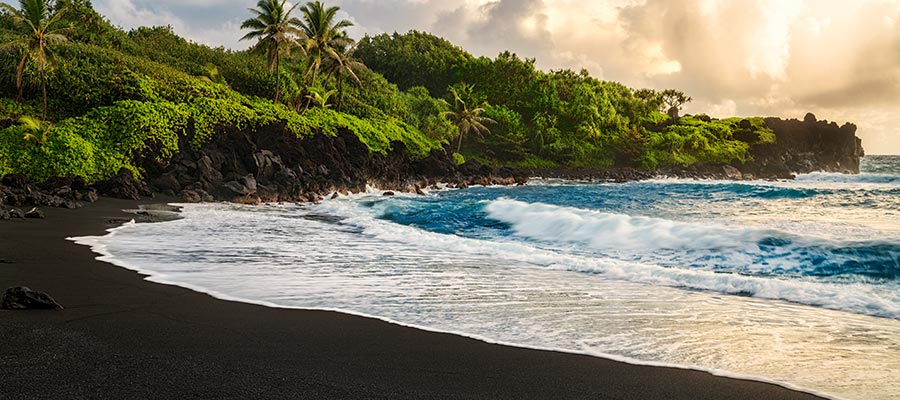 Travel Guard provides excellent travel insurance plan options for travelers to Hawaii. We also want to ensure visitors to the state are safe and as informed as possible. We've compiled some popular questions that tourists traveling to Hawaii may have.
Are there COVID-19 restrictions for visitors to Hawaii?
For the latest information related to COVID travel requirements for Hawaii, please visit the official CDC website.
Is Hawaii safe to visit?
With respect to crime, Hawaii is one of the safest states to visit, meaning you can soak up the sun with little worry. Keep an eye on your belongings on beaches and in crowded tourist areas, and don't leave valuables in unattended vehicles.
While crime risks are relatively low, there is the possibility of weather, like flash flooding, to put a damper on your good time. For situations like this, we recommend planning your activities around the weather and consider a travel insurance plan to cover things like trip delay or flight cancellation.
If you are visiting Hawaii's famous beaches or venturing to one of the state's many nature trails, it's important to heed all posted safety warnings. Be mindful of rip currents and waves near the ocean and stay on marked trails when going on hikes. Never hike alone and let someone at home know where you are planning to go in case there is an emergency.
What currency is used in Hawaii?
The official currency in Hawaii is the U.S. dollar. This means domestic travelers will not need to worry about a currency exchange. You will be able to use your credit and debit cards as normal, but remember to inform your bank of your travels to ensure you don't experience any interruptions.
What language is spoken in Hawaii?
There are two official languages spoken in Hawaii, Hawaiian and English. While English is commonly spoken, you may find it beneficial to learn some common Hawaiian phrases and sayings to fit in better with the culture.
Do I need a visa or passport to travel to Hawaii?
Visas are not required for travelers with citizenship in the U.S. Passports are not required for flights into Hawaii, however, if traveling by cruise line, you may need a valid passport depending on where the cruise will port, so be sure to check the requirements before your trip.
How do I contact the U.S. Embassy in Hawaii?
Since Hawaii is a part of the United States, there is no embassy in Hawaii. However, if you need help while you're traveling with a Travel Guard travel insurance plan, you can contact our specially trained representatives 24/7 for emergency travel assistance and they will be happy to help.
What is the weather like in Hawaii?
Hawaii is known for its beautiful sunny weather, but depending on the time of year you're traveling, you could miss it if you don't plan accordingly. One of the worst times of year to visit Hawaii is in December due to its heavy rainfall. To ensure your trip is as sunny as possible, visit between the months of April and October to see Hawaii's dry season.
When is the best time of year to visit Hawaii?
The best time of year to Hawaii depends on the types of activities you're interested in. June is full of popular events like Maui's Kapalua Wine & Food Festival and the King Kamehameha Celebration, which is celebrated across Hawaii to honor its separate islands joining together as the United Kingdom of Hawaii.
What is the dial code for phoning to and from Hawaii?
Hawaii's international dial code is +1, which the same as the rest of the U.S. Hawaii does have its own area code of 808, which will need to be dialed to reach someone in the state. Typically, you will not need to worry about international call fees when connecting to Hawaii, but it's best to check in with your phone provider.
What kind of power adapter do I need for my electronics?
Visitors traveling to Hawaii can use their electronics as normal without a power adaptor as Hawaii uses the same voltage as the rest of the contiguous U.S.
Other Hawaii FAQs
Can you travel between islands in Hawaii?
Traveling between islands in Hawaii is common and very easy. With plenty of airlines making short trips between islands and even ferry rides to get you back and forth, you'll find island hopping to be easy and fun.
Should I rent a car in Hawaii?
Unless you're planning to stay at an all-inclusive resort, you will most likely need to rent a car. This will allow you to have the most control over your trip and give you the ability to sight-see without being part of a tour group. Bigger cities like Oahu do have an excellent bus system, but for the most direct route to your destination you may find a rental car easiest. Travel Guard offers rental car insurance for your vacation to make sure you're covered!
Travel Guard offers comprehensive and customizable travel insurance plans for travelers heading to Hawaii. With excellent coverage and specialized emergency travel assistance representatives ready to help you at any time, Travel Guard is there for you. Compare our popular plans and find the best one for you!