Costa Rica Travel Insurance
Familiarize yourself with Travel Guard's most important travel tips and safety information to make sure you're prepared for your vacation to Costa Rica.
GET A QUOTE
Known for its active volcanos and untouched landscapes, Costa Rica is an ecotourist's dream whether you're traveling with family or friends. If you're ready for relaxation in a tropical paradise, try taking a visit to the beautiful beaches along the Guanacaste coastline.
Or, if you're more adventurous, take a trip to the Arenal Volcano National Park to view wildlife, soak in hot springs or visit the cooled lava field. Whatever adventure you're planning, from surfing to skydiving, we can help with the planning.
In this article:
Travel Insurance for Costa Rica
Do I need travel insurance to visit Costa Rica?
Currently, visitors from the U.S. to Costa Rica are required to have travel medical insurance. For unvaccinated travelers, you'll need about $50,000 in travel medical insurance, and you should be prepared for an additional expense for quarantine lodging. Including add-ons to your travel insurance plan can help you customize your plan for your unique needs.
What is the best travel insurance for Costa Rica?
When traveling to Costa Rica, a great place to start is our Preferred Plan, which has medical expense coverage, trip interruption, trip delay, baggage coverage and more to help cover you on your rainforest adventures. Consider the activities you'll be doing on your trip. Planning something to get your adrenaline pumping? Take a look at Travel Guard's Adventure Sports Bundle to cover your exploration in this jungle paradise, whether you're ziplining, skydiving or exploring one of the many volcanos.
How much is travel insurance for a trip to Costa Rics?
A travel insurance plan typically costs between 5-7% of your total trip cost. There are several factors at play when pricing your insurance like the product you select and the number of travelers. Check out our article on how much travel insurance costs for even more detail.
Ready to book your travel insurance plan for your Costa Rica trip? Travel Guard's award-winning travel insurance plans provide excellent coverage options and access to 24-hour emergency travel assistance. Compare our travel insurance plans to find the best option for your travels today.
Costa Rica Travel Tips and Safety Information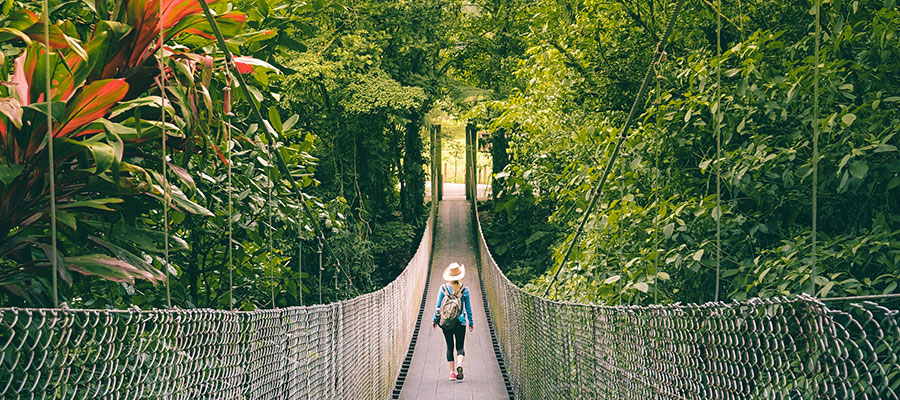 Travel Guard provides travel insurance options to fit whatever adventures you're hoping to find in Costa Rica. We want to make sure you're safe and informed when traveling, so we've complied some popular questions tourists may have when traveling to Costa Rica.
Are there COVID-19 restrictions for U.S. visitors to Costa Rica?
For the latest information related to COVID travel requirements for Costa Rica, please visit the official U.S. Embassy site.
Is Costa Rica safe to visit?
Costa Rica is a safe country to visit, but violent crime has risen slightly in recent years. Petty theft is the most common crime visitors encounter, so be sure to exercise caution and avoid displaying signs of wealth, such as wearing expensive jewelry or designer clothing. Try to blend in with the local culture as much as you can, and if you do encounter a robber, don't resist, as criminals may not hesitate to use violence.
Beyond crime concerns, be careful when visiting Costa Rica's beaches, as strong currents can create dangerous conditions. The country is also prone to natural disasters, so watch out for tropical storms and volcanic eruptions that can lead to travel disruptions.
Visit the U.S. Department of State website for up-to-date information on travel advisory levels and safety information for travelers to Costa Rica.
All U.S. travelers should enroll in the Smart Traveler Enrollment Program (STEP), a free service offered to U.S. citizens traveling and living abroad. Enrolling in this program allows you to receive important information from the embassy and helps the embassy contact you in an emergency.
What currency is used in Costa Rica?
The official currency of Costa Rica is the colón. U.S. citizens can exchange currency in major cities though U.S. dollars are widely accepted throughout the country Carrying cash will make smaller transactions, like a taxi ride, easier. Debit and credit cards are typically accepted in major cities, but make sure to let your bank know when and where you'll be traveling.
What language is spoken in Costa Rics?
Spanish is the official language of Costa Rica and widely spoken throughout the country. However, there are a variety of other languages spoken such Creole, English and Indigenous Chibchan dialects. English is mostly used in popular tourist destinations.
Do I need a visa or passport to travel to Costa Rica?
U.S. citizens do not require an entry visa to Costa Rica. However, you must have a valid passport, and a return ticket to exit Costa Rica within 90 days of entry. Your U.S. passport must be valid for a minimum of one day from your entrance to Costa Rica. For more information on visa and passports visit official website for the Costa Rican Embassy.
How do I contact the U.S. Embassy in Costa Rica?
The United States Embassy in Costa Rica is in San José. For a list of up-to-date phone numbers and addresses visit the U.S Embassy government website.
What is the weather like in Costa Rica?
Temperatures in Costa Rica are consistently warm and tropical year-round averaging between 72 and 82 F (22 and 28 C). However, the northwest is hotter in the dry season from February-May when there is less rain.
When is the best time of year to visit Costa Rica?
The best time of year to visit Costa Rica is during the summer to early fall, ideally from July through October. Though this is Costa Rica's rainy season, temperatures are milder, which is ideal for doing activities on your trip. The dry season brings higher temperatures, but time allows for easy access to destinations that may otherwise be flooded. Aside from weather, there are multiple key festivals and events in Costa Rican culture that travelers should attend. Limon Carnival in mid-October is the largest carnival of the year where visitors will be able to partake in Costa Rica's Caribbean culture, fun-loving vibe and festive people. Or if you want to escape from the winter, visit at the end of December for Fiestas Zapote, the biggest rodeo of the year that lasts for an entire two weeks.
What is the dial code for calling to and from Costa Rica?
Costa Rica's dial code is +506, so be sure to include the area code of the city you're calling. Make sure to contact your phone company to know how much an international call will cost.
What kind of power adapter do I need for my electronics?
U.S. travelers shouldn't need to bring a travel adaptor on their trip as Costa Rica uses the same A/B type energy as the U.S.
Other Costa Rica FAQs
Can I rent a car in Costa Rica?
Renting a car in Costa Rica is very common. Car rental companies require a valid driver's license as well as liability insurance to rent.
Are vaccines required for travel to Costa Rica?
Currently, there are no vaccinations required when traveling to Costa Rica, though it is recommended to receive vaccines for Diphtheria, Hepatitis A, Rabies and Tetanus. For more information on staying safe as you travel, visit the official CDC website.
Is Costa Rica a family friendly destination?
The country's wilderness and ecotourism make Costa Rica one of the top places in the world to adventure as a family. With volcanic views, lush rainforests, beaches and more, you'll find there's something or somewhere to explore for people of all ages.
What time zone is Costa Rica in?
The official time zone of Costa Rica is Central Standard Time (CST).
Travel Guard offers comprehensive and customizable travel insurance plans for travelers heading to Costa Rica. With excellent coverage and specialized emergency travel assistance representatives ready to help you at any time, Travel Guard is there for you. Compare our popular plans and find the best one for you!
GET A QUOTE