Canada Travel Insurance
Familiarize yourself with Travel Guard's most important travel tips and safety information
to make sure you're prepared for your vacation to Canada.
GET A QUOTE
If you're looking for adventure on your next vacation, Canada could be the perfect destination for you. Whether you're looking for a snowy ski vacation in Vancouver, an exciting hike in Banff National Park or maybe you just want to enjoy the views while sipping some hot cocoa – Canada is the place to be. No matter what your next vacation has in store for you, we can help protect your journey from the unexpected.
In this article:
Travel Insurance for Canada
Do I need travel insurance to visit Canada?
Tourists visiting Canada are not required to have insurance to enter the country. However, given that most U.S. health insurance providers may not cover you when traveling internationally, it is a good idea to consider travel insurance including medical expense and other coverages.
What is the best travel insurance for Canada?
Travel Guard has comprehensive travel insurance packages customizable to work for you and your unique trip. If you're not sure where to start, our Preferred Plan offers a variety of coverage including medical expense coverage, trip interruption, trip delay, baggage coverage and more. Consider what you plan on doing throughout your trip, as an add-on, like our Adventure Sports Bundle may come in handy if you plan on skiing, snowboarding or hiking. Planning a last-minute Canadian getaway? Try our Pack 'N Go plan!
How much is travel insurance for a trip to Canada?
When purchasing travel insurance for your trip prepare for the price to be around 5-7% of your total trip costs. Several factors are at play when pricing insurance, like the product selected and the number of travelers in your party. Check out our article on how much travel insurance costs for more details.
Ready to book your travel insurance for your Canada trip? Travel Guard's award-winning travel insurance provides excellent coverage options and access to 24-hour emergency travel assistance. Compare our travel insurance plans to find the best option for your travels today.
Canada Travel Tips and Safety Information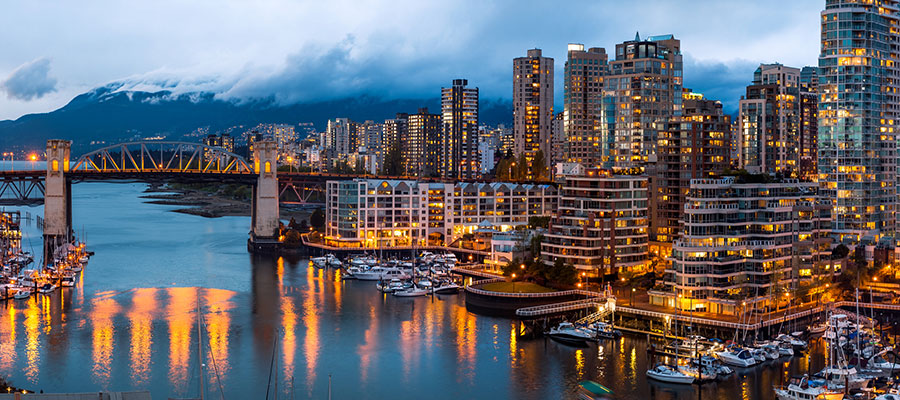 Travel Guard offers exceptional travel insurance options for traveling to Canada. We want to ensure travels to the country are as safe and informed as possible. So, we compiled a list of popular questions that tourists like you may have when traveling to Canada.
Are there COVID-19 restrictions for U.S. visitors to Canada?
For the latest information related to COVID travel requirements for Canada, please visit the official U.S. embassy site.
Is Canada safe to visit?
Yes, Canada is a safe destination spot known for its winter sports, gorgeous landscapes and delicious food. Notorious for politeness and peacekeeping, many tourists feel safe when visiting. However, it's always a good idea to be aware of your surroundings in new locations, especially in popular tourist spots and on public transportation. You should take general precautions like maintaining vigilance in crowded areas, securing money and valuables, and avoiding protests and demonstrations. Visit the U.S. Department of State website for up-to-date information on travel advisory levels and safety information for travelers to Canada.
All U.S. travelers should enroll in the Smart Traveler Enrollment Program (STEP), a free service offered to U.S. citizens traveling and living abroad. Enrolling in this program allows you to receive important information from the Embassy as well as helps the Embassy contact you in an emergency.
What currency is used in Canada?
The official currency of Canada is the Canadian dollar. Debit and credit cards are commonly accepted in Canada, though major cities will have places to exchange money from U.S. dollars. However, it's always a good idea to keep some cash on you.
What language is spoken in Canada?
Canada is a bilingual country with two official languages - English and French. The French-speaking population is smaller than its English counterpart, you'll most commonly find French being spoken in Quebec.
Do I need a visa or passport to travel to Canada?
If you are traveling for less than 180 days, U.S. citizens do not need a visa, however a valid passport or NEXUS card is required for entry.
How do I contact the U.S. Embassy in Canada?
The U.S. embassy in Canada is in Ottawa. For the latest up-to-date contact information, including addresses and phone numbers, visit the official embassy site.
What is the weather like in Canada?
While Canada may be known for its winter sports and maple syrup treats, it has a diverse range of temperatures and weather conditions throughout its regions. In Montreal for example, you'll experience the best of all four seasons. This also means you'll need to prepare for heat and humidity if you plan to travel during the summer months.
When is the best time of year to visit Canada?
The best time of year to visit Canada depends on the activities you want to participate in while on vacation. If skiing is on your agenda, it's no surprise that the winter months are an ideal season for your visit. Or take in the beauty of springtime and visit Vancouver's Cherry Blossom festival, but be prepared for precipitation, as that is Canada's rainy season. Summer is a peak season for visiting as it's filled with fun things to do, including The Celebration of Lights, which features the world's largest offshore fireworks competition. Of course, if you're an autumn-lover, you'll enjoy the fall foliage across the gorgeous country from late September to early November.
What is the dial code for calling to and from Canada?
The dial code for Canada is +1, just like the United States. However, when making calls to and from Canada, be sure to keep the area code of the location in mind.
What kind of power adapter do I need for my electronics?
If you are a U.S. citizen, you don't need to worry about packing a power adaptor as Canada uses 120V, the same voltage as the United States. This means you'll be able to use and charge your electronics as normal.
Other Canada FAQs
Can I drive my own car to Canada?
Yes, visitors traveling to Canada can bring their own cars and don't have to meet Canadian vehicle standards as long as your visit isn't permanent.
Can I travel between provinces in Canada?
Depending on where you are traveling to and from, you may face different travel restrictions between provinces. For the latest information check with the Government of Canada travel page for more details.
Can I use an enhanced ID to enter Canada?
U.S. citizens with an enhanced license can travel for business or leisure by land. However, if you're traveling by plane, you'll need to provide a valid U.S. passport.
How long can I stay in Canada?
U.S. citizens can stay in Canada for up to six months without a visa.
Travel Guard offers comprehensive and customizable travel insurance plans for travelers heading to Canada. With excellent coverage and specialized emergency travel assistance representatives ready to help you at any time, Travel Guard is there for you. Compare our popular plans and find the best one for you!
GET A QUOTE