Germany Travel Insurance
Familiarize yourself with Travel Guard's most important travel tips and safety information to make sure you're prepared for your vacation to Germany.
GET A QUOTE
Germany is a country steeped in both history and culture. Visitors are sure to be fascinated by historical attractions across the country, with a multitude of renowned World War II and Cold War museums and historical sites to see. Since the collapse of the Berlin Wall in 1989, Germany has transformed into a highly modern and advanced country, meaning that visitors can also experience world-class dining, nightlife and other attractions. Whatever direction your vacation takes, be sure to review our travelers' most frequently asked questions about travel insurance for trips to Germany.
In this article:
Travel Insurance for Germany
Do I need travel insurance to visit Germany?
While travel insurance is not legally required to visit Germany, purchasing coverage is recommended for all European destinations. Of the popular European vacation destinations, Germany offers relatively few direct flight options to the U.S. and traveling on a connecting flight always increases the risk of travel mishaps due to delays and cancellations. Additionally, most U.S. medical healthcare plans may not offer coverage abroad, leaving you and your traveling companions exposed to the risk of paying any unexpected medical costs yourself.
What is the best travel insurance plan for Germany?
While having any travel insurance is always better than no travel insurance at all, it isn't easy to recommend one single plan for an entire country. Think carefully about the activities you'll be participating in as well as any costs you have. Due to the increased coverage offered by our Deluxe plan for travel hiccups like lost baggage, delays and medical expenses, our Deluxe plan is one of our most popular plans for international travel. If you plan to embark on some adventures in nature (perhaps a hiking trip to Saxon Switzerland National Park), you can customize your plan with available add-ons to tailor your coverage to your exact needs.
How much is a travel insurance plan for a trip to Germany?
Pricing for all our travel insurance plans is based on a variety of factors, including trip length and trip cost. We take several factors into consideration to ensure that you have adequate coverage for any travel mishaps, so be sure to provide accurate information as you make your way through the purchasing journey.
Ready to book your travel insurance plan for your Germany trip? Travel Guard's award-winning travel insurance plans provide excellent coverage options and access to 24-hour emergency travel assistance. Compare our travel insurance plans to find the best option for your travels today.
Germany Travel Tips and Safety Information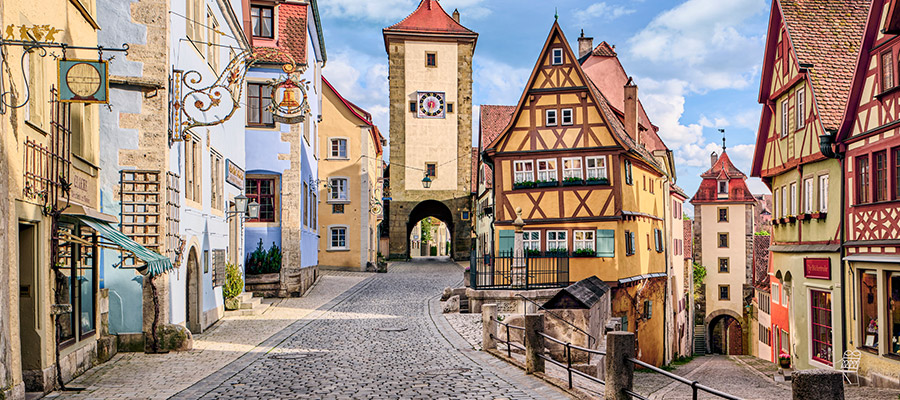 Travel Guard provides excellent travel insurance plan options for travelers to Germany. We also want to ensure visitors to the country are safe and as informed as possible. We've compiled some popular questions that tourists traveling to Germany may have.
Are there COVID-19 restrictions for U.S. visitors to Germany?
For the latest information related to COVID travel requirements for Germany, please visit the official U.S. Embassy site.
Is Germany safe to visit?
Germany is consistently ranked as one of the safest countries in the European Union (EU), making it a safe destination to visit. As with any tourist destination, it is recommended to remain aware of your surroundings when moving around, especially in locations frequented by travelers, on public transportation and after dark. The most reported crimes directed at tourists are pickpocketing and other petty theft. To minimize your risk of being singled out as a potential target, try to stick to areas with other people out and about, and carry any valuables in your front pockets when using public transit or in larger crowds.
Protests and demonstrations over social, political and economic issues also take place frequently in larger German cities. In order to stay as safe as possible, it is best to avoid these events.
Visit the U.S. Department of State website for up-to-date information on travel advisory levels and safety information for travelers to Germany.
All U.S. travelers should enroll in the Smart Traveler Enrollment Program (STEP), a free service offered to U.S. citizens traveling and living abroad. Enrolling in this program allows you to receive important information from the Embassy as well as helps the Embassy contact you in an emergency.
What currency is used in Germany?
Germany is an EU nation, and thus, the Euro is used as currency. Fortunately for U.S. travelers, most German establishments are quite modern and accept card payments from many major American card providers. Furthermore, ATMs are accessible throughout the country, making it quite simple for travelers to withdraw cash in a pinch. Just be sure to check with your bank so you're prepared for any incurred ATM or foreign transaction fees.
What language is spoken in Germany?
German is the most used language throughout Germany. German citizens are more likely to speak English than citizens of many other European destination countries, so getting around and communicating isn't too difficult. As a best practice, try to learn a few common words and phrases – locals will appreciate your effort and will be more likely to help you get what you need.
Do I need a visa or passport to travel to Germany?
All U.S. citizens are required to have a valid passport with three months' validity past your intended departure date to enter Germany. Fortunately, entering Germany as a U.S. tourist requires no advance visa, as tourists are permitted to travel within the EU for up to three months without any need for an additional visa. There is no need to apply in advance. U.S. travelers with no criminal history are automatically granted an EU tourist visa upon arrival. Be sure to have a return flight booked to the U.S., as German border officials are likely to verify that you do not intend to overstay the three-month period.
How do I contact the U.S. Embassy in Germany?
The U.S Embassy in Germany is in Berlin. Visit the official U.S. Embassy government website for a list of up-to-date phone numbers and addresses.
What is the weather like in Germany?
Germany is a larger European nation, so the weather can vary across the country. Peak tourist season coincides with the warmest months, from June to October. Travelers can expect warmer temperatures during the summer days and cooler temperatures at night, so be sure to bring a light jacket. Winters are often quite cold, comparable to the Northeastern U.S., so be sure to check conditions before setting out. Germany experiences pleasant transition seasons, which do not attract as many crowds as peak summer and October months.
When is the best time of year to visit Germany?
Like many of its European neighbors, Germany experiences a peak tourism season during the later summer months, beginning in June and lasting through early September. During this period, visitors can expect higher prices of accommodations and activities as well as larger crowds of fellow tourists. Additionally, Germany sees an influx of travelers during the Oktoberfest season, particularly in the Munich area. If you plan to travel to Germany during either of these periods, be sure to book as far in advance as possible, as booking early will yield the most options and the least competition.
What is the dial code for phoning to and from Germany?
The dial code to reach German mobiles and landlines is +49.
What kind of power adapter do I need for my electronics?
Germany uses the standard two-prong European plugs and sockets. Any standard European adapter should work in Germany with no issue. Most modern electronics and appliances will automatically adjust voltage when using an adapter, making it quite easy to use your standard chargers while abroad. If you run into any issues using an adapter, contact the manager of your accommodations, as many hotels and vacation rentals will be stocked with spare adapters if yours doesn't work properly.
Other Germany FAQs
What is the best way to get around in Germany?
While Germany is among one of the larger European countries, it is slightly smaller than the U.S. state of Montana. Unless you are attempting to traverse the entire country within a day, train travel is often the most efficient mode of transportation around Germany. The rail network of high-speed intercity express trains allows passengers to travel between cities relatively quickly, and local trains will help connect travelers to smaller towns outside of the major cities.
Are the trains in Germany reliable?
The trains in Germany are quite reliable. Compared to airline delays, rail delays are usually insignificant. To minimize the impact of a possible delay, be sure to book a direct train whenever possible so you won't need to worry about missing a connection. If a direct train is not possible, consider booking a connection of at least 30 minutes to give yourself enough time to navigate the train station and to ensure you don't miss your next train.
Is Germany an expensive vacation destination?
As with any vacation destination, a trip to Germany can range significantly in cost depending on the activities and accommodations you are seeking. However, relative to other popular European destinations like France or Italy, cost of living in Germany is generally less expensive. Accommodations in larger cities are often more affordable than other popular destination cities across Europe, and the extensive rail network in the country will allow travelers to transit easily and cost-effectively across Germany.
Travel Guard offers comprehensive and customizable travel insurance plans for travelers heading to Germany. With excellent coverage and specialized emergency travel assistance representatives ready to help you at any time, Travel Guard is there for you. Compare our popular plans and find the best one for you!