Turkey Travel Insurance
Familiarize yourself with Travel Guard's most important travel tips and safety information to make sure you're prepared for your vacation to Turkey.
GET A QUOTE
Known for its unique architecture and ancient ruins, Turkey is a country with a rich history of European and Asian influences. Whether your trip takes you on a tour of past cities like Ephesus and Troy or to popular modern cities, such as Istanbul, you're bound to find a thrilling vacation in Turkey. While you plan the fun, Travel Guard will help you prepare.
In this article:
Travel Insurance for Turkey
Do I need travel insurance to visit Turkey?
Yes, travel insurance is mandatory for visitors who require a visa to visit Turkey, which includes travelers from the U.S. Travel Guard has travel insurance plans that include medical expense coverage to help protect you on your trip and meet your entry requirements.
What is the best travel insurance plan for Turkey?
Travel Guard's Preferred and Deluxe Plans provide the medical expense coverage needed to meet entry requirements into Turkey. Both plans provide additional coverages for your Turkey vacation that may come in handy, like trip cancellation coverage, baggage coverage and more. Additionally, all Travel Guard travel insurance plans come with access to our 24-hour emergency travel assistance center, so you can travel confidently knowing you have access to our experts if something goes wrong.
How much is a travel insurance plan for a trip to Turkey?
Travel insurance typically costs between 5-7% of the total price of your trip. Several factors come into play when pricing your plan, such as the plan you select and the number of travelers in your party. For more details on pricing, check out our article on how much travel insurance costs.
Ready to book your travel insurance plan for your trip to Turkey? Travel Guard's award-winning travel insurance plans provide excellent coverage options and access to 24-hour emergency travel assistance. Compare our travel insurance plans to find the best option for your travels today.
Turkey Travel Tips and Safety Information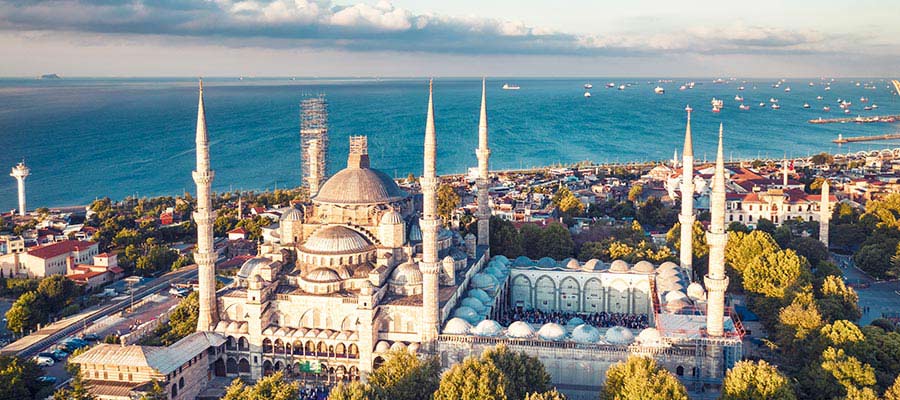 Travel Guard provides excellent travel insurance plan options for travelers to Turkey. We also want to ensure visitors to the country are safe and as informed as possible. We've compiled some popular questions that tourists traveling to Turkey may have.
Is Turkey safe to visit?
Take caution when traveling to Turkey, as terrorism, civil unrest and crime are all notable concerns. In major cities like Istanbul, visitors should be particularly careful in transit hubs, tourist sites, places of worship and government offices, as these locations are targets for terror attacks, demonstrations and criminals. There are also reports of U.S. citizens being detained with little to no evidence due to political motivations.
Visit the U.S. Department of State website for up-to-date information on travel advisory levels and safety information for travelers to Turkey.
All U.S. travelers should enroll in the Smart Traveler Enrollment Program (STEP), a free service offered to U.S. citizens traveling and living abroad. Enrolling in this program allows you to receive important information from the embassy as well as helps the embassy contact you in an emergency.
What currency is used in Turkey?
The official currency in Turkey is the Turkish lira. Travelers can exchange currency at kiosks within the airport before and after arrival, at banks in major cities or at ATMs. Credit and debit cards are used across Turkey but be sure to let your bank know of your travels to avoid interruptions. If you are planning on visiting smaller markets and venues, carry a small amount of cash in the event the vendor doesn't accept cards as payment.
What language is spoken in Turkey?
The official language of Turkey is Turkish. While most of the country speaks the official language, there are also Arabic, Greek, Armenian and other dialects still spoken throughout the country. English, however, is not a language you're likely to stumble across in Turkey, so it's important to learn essential phrases and sayings to help you get through your journey. To help ensure your peace of mind, download a translator app that works offline so you never find yourself in a situation where you feel stuck.
Do I need a visa or passport to travel to Turkey?
Visas are required for U.S. citizens traveling to Turkey as well as a valid passport that doesn't expire for at least six months from your date of entrance to the country. For the latest information regarding visas and passports for travel to Turkey, please visit the State Department's Turkey country information page.
How do I contact the U.S. Embassy in Turkey?
The U.S. Embassy in Turkey is in Ankara. Visit the official U.S Embassy government website for a list of up-to-date phone numbers and addresses.
What is the weather like in Turkey?
Weather in Turkey varies by season, however not drastically. You'll find the temperature to be between 84°F and 97°F throughout most of Turkey with higher temperatures the farther south you go. Springtime and early summer bring milder, albeit still high, temperatures which is ideal for most travelers. The winter months are when Turkey has its rainy season, which means milder temperatures, but you're more likely to encounter precipitation on your travels. Thankfully Turkey's rainy season doesn't completely hide the sunshine, so its possible to have beautiful weather no matter when you plan to visit.
When is the best time of year to visit Turkey?
The best time of year to visit Turkey will depend on the activities you'd like to participate in during your travels. In early December, tourists can take part in one of the most popular festivals in Turkey known as the Izmir World Fair. This event brings in social and musical event to enjoy as well as attractions and thrill rides. Throughout the year in different Turkish villages, you will be able to learn about the culture through folk dance festivals or you can visit the country during the month of Ramadan to see beautifully lit up Mosques and participate in the religious festival yourself.
What is the dial code for phoning to and from Turkey?
Turkey's dial code is +90 when calling from the United States and can be used for both cellphone and landline numbers. When calling to the U.S. from Turkey, use the Turkish exit code of +00 followed by the United States country code +1 plus the area code to which you're calling then dial the seven-digit phone number. Before placing a call, be sure to check with your cell phone provider before your trip to avoid any unexpected fees and keep in mind connecting with landlines is often less costly than connecting to a cell phone.
What kind of power adapter do I need for my electronics?
Tourists are unable to use their electronics in Turkey without a power adaptor as Turkey uses both type C and type F plugs. To ensure you can use your devices as normal, we recommend a universal adaptor that can be brought on vacation wherever you go.
Other Turkey FAQs
Is travel to Turkey safe for members of the LGBTQ+ community?
While homosexuality is legal in Turkey, homophobia is still rampant throughout the country. If you are a member of the LGBTQ+ community and plan on traveling to Turkey, visit Travel Guard's tips for traveling safely.
Can I visit Turkey with a baby?
It's possible to travel to Turkey with a baby, or children of any age, but planning is essential. Parents will find springtime (April to early June) or early fall (September and October) to be the most ideal time of year to travel as cities are less crowded and temperatures are more bearable for the young ones. Cities like Istanbul are great for families looking for cultural experiences as well as fun attractions for the whole family.
Travel Guard offers comprehensive and customizable travel insurance plans for travelers heading to Turkey. With excellent coverage and specialized emergency travel assistance representatives ready to help you at any time, Travel Guard is there for you. Compare our popular plans and find the best one for you!