Thailand Travel Insurance
Familiarize yourself with Travel Guard's most important travel tips and safety information to make sure you're prepared for your vacation to Thailand.
GET A QUOTE
Visiting Thailand can be the perfect getaway for many tourists due to its diverse landscapes, lively nights and unique markets. If you're looking for some rest and relaxation, consider visiting the beautiful beach of Koh Phi Phi and enjoy a famous Thai massage. Or if adventure is more your style, consider exploring the rainforests of Khao Yai National Park or shopping at a floating market. Whatever you're hoping to find on your next adventure, Travel Guard can help you plan.
In this article:
Travel Insurance for Thailand
Do I need travel insurance to visit Thailand?
While travel insurance is not a requirement for entry to Thailand, it's important to remember that U.S. health insurance plans may not provide coverage when you're out of country. So having medical expense coverage is often a good idea when traveling abroad, just in case.
What is the best travel insurance for Thailand?
Travel Guard has comprehensive travel insurance plans for your trip to Thailand. Every vacation is unique, and your travel insurance should be, too. Our Preferred Plan is a great place to start as it includes medical expense coverage, trip delay coverage, baggage coverage and more. However, if you want higher benefit levels and some additional coverages, consider our Deluxe Plan – a great option for overseas travel. All of Travel Guard's plans come with 24/7 emergency assistance, so you can travel confidently knowing you have access to our experts any time if you run into the unexpected.
How much is travel insurance for a trip to Thailand?
On average, a travel insurance plan typically costs between 5-7% of the total price of your trip. Still, there are several factors that come into play when it comes to pricing your plan, such as the product you select and the number of travelers in your party. For more details on pricing, check out our article on how much travel insurance costs.
Ready to book your travel insurance plan for your Thailand trip? Travel Guard's award-winning travel insurance plans provide excellent coverage options and access to 24-hour emergency travel assistance. Compare our travel insurance plans to find the best option for your travels today.
Thailand Travel Tips and Safety Information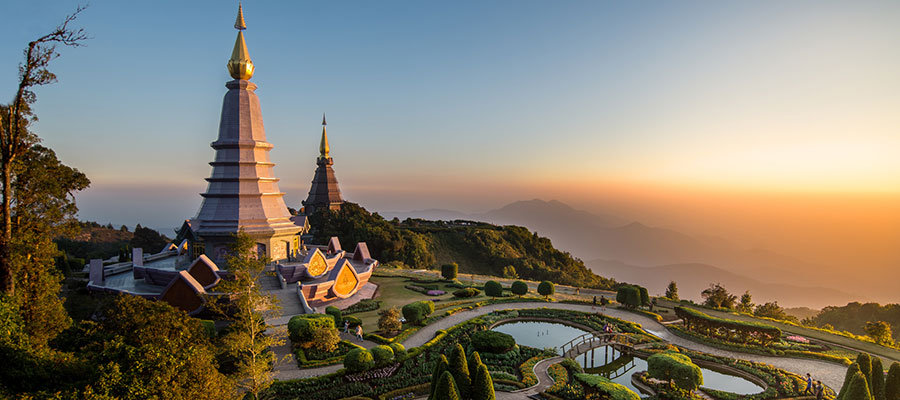 Travel Guard offers excellent travel insurance options for travelers visiting Thailand. To make sure visitors to the country are as safe and informed as possible, we've compiled a few popular questions tourists traveling to Thailand may have.
Are there COVID-19 restrictions for U.S. visitors to Thailand?
For the latest information related to COVID travel requirements for Thailand, please visit the official U.S. embassy site.
Is Thailand safe to visit?
There is some crime and social unrest across Thailand, including a separatist insurgency in the far southern provinces. However, you'll almost never find conflict in tourist areas in other provinces. Furthermore, Thailand is rated as one of the least dangerous countries in Asia.
Still, you should be aware of your surroundings whenever you're traveling in an unfamiliar area, as tourists are prime targets for petty thieves and scammers. Be wary of too-friendly strangers and stick with reputable tours and transportation services. Additionally, large-scale protests over political and social issues can affect major cities, including those frequented by travelers. You don't necessarily have to cancel your travel plans if there are ongoing demonstrations but be sure to stay away from any large gatherings.
Visit the U.S. Department of State website for up-to-date information on travel advisory levels and safety information for travelers to Thailand.
All U.S. travelers should enroll in the Smart Traveler Enrollment Program (STEP), a free service offered to U.S. citizens traveling and living abroad. Enrolling in this program allows you to receive important information from the Embassy as well as helps the Embassy contact you in an emergency.
What currency is used in Thailand?
The official currency in Thailand is the Thai Baht. Most banks in Thailand will be able to exchange currency should you need more than you brought, this includes banks in major cities or shopping centers. While larger stores and businesses will accept debit and credit cards, remember to carry cash on you at all times in case you wish to purchase from a small vendor or find yourself in a situation where your cards aren't accepted.
What language is spoken in Thailand?
The official language of Thailand is Thai. While English may be spoken in some popular tourist areas, you may want to consider learning a few common sayings and questions in Thai to help you get by on your travels. Having a translation app that works without Wi-Fi never hurts to have either.
Do I need a visa or passport to travel to Thailand?
Visas are not required for travelers with citizenship in the U.S. if the traveler's stay is shorter than 30 days. A passport is needed for entry to Thailand, and it is advised that your passport doesn't expire for six months past your arrival date to ensure entry upon arrival.
For the latest information regarding visas and passports for Thailand travel, please visit the State Department's Thailand country information page.
How do I contact the U.S. Embassy in Thailand?
The U.S. Embassy in Thailand is in Bangkok. Visit the official U.S Embassy government website for a list of up-to-date phone numbers and addresses.
What is the weather like in Thailand?
Thailand has a subtropical climate, meaning you'll find warm temperatures and humidity year-round, with temperatures in the summer months typically reaching up to 105°F. However, you'll find cooler temperatures in the winter months with cold nights around 50°F and warmer days around 80°F.
When is the best time of year to visit Thailand?
While you can find celebrations and festivities year--round in Thailand, you'll find the most active season is the fall.
From the months of September to December, you can celebrate the Phuket Vegetarian Festival, which focuses on cleansing the body with a vegetarian diet for a week to bring good luck and health, join the ancient tradition of tossing lotus flowers into the river with the Rub Bua Festival or watch the endangered baby Gibbons in their sanctuary.
What is the dial code for calling to and from Thailand?
Thailand's dial code is 66 which can be used to call both Thai landlines and mobile phone numbers. When making international calls, remember to use the U.S. exit code of +11 and consider the area code of the city you're calling. Before placing a call, keep the price of the call in mind, remember calling a landline is typically less expensive than connecting with a cell phone.
What kind of power adapter do I need for my electronics?
Many of the outlets in Thailand are multi-type, which means you likely will not need a power adaptor if your devices use a dual head flat-band plug. However, if you require a three-prong outlet, your best bet is to bring a universal adaptor.
Other Thailand FAQs
Do I need any vaccines for entry to Thailand?
For a full list of recommended vaccines visit the official CDC site for Thailand.
Is Thailand a good vacation for kids?
There are plenty of activities Thailand has to offer that the whole family will enjoy. From relaxing resorts with beautiful beaches to thrilling water and amusement parks, you'll find entertainment for all ages.
Travel Guard offers comprehensive and customizable travel insurance plans for travelers heading to Thailand. With excellent coverage and specialized emergency travel assistance representatives ready to help you at any time, Travel Guard is there for you. Compare our popular plans and find the best one for you!
GET A QUOTE