New Zealand Travel Insurance
Familiarize yourself with Travel Guard's most important travel tips and safety information to make sure you're prepared for your vacation to New Zealand.
GET A QUOTE
When planning a trip to New Zealand, be prepared to experience its breathtaking landscapes. From the country's white-capped mountains and rolling hills to its lively beaches perfect for relaxing or surfing, you'll find there is plenty of adventure on this island country. While you work on setting up your itinerary, Travel Guard can help you plan.
In this article:
Travel Insurance for New Zealand
Do I need travel insurance to visit New Zealand?
New Zealand doesn't require travel insurance for visitors to the country. However, most U.S. health insurance plans may not cover you when traveling internationally, so having a travel insurance plan with medical expense coverage is always a good idea.
What is the best travel insurance plan for New Zealand?
Travel Guard has comprehensive travel insurance plans to bring with you on your trip to New Zealand. Our Preferred Plan is a great place to start, it has medical expense coverage, trip delay coverage, baggage coverage and more. However, if you're looking for higher benefit limits to protect your travel investment, our Deluxe Plan is another great option for your New Zealand vacation.
How much is a travel insurance plan for a trip to New Zealand?
Travel insurance typically costs between an average of 5-7% of the total price of your trip. Several factors come into play when pricing your plan, such as the plan you select and the number of travelers in your party. For more details on pricing, check out our article on how much travel insurance costs.
Ready to book your travel insurance for your trip to New Zealand? Travel Guard's award-winning travel insurance plans provide excellent coverage options and access to 24-hour emergency travel assistance. Compare our travel insurance plans to find the best option for your travels today.
New Zealand Travel Tips and Safety Information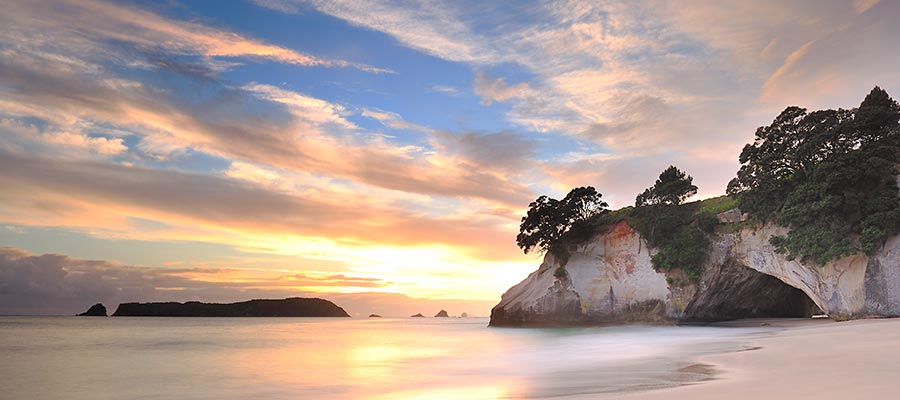 Travel Guard provides excellent travel insurance plan options for tourists heading to New Zealand. To ensure visitors to New Zealand are as safe and informed as possible, we've compiled a few popular questions tourists traveling the country may have.
Are there COVID-19 restrictions for U.S. visitors to New Zealand?
For the latest information related to COVID travel requirements for New Zealand, please visit the official U.S. Embassy site.
Is New Zealand safe to visit?
Overall, New Zealand is a safe country to visit. While you should practice normal safety precautions, such as maintaining situational awareness and avoiding isolated areas after dark, the crime rate is relatively low. Pickpocketing and theft, including theft from vehicles and hotel rooms, are the most common types of crime. Avoid leaving belongings unattended or in vehicles, and always use your hotel safe, if available.
New Zealand is also affected by earthquakes, tsunami risks, volcanic activity and heavy rainfall. Monitor local forecasts and make sure you understand what to do in the event of an earthquake, tsunami or volcanic eruption. Do not wait for official instructions to seek inland shelter if you experience a strong earthquake in a coastal area.
New Zealand's natural attractions are a major draw for visitors, and national parks make up over 30 percent of the country's area. Road conditions outside of populated areas may be treacherous and mobile phone coverage limited. When participating in outdoor activities, weather, terrain and water hazards, such as rip tides, pose risks to visitors. Emergency response can be difficult in the event of an accident. Avoid traveling alone and understand your physical limits when planning an adventure.
Visit the U.S. Department of State website for up-to-date information on travel advisory levels and safety information for travelers to New Zealand.
All U.S. travelers should enroll in the Smart Traveler Enrollment Program (STEP), a free service offered to U.S. citizens traveling and living abroad. Enrolling in this program allows you to receive important information from the embassy as well as helps the embassy contact you in an emergency.
What currency is used in New Zealand?
The official currency in New Zealand is the New Zealand Dollar (NZD). You can exchange currency before your trip at most banks in the U.S. or at a currency kiosk at the airport before your flight. If you're unable to exchange currency before departure, currency kiosks should be available at the airport after your flight, or you can visit a bank in most major cities. Debit and credit cards are accepted as well, but you should be sure to tell your bank of your travels to avoid unwanted interruptions. If you are planning on visiting local or small vendors, carry cash with you in case cards are not accepted.
What language is spoken in New Zealand?
There are two official languages of New Zealand, the indigenous language of Māori and New Zealand Sign Language. While English is not an official language of the country, you will find it is one of the main languages spoken in New Zealand with English signage posted throughout the country as well.
Do I need a visa or passport to travel to New Zealand?
Visas are not required for travelers with citizenship in the U.S. However, you will need a valid passport for entry with an expiration date of at least three months after the date of your arrival.
For the latest information regarding visas and passports for New Zealand travel, please visit the State Department's New Zealand country information page.
How do I contact the U.S. Embassy in New Zealand?
The U.S. Embassy in New Zealand is in Wellington. Visit the official U.S Embassy government website for a list of up-to-date phone numbers and addresses.
What is the weather like in New Zealand?
New Zealand is in the Southern Hemisphere leaving the Northern part of the country with the highest temperatures, though very rarely reaching extremes as the country has a temperate climate. Its warmest months are December through February with temperatures reaching around 86 °F. New Zealand's coolest months are June through August with low temperatures around 55 °F.
While there is a moderate amount of rainfall throughout the year in New Zealand, travelers are likely to be met with sunshine when visiting the country.
When is the best time of year to visit New Zealand?
There are plenty of activities and events throughout the year for tourists to take part in. The best time of year to visit New Zealand will depend on the type of event you're looking for. If your love of The Shire is bringing you to this beautiful country, consider visiting Matamata in September to take part in Hobbit Day to get a tour of the Hobbiton movie set and join in on a hobbit-like feast. However, if that's not your ideal event, consider traveling in March to get a look at the Hot Air Balloon festival – Balloons Over Waikato, a five-day, free event where onlookers can watch professionals compete in a range of activities to prove their skills. No matter what you're hoping to do on your vacation, you're likely to find an event to suit your needs whenever you decide to visit.
What is the dial code for phoning to and from New Zealand?
New Zealand's dial code is +64, which can be used to call both landlines and mobile phone numbers in the country. When placing international calls from the U.S., remember to use the exit code of +11 and consider the area code of the city you're calling. Before placing your call, remember calling a landline is typically more affordable than connecting to a cell phone. To ensure you don't experience any interruptions with your service, be sure to contact your phone company and let them know of your travel plans before you leave for your trip.
What kind of power adapter do I need for my electronics?
New Zealand uses a voltage of 230V, which is within the range the U.S. uses for its electronics. While it is likely that you will be able to charge and use your electronics as normal, it is recommended to bring a universal adaptor in case you come across an outlet that is not compatible to your devices.
Other New Zealand FAQs
Should I rent a car when visiting New Zealand?
Many tourists choose to rent a car when visiting New Zealand as it allows visitors to easily control the sights they want to see across the country. Since renting a vehicle is a popular option, you'll want to ensure you book a rental as far in advance as you can to give you the widest range in price and cars to choose from – and take a look at Travel Guard's rental vehicle damage coverage optional add-on!
Is New Zealand a safe trip for seniors?
New Zealand has a lot to offer visitors of all ages including seniors. From sightseeing tours to historical and cultural outings, there are plenty of activities to interest senior travelers and introduce them to the country of New Zealand.
Travel Guard comprehensive and customizable travel insurance plans for travelers heading to New Zealand. With excellent coverage and specialized emergency travel assistance representatives ready to help you at any time, Travel Guard is there for you. Compare our popular plans and find the best one for you!