Spain Travel Insurance
Familiarize yourself with Travel Guard's most important travel tips and safety information to make sure you're prepared for your vacation to Spain.
GET A QUOTE
Whether you're going to Spain to relax on its beautiful beaches and resorts or to explore its history and famous architecture like the Sagrada Familia cathedral, there's plenty to explore across the country. No matter what you're looking for on your next adventure, Travel Guard can help you plan.
In this article:
Travel Insurance for Spain
Do I need travel insurance to visit Spain?
Currently it is not required to have travel insurance to visit Spain. However, given that many U.S. health insurance plans may not cover you when traveling internationally, having a travel insurance plan with medical expense coverage is always a good idea.
What is the best travel plan insurance for Spain?
Travel Guard has comprehensive travel insurance plans to bring with you on your trip to Spain. Our Preferred Plan is a great place to start as it has medical expense coverage, trip delay coverage, baggage coverage and more. The Deluxe Plan is another option for your Spain vacation, because it has higher benefit limits and more coverages come included on the plan.
How much is a travel insurance plan for a trip to Spain?
On average, a Travel Guard travel insurance plan costs between 5-7% of the total price of your trip. There are several factors that come into play when it comes to pricing your plan, such as the plan you select and the number of travelers in your party. For more details on pricing, check out our article on how much travel insurance costs.
Ready to book your travel insurance plan for your trip to Spain? Travel Guard's award-winning travel insurance plans provide excellent coverage options and access to 24-hour emergency travel assistance. Compare our travel insurance plans to find the best option for your travels today.
Spain Travel Tips and Safety Information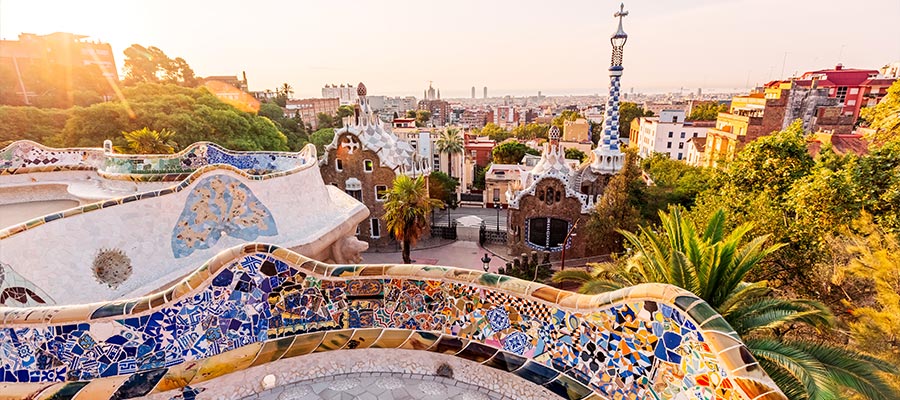 Travel Guard provides excellent travel insurance plan options for travelers to Spain. To ensure visitors to the country are as safe and informed as possible, we've compiled some popular questions that tourists traveling to Spain may have.
Are there COVID-19 restrictions for U.S. visitors to Spain?
For the latest information related to COVID travel requirements for Spain, please visit the official U.S. Embassy site.
Is Spain safe to visit?
Overall, Spain is a relatively safe country to visit. One of the biggest concerns for travelers is petty crime, which is common in crowded areas, at tourist sites and on public transportation. It's a good idea to carry only the cash and credit cards you need for the day and leave the rest – along with a copy of your passport – in your hotel safe.
Demonstrations, protests and strikes also occur with some frequency in Spain. Stay away from large crowds to be on the safe side, and make sure you check for any planned transport strikes when you're making transportation arrangements.
Visit the U.S. Department of State website for up-to-date information on travel advisory levels and safety information for travelers to Spain.
All U.S. travelers should enroll in the Smart Traveler Enrollment Program (STEP), a free service offered to U.S. citizens traveling and living abroad. Enrolling in this program allows you to receive important information from the embassy and helps the embassy contact you in an emergency.
What currency is used in Spain?
The official currency in Spain is the Euro. You will be able to exchange currency at the airport before or after your departure, at banks in major cities or ATMs. Credit and debit cards are largely accepted as well, but remember to contact your bank before your travels to avoid unwanted interruptions. If you plan on visiting local or small vendors, carry cash with you in case cards are not accepted.
What language is spoken in Spain?
The official language of Spain is Castilian Spanish, but there are other languages spoken across the country, including Galician, Catalan and some English. While you are likely to find English speakers at popular tourist destinations and resorts, you will benefit from learning common sayings and phrases to help you get by on your travels. One way to ensure you won't get lost in translation is to download an app to help you translate without needing Wi-Fi.
Do I need a visa or passport to travel to Spain?
Visas are not required for travelers with U.S. citizenship if the traveler's stay is shorter than 90 days. However, you will need a valid passport for entry with an expiration date of at least three months after the date of your arrival. For the latest information regarding visas and passports for Spain travel, please visit the State Department's Spain country information page.
How do I contact the U.S. Embassy in Spain?
The United States Embassy in Spain is in Madrid. Visit the official U.S Embassy government website for a list of up-to-date phone numbers and addresses.
What is the weather like in Spain?
Spain is known for its year-round sunny weather and mild temperatures. Still, the country experiences some variety between seasons. From March to June, you'll find sunshine almost every day, which is why Spring is the season that most visitors prefer. The summertime in Spain brings high heat and an even drier climate so most tourists prefer to spend their time at the beach when visiting at this time of year to stay cool.
You still won't find a lot of rain from September to November, but temperatures begin to drop a bit. Depending on the climate you're used to, you may want to dress in light layers to stay comfortable. Spain's winter is from December to February, and it is the rainiest season for the country. While rainfall is not drastic, you'll want to pack an umbrella on your travels.
When is the best time of year to visit Spain?
Spring is a popular time of year to visit Spain. Not only is the weather sunny and warm, but there are many popular events to celebrate on your vacation. Appreciate the arts with the four-day Las Fallas festival in Valencia, celebrate the religious festivities of Semana Santa in Málaga or take in the gorgeous florals during the battle of the flowers in Córdoba.
In the summer you can celebrate La Tomatina, a town-wide food fight with tomatoes. And during the early fall, be on the lookout for The Human Towers of Tarragona or join in on the festivities of Carnival in February.
What is the dial code for phoning to and from Spain?
Spain's dial code is +34 which can be used to call both Spanish landlines and mobile phone numbers. When making international calls, remember to use the U.S. exit code of +11 and consider the area code of the city you're calling. Before placing a call, remember calling a landline is typically less expensive than connecting with a cell phone. To ensure you don't run into any unexpected fees, be sure to check with your cell phone provider before your trip.
What kind of power adapter do I need for my electronics?
Tourists are unable to use their electronics in Spain without a power adaptor as Spain uses a type F plug. To ensure you can use your devices as normal, we recommend a universal adaptor that can be brought on vacation wherever you go.
Other Spain FAQs
Can I travel to Spain with kids?
Yes, Spain is a popular destination for people of all ages, including families with kids. Whether you're exploring Spain's famous architecture, learning about the country's vast history or enjoying time on the beach, you'll find there is plenty of family-friendly activities on your vacation to Spain.
Can I travel to other countries from Spain?
A U.S. passport allows entry to most European countries. However, to ensure you can follow through on all of your travel plans, review the requirements for U.S. travelers in Europe.
Travel Guard offers comprehensive and customizable travel insurance plans for travelers heading to Spain. With excellent coverage and specialized emergency travel assistance representatives ready to help you at any time, Travel Guard is there for you. Compare our popular plans and find the best one for you!