Ireland Travel Insurance
Familiarize yourself with Travel Guard's most important travel tips and safety information to make sure you're prepared for your vacation to Ireland.
GET A QUOTE
As a popular European destination, Ireland is home to ancient history, beautiful landscapes and unforgettable festivities. If you're looking to explore lush green hills by the coast, old stone castles or take a tour of local pubs, you'll find the adventures you're looking for in Ireland. Whatever your goals, Travel Guard can help with the planning.

In this article:
Travel Insurance for Ireland
Do I need travel insurance to visit Ireland?
Travel insurance is not a requirement for visiting Ireland. However, when traveling abroad it's important to remember that U.S. health insurance plans may not cover you, so medical expense coverage is always a good idea when traveling abroad.
What is the best travel insurance for Ireland?
Travel Guard has comprehensive travel insurance plans to pair with your trip to Ireland. Our Preferred plan is a great place to begin looking as it includes medical expense coverage, trip delay coverage, baggage coverage and more. If you're considering a rental car for your trip, as many tourists do, we offer Rental Vehicle Damage Coverage.
How much is travel insurance for a trip to Ireland?
A travel insurance plan often costs between 5-7% of the total price of your trip. However, there are several factors that come into play when it comes to pricing your plan, including the product you select and the number of travelers in your party. For more details on pricing, check out our article on how much travel insurance costs.
Ready to book your travel insurance plan for your Ireland trip? Travel Guard's award-winning travel insurance plans provide excellent coverage options and access to 24-hour emergency travel assistance. Compare our travel insurance plans to find the best option for your travels today.
Ireland Travel Tips and Safety Information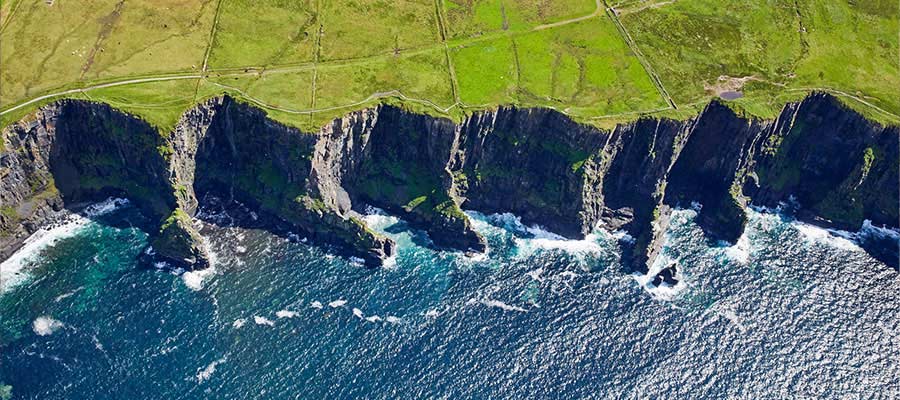 Travel Guard offers excellent travel insurance options for visitors to Ireland. To ensure visitors to the country are as safe and informed as possible, we've compiled some popular questions tourists traveling to Ireland may have.
Are there COVID-19 restrictions for U.S. visitors to Ireland?
For the latest information related to COVID travel requirements for Ireland, please visit the official U.S. embassy site.
Is Ireland safe to visit?
Ireland is a very safe country to visit, and crime rates are low. However, petty crime is a concern, and tourists are often targeted. Criminals may operate alone or in groups in crowded areas such as tourist sites, hotels, restaurants and on public transportation. To be as safe as possible, avoid showing valuables, don't walk alone after dark and always be aware of your surroundings.

Visit the U.S. Department of State website for up-to-date information on travel advisory levels and safety information for travelers to Ireland.
All U.S. travelers should enroll in the Smart Traveler Enrollment Program (STEP), a free service offered to U.S. citizens traveling and living abroad. Enrolling in this program allows you to receive important information from the embassy and helps the embassy contact you in an emergency.
What currency is used in Ireland?
The Euro is the currency used in Ireland. If you forget to exchange money before your trip, you'll find places in major cities to exchange currency. Debit and credit cards are commonly used as well but remember to inform your bank of your travels to ensure there are no interruptions.
What language is spoken in Ireland?
The official languages of Ireland are Irish, or Gaelic, and English. However, English is far more commonly used than standard Irish. Though you may not need to know the common sayings and phrases in Irish, it never hurts to learn or have a translation app handy.
Do I need a visa or passport to travel to Ireland?
Visas are not required for travelers with citizenship in the U.S. if the traveler's stay is shorter than 90 days. However, you will need a valid U.S. passport for entry.
Please visit the State Department's Ireland country information page for the most up to date information regarding visa requirements and other legal travel considerations.
How do I contact the U.S. Embassy in Ireland?
The U.S. Embassy in Ireland is in Dublin. Visit the official U.S Embassy government website for a list of up-to-date phone numbers and addresses.
What is the weather like in Ireland?
Ireland is known for its mild, rainy weather. Rain is typically a drizzle, so it shouldn't impact your travels too much. While sunny days are less common, they do still happen, but be prepared for precipitation either way.
When is the best time of year to visit Ireland?
The most popular time of year to visit Ireland is between May and July, this is because it's typically the driest months the country has. Although, the springtime also makes for dryer weather and warm temperatures as well with lower tourist rates and prices.
What is the dial code for phoning to and from Ireland?
Ireland's dial code is 353. You can use this to call both Irish landlines and mobile phone numbers, remember to use the U.S. exit code of +11. Be sure to consider the area code of the city you're calling as well as how much the call is going to cost. Calling a landline is typically less expensive than connecting with a cell phone.
What kind of power adapter do I need for my electronics?
Tourists will be unable to use their electronics without a power adapter as Ireland's voltage is higher than the U.S. To make sure you have your bases covered, we recommend a universal adapter that you can bring along on this trip and other abroad trips you may have in the future.
Other Ireland FAQs
Is it easy to travel by train in Ireland?
Public transportation is a great option in Ireland and usually the fastest way to get places. Taking the train can be a smooth, easy ride, often a better choice than driving. Most cities in Ireland are connected via train route so you shouldn't have a problem getting where you need to go.
Is Ireland a safe trip for senior citizens?
Ireland is a fantastic vacation option for seniors. There are plenty of gorgeous green landscapes, historic sites, and culture for tourists of any age to take in and enjoy. Ireland has many hop-on hop-off bus tours that make for an easy and accessible way to experience the country.
Travel Guard offers comprehensive and customizable travel insurance plans for travelers heading to Ireland. With excellent coverage and specialized emergency travel assistance representatives ready to help you at any time, Travel Guard is there for you. Compare our popular plans and find the best one for you!
GET A QUOTE