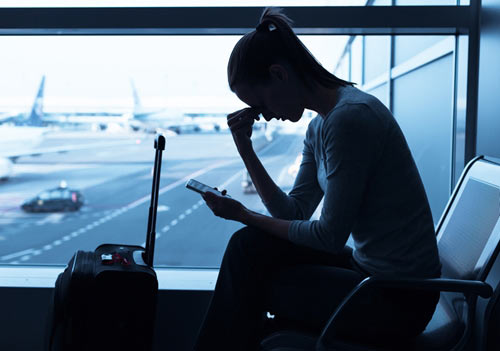 5/26/2017
Delayed flights are often considered a traveler's worst nightmare. Canceled flights give passengers more time to find alternative options and most airlines provide accommodation if the cancelation is overnight. Delays, however, can leave travelers sitting in the airport for hours - many times without a confirmed new departure time, as flights can continue to get pushed back. Instead of getting frustrated and making a poor situation worse, why not take advantage of the time you have?
Many airports offer passengers multiple sources of entertainment and relaxation. Here are a few ideas for travelers waiting on their delayed flights.
Enjoy unique airport amenities
Airports have started to cater to travelers spending multiple hours waiting for their flights. For example, major airports offer massage treatments and spas for those looking to unwind before a long flight. Many offer nail salons and beauty parlors that allow people to treat themselves instead of sitting at their gates for several hours.
Are you on business travel? First-class business lounges are also an option at a price. For many frequent flyers, joining an airline's VIP club is worth the expense. A lot of these lounges feature luxury bars, free Internet, showers, places to rest and other sources of entertainment like pool tables and televisions to pass the time.
Business Insider recommended that business travelers consider looking into the VIP lounge offered by Qatar Airways. At the premium terminal at the Doha International Airport in Qatar, you can snack on gourmet meals, including top-of-the-line sushi platters and buffets. Travelers will also find a dessert bar and massage chairs for the ultimate pampering experience. Similarly, the Virgin Atlantic JFK Clubhouse in New York features a bar, a snack room and even complementary pajamas to ensure you're fully relaxed.
Make the most of what your airline owes you
If your delay has lasted for several hours, this is considered a major inconvenience by most airlines. Although they don't technically owe you anything, most of them will provide perks like meal vouchers for their passengers, according to USA Today. It's always worth asking representatives at your airline's counter to see if they will compensate you in some way. It's also smart to determine the cause of the delay, as this will give you a better idea of how much longer you'll have to wait. If the cause is something related to your plane or your airline in particular, it may be worth it to ask your carrier to book you for an alternative flight at the same price.
Go shopping
Whether you completely forgot or didn't find anything you liked while on your trip, the airport is the perfect place to grab last-minute souvenirs. Although they may be more pricey than they would have been at a local shop, airport stores often know what kind of souvenirs travelers like to bring home and make a point to sell them. The only downside is you can't get anything breakable, unless your suitcase is small enough to fit in your seating area with you so you can ensure it won't break.
It may even be worth it to check out the airport's vending machines. CNN noted that many of the world's largest airports have introduced vending machines that dispense some unique items. The source explained that there are machines in airports in the United Arab Emirates that allow you to purchase gold nuggets. There are also vending machines that provide you with travel essentials you may have forgotten. Many airports across the world offer everything from headphones to snacks and hand-sanitizers so you can grab all of your last-minute products for your journey.
Get some rest
Another new feature that many international airports have introduced are sleeping quarters that can be paid for by the hour. Sheremetyevo International Airport in Russia and London's Heathrow Airport are just a couple examples that have begun offering sleeping pods. These enable people to relax in the midst of the often chaotic environment - no one likes to try and catch some shut eye in a mass of people while lying on the floor. The other great aspect of these new sleeping options is that you don't have to worry about watching your luggage to make sure it isn't stolen.
According to Conde Nast Traveler, the self-contained pods at Germany's Munich Airport include everything from a bed to sleep on to a small working space for business travelers. For maximum privacy, there are blinds and flight information boards inside each pod so weary travelers are notified if their flights have been delayed again. The Snoozecubes found in the Dubai International Airport integrate nature with the relaxation experience. A large painted mural of an outdoor setting is displayed in each space so you feel you're putting your feet up in a sunny paradise. You'll also get free WiFi, a bed and a touchscreen television.