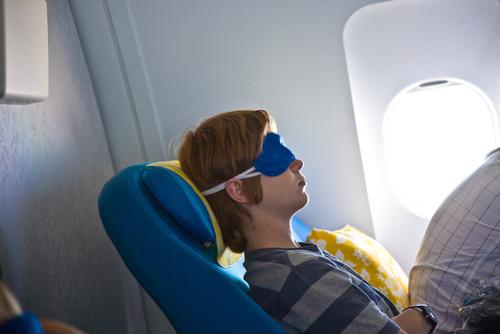 9/13/2018
After a long wearying flight, you've finally arrived at your destination. You're ready to let loose and go exploring, or start planning out your itinerary of all the places you'd like to check out. But instead of doing either of these things, you fall asleep in the middle of the afternoon, and wake up in the wee hours feeling groggy, disoriented, and disgruntled for having lost so much time to sleep.
Sound familiar? This is a description of desynchronosis, more commonly known as jet lag or flight fatigue. According to the American Sleep Association, 93 percent of all travelers experience it at some point in their lives. It is a sleep disorder that most commonly occurs because of travel across time zones. This kind of transportation, particularly by air, throws off the internal clock and circadian rhythms that synchronize our body with the time of day to control feelings of sleepiness and alertness. Mayo Clinic states that symptoms usually occur when you cross at least two time zones, with the effects worsening or lasting longer the more time zones you cross. It causes fatigue, insomnia, and other issues, and it's usually the very last thing you want to be dealing with while traveling. Keep reading for tips on how to shake off jet lag more effectively and get the most out of the time you spend away from home.
Prepare in advance
According to MedicineNet.com, our bodies typically adjust to a new time zone at the rate of one or two time zones per day. For example, if you traveled from the East Coast of the U.S. to a location in western Europe like France or Italy, you traveled across six time zones and displaced your body's internal clock by about six hours. It should take your body between three and five days to adjust, but by preparing in advance you can cut down or even eliminate this adjustment period.
The week before your trip, try going to bed an hour earlier (if you're flying east and losing hours) or an hour later (if you're flying west and gaining hours). If you can, alter the time that you wake up in the morning and your mealtimes as well, and gradually move towards a sleeping pattern that matches up with the time zone of your destination.
Stay hydrated
The dry air inside an airplane cabin and reduced fluid intake during a long flight makes it easy to become dehydrated on planes, which can exacerbate jet lag symptoms like headaches, fatigue, and irritability. The American Sleep Association recommends drinking plenty of water before, during and after your flight to maintain proper hydration. And while you may think caffeinated beverages will help keep you awake, or that alcoholic beverages will help you fall asleep, it's best to avoid these as both negatively impact quality of sleep.
Go outside
Circadian rhythm refers to the body's internal clock. All living things operate on a 24-hour cycle, influenced by cues in our environment that tell us what time it is such as the position of the sun and rising or falling outdoor temperatures. The disruption of this circadian rhythm is what causes jet lag disorder - when we fall out of sync with the sun's movement our bodies become confused by the conflicting internal and external cues, causing disturbances in sleeping and eating patterns. By spending plenty of time outdoors once you've arrived in your new environment, you can reinforce the environmental cues that you want your body to be following.
Consider medication
For extreme displacements or greater than normal difficulty in adjusting to a new time zone, research suggests that medication can be helpful in getting your body's sleep patterns back on track. A 2016 study published in Laryngoscope, for example, affirms that melatonin, an over-the-counter sleep supplement, has a meaningful effect on human sleep in the treatment of jet lag. Another study in the Journal of Lung, Pulmonary & Respiratory Research found that properly administered drug therapy was associated with reduced sleep disturbance in patients with jet lag.
Displacement to the west, when you gain hours, is typically easier to adjust to than coping with hours lost in eastward travel, since you're adding time onto your day in which to implement these adjustments. If you're worried about dealing with jet lag symptoms on an upcoming trip, try out these methods and see if they help you have the best travel experience possible.