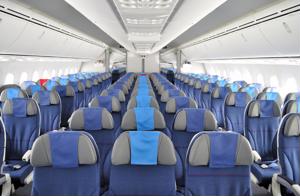 09/21/2018
Do you get nervous during flights? Does your heart sink at the thought of being suspended in a metal tube 10,000 feet in the air? You're not alone. ABC Health & Wellbeing reports that as many as 40 percent of all travelers experience some anxiety before and during flights.
The fear of flying, also called aviophobia, is not necessarily rational. According to the National Safety Council, air travel is one of the safest methods of transportation available - crashing in a car is far more likely than crashing in an airplane - but despite the statistics, flying can still cause anxiety for many travelers. Read on for some tips about how to calm those pre-flight nerves, and help your next plane ride go a little more smoothly.
Avoid caffeinated beverages
A cup of tea or coffee might seem like a good pick-me-up to combat the weariness of airports and flying, but choosing a non-caffeinated alternative might be better if you're a habitually nervous flyer. Multiple studies implicate caffeine with feelings of heightened anxiety. Medical Daily reports that although the hormones triggered by caffeine consumption lead to increased alertness, they can also cause stress, irritability, and restlessness. Caffeine is also a diuretic, and getting up to use the airplane lavatory is a nuisance. If you know you're going to be on a plane, consider foregoing caffeinated beverages before and during your flight.
Pick a flight and a seat with less turbulence
Turbulence - the occasional unsteady motion of a plane in flight - is caused by the interaction of cold air and warm air at high altitudes. It can be scary to suddenly feel the plane shaking around you, or to feel the drop in your stomach that you normally only get at the crest of a rollercoaster. However, as British Airways pilot Steve Allright told the Telegraph in 2016, most turbulence, although uncomfortable, is not dangerous. "It is part of flying, and is not to be feared," he says. "For pilots, light turbulence is no different to a bumpy road for a taxi driver - a small, but totally safe, inconvenience."
If you wish to minimize the turbulence you experience during your flight, there are a few things you can do to avoid it. For example, USA Today recommended choosing a seat in the middle of the plane. The seats closest to the wings and to the plane's center of gravity experience less up and down motion in turbulent conditions than seats at the front of the cabin or at the tail.
The time of day you choose to fly can also impact turbulence. Since turbulence is caused by air current temperatures, flights in the early morning or late evening, when air currents haven't been unevenly warmed by the sun, typically experience less turbulence, according to USA Today.
Bring distractions
If air travel makes you feel nervous or worried, relief might be as simple as finding something to take your mind off of it during the flight. Listening to pre-downloaded podcasts, meditation exercises, or white noise can be useful for stemming anxious thoughts. Some research, such as a 2016 article from Interaction Studies, also suggest that certain playlists of calming music can have a physiological effect on anxiety, significantly reducing passenger stress during long flights. Whatever you like to listen to, remember to bring your headphones with you on your next flight!
Activities like knitting, reading, or doing crossword puzzles can also help quell nerves - it doesn't matter so much what you do, as long as it relaxes you and directs your attention towards the activity instead of the experience of flying. So slip a novel into your carry-on baggage, or give the sudoku puzzle in your in-flight magazine a try, and see if it helps reduce your jitters about flying.