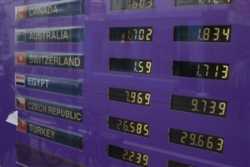 07/23/2010
Exchanging currency can be a confusing process. When's the best time to exchange currency? What's the best place to get a good rate? How often do prices fluctuate?
The best piece of advice is to to do research before you go. One thing that every traveler should research is the current exchange rate for the country they are visiting. This information can easily be found online, and for those on the go, there are even a host of smartphone apps that will convert currency with up-to-the-minute exchange rate. Travelers who are planning longer trips should keep abreast of any recent developments, so they can take advantage of low rates and squeeze the most out of their currency.
Nearly all exchange services will charge a fee or post different rates for changing money. The exchangers at the airport, while convenient, post even worse rates. First-time travelers should be aware that they are looking for the buy rate, not the sell rate, for U.S. dollars. This can be a confusing difference and one that many places will take advantage of. When exchanging, reputable hotels, banks and post offices are traveler's best bet for getting a good rate.
Finally, there are some countries where it will be best not to exchange money. U.S. dollars are often an accepted form of currency in places like the Caribbean.