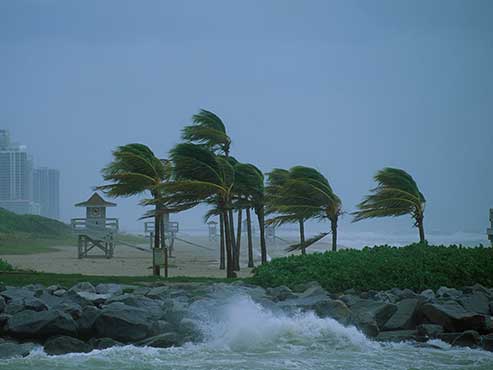 In the Atlantic, Hurricane season runs from June 1 through November 30, with the peak of activity typically happening in mid-September. We've got answers to some of the most common questions for traveling during hurricane season and how your Travel Guard® travel insurance can help.
As always, be sure to read the
policy of insurance
for your specific plan to understand how you are covered.
What you need to know about Hurricanes and Travel Insurance Coverage
Does travel insurance cover hurricanes?
Yes. In the event of a covered hurricane or other certain unforeseen severe weather, travel insurance provides coverage under the Trip Cancellation and Interruption benefits (as long as you purchased your policy before the storm was named). If your trip is cancelled for a covered reason, we may reimburse for the pre-paid and non-refundable trip costs up to the limit of coverage, subject to the terms of the insurance policy.
What is the best travel insurance plan to have for hurricane season?
The best travel insurance plan to have during hurricane season is one with 24-hour travel assistance. Travel Guard's comprehensive travel insurance plans all have 24/7 travel assistance with access to specially trained representatives who can assist with rebooking flights, hotels, and more in the event you need to change your travel plans last minute.
Can I buy travel insurance after a hurricane is named?
To have coverage for that hurricane, travel insurance must be purchased 24 hours prior to when the hurricane has been named. Once a hurricane has been named, Trip Cancellation and Interruption losses resulting from that hurricane are excluded from the coverage of the policy.
If the resort that I will be staying at next week is damaged in a storm before my scheduled departure, can I cancel my trip and be reimbursed for my non-refundable costs?
Yes, subject to the terms of the insurance policy. If the damage to the resort is unforeseen at the time of insurance purchase and the resort cannot accommodate you (or provide comparable accommodations), your non-refundable costs may be reimbursed.
I'm worried that a predicted storm's path will be too close to the location of my upcoming vacation; can I cancel and be reimbursed for my trip costs?
If the storm prevents your travel or directly affects your accommodations, you may be entitled to Trip Cancellation or Trip Interruption benefits. If you choose to cancel a trip based on what you think might happen, this is not considered a covered reason under the insurance policy.
Does Travel Guard have any coverage to change my travel dates due to anticipated severe weather?
Yes! Check out our Trip Exchange and Trip Saver coverages. Both are available on our Preferred Plan and Deluxe Plan. These are great options to adjust travel dates without having to cancel due to severe weather.
What should I do if my trip is impacted by inclement weather?
If you are currently traveling and inclement weather is impacting your trip, either preventing you from returning home or causing you to leave early, you can call us any time and our specially trained representatives can help you find a way home. Our representatives can help with rebooking flights or hotels and help to get you safely home.
Traveling soon?

Tell us about yourself and your trip and we'll show you some options