‹ Education Center
What is a Policy of Insurance?
When you're looking at travel insurance policies, it's important to understand what you are purchasing. The best way to do this is to read over the policy of insurance.
Every travel insurance plan has its own policy of insurance based on the product you are purchasing and the state you live in.
The policy of insurance lays out all the policy details you need to know and is the guide for what is covered and not covered under your policy. Because of all the information included, this document can get pretty long, so knowing what to read first and where to look can really help.
Important Parts of a Policy of Insurance
Schedule of Benefits
This section will list out the base policy benefits on your policy as well as the maximum amount of coverage available for each benefit. This is a great place to start when looking at a policy because it will tell you at a glance if the policy may have the coverage you are looking for.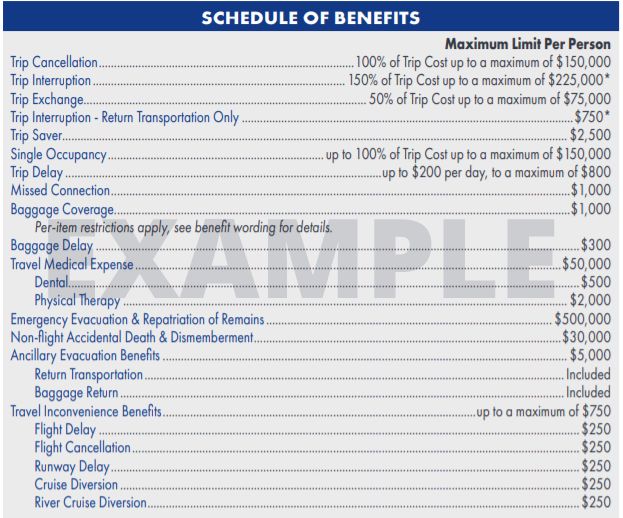 Effective and Termination Dates
The start and end dates of your coverage are outlined in this section. Different types of coverage will have different start dates.
For example, trip cancellation (a pre-departure benefit) will typically go into effect the day after you purchase your policy, while rental vehicle damage coverage (a post-departure benefit) coverage starts when you take possession of the rental vehicle.
Definitions
Ever wonder what exactly is meant by pre-departure benefits, departure date, initial trip deposit, or even family member? The definition section of the policy of insurance outlines the meaning of these terms (and more) according to what they mean in relation to your travel insurance policy.
When you're reading the policy of insurance for a Travel Guard policy, words that are capitalized, bolded or italicized are terms that have specific definitions within the definition section.
It's easy to get a quote!

Tell us about yourself and your trip and we'll show you some options.
Benefits
This is the section of the policy of insurance you're probably most interested in. Most likely your main question is: what am I covered for? This section gives more insight to the base policy benefits. It lets you know what each benefit means, what you can claim for under that benefits, if there are any time frames you should be aware of and what events or losses we cover.
Exclusions
Also, it's important that you know what is not covered, as well. The general exclusions section will list the types of losses that are not covered under the policy. General exclusions are exclusions that pertain to all the benefits on the policy. If there are specific exclusions that only apply to one type of benefit, you would find those within that benefits section as well.
Payment of Claims
This section of your policy of insurance can be really helpful. If you need to file a claim with us, this section details what documentation is required. It will also tell you how and where to submit your documentation.
You'll receive a policy of insurance when you purchase a travel insurance plan, but if you'd like to review it beforehand, you can access our full library of documents. Make sure you're looking at the policy of insurance for the product you are interested in and the state you reside in.
It's important to read through and understand your policy of insurance and other documents before you travel. If you have questions at any step along the way, we're here to help you sort it through. Our call center representatives are happy to help answer any questions you have!
Travel Guard Call Center

800-826-5248