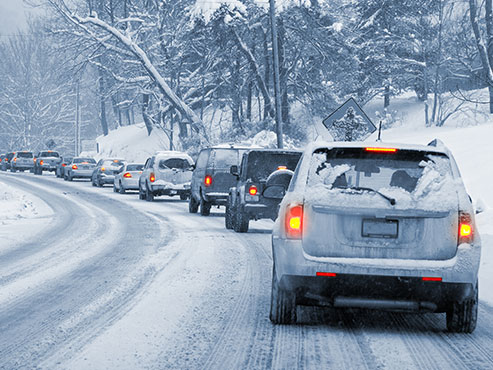 Everyone loves a good getaway over the winter months. But navigating winter storms and severe weather can sometimes put a damper on your travels. We've got answers to some of the most common questions for traveling during winter storms and how your Travel Guard® travel insurance may help.
As always, be sure to read the
policy of insurance
for your specific plan to understand how you are covered.
What you need to know about Winter Storms and Travel Insurance Coverage
Will Travel Guard travel insurance cover me if my trip is delayed or cancelled due to severe winter weather?
Most Travel Guard travel insurance plans provide coverage for inclement weather, which means any severe weather condition that delays the scheduled departure of a common carrier may be covered on your plan, subject to the terms and conditions of the specific plan.
Do I need to purchase extra travel insurance to be covered for winter weather?
Our Travel Guard travel insurance plans include inclement weather as a covered reason for many of the benefits on most plans.
Does my travel insurance policy (subject to the terms and conditions of the specific plan) extend if I must remain at my destination due to a winter storm?
Yes, except for trip cancellation and trip exchange, your policy may be extended past your originally scheduled return date if you are delayed due to a covered unforeseen event, as listed in your policy of insurance. Please review your policy for more details.
What should I do if my trip is impacted by inclement weather?
If you are currently traveling and inclement weather is impacting your trip, either preventing you from returning home or causing you to leave early, you can call us any time and our specially trained representatives can help you find a way home. Our representatives can help with rebooking flights or hotels and help to get you safely home.
Am I covered for attraction closures due to inclement weather?
Typically travel insurance doesn't cover bad weather if it's simply putting a damper on your plans. However, with Travel Guard's travel inconvenience benefits, you may have some coverage for those type of scenarios. Here are some examples, subject to the terms and conditions of the plan:
You've gone to Vail to ski, but the ski facilities are closed due to inclement weather or lack of snow.
You took a vacation to golf in Wisconsin, but an early blizzard closes the course.
An amusement park you're at must close several rides due to a power outage caused by a winter storm.
Our travel inconvenience benefit may pay a flat amount based on the inconvenience you run into; be sure to check your schedule of benefits to confirm your benefit limits!
A travel inconvenience is no fun. Especially when it impacts a highly anticipated part of your trip. Travel Guard's travel inconvenience benefits can't make up for those lost experiences, but they may provide coverage for certain inconveniences.
How else can Travel Guard's travel insurance plans help me when there is bad weather?
Travel Guard's travel insurance plans come with 24/7 emergency assistance services. That's access to specially trained representatives who can help you anytime day or night. Our representatives can help you rebook flights or reroute your itinerary to help you get where you need to be!
How early do I need to purchase travel insurance to have trip cancellation or trip interruption coverage for winter storms?
Insurance must be purchased 24 hours prior to when a severe winter storm warning or watch is issued. If you purchase your insurance after a severe winter weather warning or watch has been issued, you will not have coverage for trip cancellation and interruption losses resulting from the winter storm.
Does a winter storm watch or warning have to be issued for coverage to apply?
No. For a travel insurance plan that you purchased ahead of inclement weather, a winter storm warning/watch does not need to be issued for coverage to apply, but other terms and conditions of the policy may apply. Be sure to review your policy.
Traveling this winter

Tell us about yourself and your trip and we'll show you some options