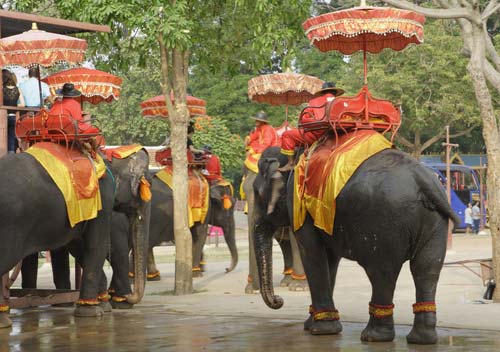 8/11/2016
Regardless of whether you plan on traveling to Indonesia, Thailand or Singapore, Southeast Asia has a lot to offer travelers, from the most stunning and innovative cities in the world to sandy and sun swept beaches.
As you prepare for your adventure, they should take note of this quick and easy guide to ensure a memorable trip to Southeast Asia's most popular destinations.
Plan for a bit of splurging
As you plan your expenses for your trip, feel free to set some of your budget aside for activities that you may not get to do on other vacations. According to a Backpacker's Tale, everything from the food to the accommodation is shockingly cheap in Southeast Asia - backpackers can usually find a decent room at a hostel for just a few dollars, while hotels can range from $30 a night to $200 for luxury resorts.
Food is also known to be cheap. Most meals are between $2 to $8 depending on whether you're eating at a restaurant or trying some of the unique cuisine at one of the street vendors - vendors throughout Asia are known for offering a unique taste of traditional Asian cuisine for only a couple dollars.
The Huffington Post recommended spending a little extra on features like a personal driver for the day. You can easily find a taxi driver who's willing to take you around to all of the attractions you want to visit. Not only can local drivers serve as knowledgeable tour guides, but they're generally inexpensive and, with so many different attractions spread throughout most counties, they increase the number of sites travelers can see in one day. For example, in Singapore, the Jurong Bird Park and the Sree Maha Mariamman Temple are two of the most popular destinations, but lie on opposite sides of the island.
Spend a day at Thailand's beaches
Thailand is home to several of Southeast Asia's most beautiful white sand beaches. Want to spend a night or two on your private beach side cottage? Uncornered Market suggested enjoying the day at one of the sunny pieces of paradise found on Koh Pha Ngan Island. The online travel source noted that there are charming bungalows seated right on the crystal blue shores, which like most accommodations, can be rented at very affordable prices if you do your research and plan ahead.
Haad Yao and Nai Harn Beach have been rated as two of the best in the area by frequent travelers, according to TripAdvsior. These are known for their picturesque weather and for rarely being crowded. Ao Sane or Ya Nui are also recommended for travelers looking for a private lounging experience on what many people consider "secret" beaches.
Explore the bustling streets and natural wonders of Vietnam
The city of Hanoi is frequented by food fanatics and photographers anxious to witness its streets constantly buzzing with activity. Every corner is home to a different food stand with the area's natives hard at work selling homemade goods and produce.
Halong Bay is another featured attraction that draws in a significant amount of Vietnam's visitors. You only have to travel a couple hours from Hanoi to catch a glimpse of the bay - a site that's the direct opposite of the chaotic streets found in the city. Also referred to as the Bay of the Descending Dragons, Uncornered Market noted that Halong Bay is one of Vietnam's most treasured natural wonders, surrounded by 2,000 limestone islands.
Afterwards, take a trip to the city of Hoi An in central Vietnam. Here you will find tasty Vietnamese cuisine and more than 200 shops that are perfect for finding stylish souvenirs. Whether you spend the day checking out traditional Vietnam clothing or learning how to create a Vietnamese meal at one of the city's popular cooking classes, travelers are sure to get a rare inside look into the unique culture.
Respect customs and traditions
Many of the customs in countries throughout Asia are different from what travelers are used to in the U.S. Dress codes are important traditions to prepare for, especially if you plan on visiting religious sites. Buddhist temples, for example, require that visitors are wearing appropriate attire that covers their shoulders and legs, so tank tops and shorts aren't acceptable.
Some countries use different greetings as well so it's a good idea to become familiar with these before visiting to be a respectful guest.