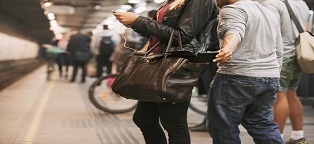 09/10/2018
September 26 is National Situational Awareness Day in the U.S., a day focused on being mindful of your surroundings. Being aware of what is happening around you is especially important for travelers who are outside of their normal environments.
The concept of situational awareness came into the public eye when Oswald Boelcke, an aviator in World War I, developed the Dicta Boelcke, which spells out eight fundamental rules of air combat. Historic Wings Magazine translated one of Boelcke's rules: "If you find yourself over enemy lines, always keep an eye toward your own direction of retreat." This principle still holds true, both in combat and in everyday situations.
Tips to improve your situational awareness
Applying situational awareness skills can help prevent accidents. If you are looking to gain or improve your sense of mindfulness, these pieces of advice are a strong place to start:
• Practice using your peripheral vision in public settings. This tactic allows you to broaden your sight lines, which can allow you to keep an eye on your surroundings while looking at your focus point.
• When entering a room or walking down a new street, glance over its contents and people, as suggested by The Huffington Post. If you see a suspicious person or item, you may take action to remove yourself from the situation and notify others of the potential threat. This is an optimal time to spot exits you can take in the case of an emergency.
• If you are afraid you're being followed, the best way to check is to pretend you were walking in the wrong direction. Spin around and go back where you came from. If the person continues to follow you, you have the awareness that they could be a threat. Use this information to defend yourself or alert any nearby authorities.
• Learn a few key words in the language of the country you're visiting, such as "police" or "help."
• Map out the route from your hotel to your destination so you do not get lost and find yourself in an unsafe neighborhood.
• Unplug the headphones. Listening to music or a podcast while walking down the street deprives you of one of your senses, hindering your situational awareness skills.
Pedestrian safety
If you are traveling on foot to your destination in a new city, you might be tempted to look down, especially if your smartphone's map is guiding you in the right direction. Before visiting a new country, research basic rules of the road. In some cities, pedestrians do not have the right of way. Motorists in certain countries drive on the opposite side of the road. Always look up, even when your smartphone is leading the way.
Several European cities encourage cycling as an eco-friendly, health-conscious way of getting around. For travelers not used to so many bicycles in use, averting their eyes from a bike lane for a few seconds can be harmful. Being aware of your surroundings when crossing a street that includes a bike lane can save you from any surprise collisions with an unexpected bicyclist.
Being situationally aware during your travels will help you minimize risks.
AIG Travel recognizes the need for greater awareness regarding safety for LGBTQ travelers and women travelers; and developed resources to support and assist them.
Contact your travel insurance provider for further assistance.
The information contained here is provided by Brafton. AIG Travel assumes no responsibility for the use, accuracy, or interpretation of the information contained herein.