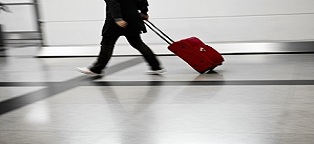 10/09/2017
Understandably, more and more people are concerned with safety when traveling. Security has been tightened in many places around the world, but some still the need for support from a company when they take to the skies. Business travelers often have to head out of town for work purposes - and this can be unavoidable.
The Association of Corporate Travel Executives (ACTE) recently surveyed travel managers to determine whether these individuals were effectively handling the concerns of those who have to be on the road for work.The results indicated that perhaps teams could be utilizing resources in a more efficient manner in order to provide support for employees who travel.
Business travel safety training and communications is key
Over the past six months, 36 percent of survey participants indicated they have had increased requests for immigration and border crossing information. However, 49 percent of travel managers do not provide traveler safety training, according to an accompanying infographic. While business travelers voice their concerns, it seems that more communication is needed to help them feel more secure. It may be surprising, but 21 percent of travel managers do not have "proactive" safety communication with their employees. The advice provided by the ACTE suggested that businesses update how they share information internally in order to enable business travelers to receive the news and security tips they need.
Technology is one way that this can be achieved. At the time of the survey, 83 percent of respondents indicated that they had either brought in new traveler location technology in the past six months, or upgraded current systems. Yet travel managers who worked at companies where the majority of travelers were under the age of 40 were the ones who would probably use or have enhanced the systems by which they track employees traveling for work purposes. The ACTE advises that all travel managers - regardless of firm size or age of workers - learn how to use their systems to help those on the road feel safer.
Crisis management planning is important across all levels
According to the survey, 39 percent of travel managers reported not meeting with higher-ups to discuss emergency plans regarding business travel. In fact, 27 percent of respondents indicated that there was no detailed emergency action plan in place at their firm. It is the responsibility of travel managers to ensure that policies are implemented and the safety of business travelers is guaranteed. They should be proactive and set meetings with company officials to ensure that a strategic plan is in place. Chances are, it might not be used too often, but it is better for a company to be proactive in the event they need to activate a travel crisis management plan.
The ACTE did provide guidelines for travel managers and ways in which they can implement important policy with their company. Travel managers and those responsible for corporate travel should do something about travel safety now. By the time a crisis happens, it might be too late.

Contact your travel insurance provider for further assistance and travel security advice.

The information contained here is provided by Brafton. AIG Travel assumes no responsibility for the use, accuracy, or interpretation of the information contained herein.
From small businesses to multi-national corporations, AIG has a plan to suit your clients' needs-contact your AIG representative to learn more or visit www.aig.com/us/accident. View more information on our brochure.