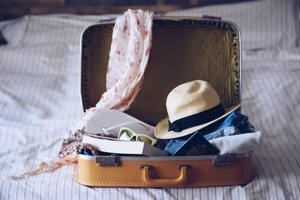 10/07/2019
Whether vacations are few and far between or a monthly occurrence, every traveler possesses high expectations for their trip. From planning and packing to finally setting off, every aspect is building up to hopefully be the best travel experience possible. There can be a lot of pressure for a trip to be perfect, but being able to let go of small details and focus on concrete goals during the planning process can be the first step in having a better time during your trip. With this in mind, we have compiled a master list of tips for travel fans to have the best experience on their next trip.
Plan your trip around an activity or event
You know you want to travel, but it is easy to get hung up on the details of where and when. Even if you arrive to a dream destination, do you have enough planned to make the time worthwhile? For many travelers these questions can be enough to stop them in their tracks and delay actual traveling. One of the best ways to avoid this dilemma and have a truly unique travel experience is to plan a trip around an activity or event.
For instance, you're unsure where to travel with your equally adventurous friends but know that one thing you all enjoy is wine. This would be the perfect opportunity to research the best escapes for wine enthusiasts and plan your trip accordingly. Any hobby or interest can be the jumping off point for planning a trip!
Another, slightly more specific, planning tip is to plan around an event. Sporting events in particular have become worthy of a trip of their own with some airlines offering stadium flights to get fans closest to NFL locations for game day. Enjoy a new city and experience your favorite league sporting event while treating yourself to game merchandise as a special souvenir. The atmosphere surrounding a sporting event will be unforgettable, but make sure that if you're attending an ultimate sporting event like the World Cup or Super Bowl that you book accommodations and flights far in advance.
Check out a travel company for deals
Before getting weighed down by the details of travel, make sure to check a travel management company for deals and planning assistance. For family or social traveling, an agency can help you score additional benefits and take the stress out of planning according to U.S. News & World Report. For business travel, working with a travel management company can help you keep in compliance with booking and spending for your company. Even though these companies charge for their services, they can help find deals and packages that you would not be able to. Not having to worry about planning and having a contact to help you in case of flight cancelations can take a lot of the stress out traveling for a better experience.
Pack light
Ask any experienced traveler and they will probably tell you one of the best things you can do to have a better experience is to pack light. Keeping to the essentials and ideally fitting everything in a carry-on can change the entire trajectory of your trip. Imagine getting off the plane and being able to walk out of the airport without waiting for your checked bag and avoiding the anxiety inducing possibility of lost or stolen luggage. Especially if you're  traveling to multiple destinations in one trip, traveling with only a carry-on can save precious time and get you in and out of airports efficiently.
Packing light also means making sure you're only packing what you need without playing the "what-if" game as the Ordinary Traveler puts it. This means packing by the activities you plan to participate in as well as considering the weather. Layers are recommended for unpredictable climates and make sure to pack extras of essentials like underwear and socks but keep the extra three pairs of shoes at home. Remember that most major cities will have stores for anything that you need while away. If you're in Barcelona and it unexpectedly snows, purchase a coat from a thrift store and use it gently to donate it back saving you money and packing space!
Stay safe
An unexpected accident or lost possession can cast a pall on an otherwise great trip. Taking precautions to stay safe during a trip can actually happen during the planning process. For peace of mind, consider traveling to Tokyo, Japan, rated as the world's safest city in 2019 by the Economist's Safe Cities Index. If you're planning an action packed adventure or a leisurely get away, make sure to get insurance tailored to your travel needs. Being a safe traveler means taking precautions beforehand and staying aware of your surroundings.
With these tips in mind you're on your way to a great travel experience!