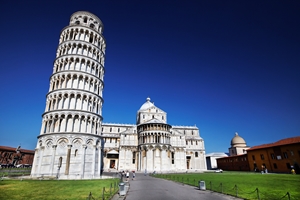 6/10/2014
Italy is more synonymous with the opulence of classical civilization than any other country in Europe. The magnificence of the country's independent city-states in the Renaissance age still survives today in the surfeit of breathtaking architecture that attracts countless tourists every year. The Leaning Tower of Pisa is perhaps one of the most recognizable Italian architectural landmarks, so take a moment to learn some of the impressive history behind this iconic landmark before your Europe travel experience gets underway.
Something of a misnomer
Somewhat ironically, the tower's most notable feature has nothing to do with the purpose for which it was built. Originally constructed to accompany the adjacent Pisa Cathedral, USA Today reported that it wasn't until shortly after its construction, in 1185, that the tower began to tilt, earning its now-common moniker.
True to form for the Renaissance period, the tower was conceived as a symbol of the city-state's prosperity. In fact, you could say that the Tower of Pisa was designed to be a tourist attraction right from the start. Built in the 11th century, the tower came out of the period in Italy's history when rival city-states were constantly locked in political and military strife. The classical tradition of proclaiming the success and superiority of your city through architectural achievements has left behind these stunning cultural artifacts that stand today as reminders of the civilizations that came before.
A stunning urban centerpiece
Pisa's leaning tower stands as a perfect accent to the city's Piazza dei Miracoli, or Square of Miracles. This UNESCO World Heritage Site was built in 1064, centered around the cathedral dedicated to Santa Maria Assunta. According to DiscoverTuscany, the piazza complex was a very significant part of classical Italian architecture, laden with spiritual meaning. The piazza's main structures, its baptistry, the cathedral and the accompanying graveyard are said to symbolize birth, life and death respectively.
The leaning tower overlooks the entire piazza. Additional construction was conducted in 1275, with extra levels being added. The tower was eventually repurposed as a bell tower for the cathedral, with a belfry being added in 1325. Interestingly, the tower isn't the only structure in the city with a unique cant. According to TowerofPisa.info, the cathedral and baptistry are also sinking due to eroded subsoil. In truth, the leaning tower is merely one of the most recognizable landmarks in what is something of a leaning piazza.