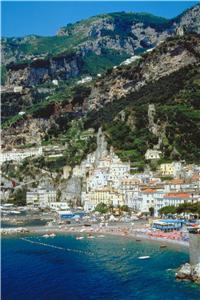 04/19/2010
Whether it's the location of an amorous rendezvous with one's significant other or a honeymoon for a pair of newlyweds, Italy has gained a reputation as one of the world's premiere destinations for romance travel. And while more popular travel destinations like Venice or Florence may draw thousands of tourists to their storied streets with their beauty, few things match the epic scenery and natural vistas of the city of Ravello.
Located near the city of Salerno in the Campania Region, Ravello is a peaceful commune situated above the Amalfi coast. Historically a maritime city, the town has developed into something of a mecca for artists and writers with notable names like M.C. Escher, Virginia Woolf, Gore Vidal, Truman Capote and Tennessee Williams lured to it's shores.
One of the key stops in the city is the Villa Cimbrone, a lush and palatial villa with beautiful public gardens, ancient marble statues and the Terrace of the Infinite, an excellent vantage point atop a sheer cliff that provides an unforgettable view of the Mediterranean. Other notable sights include the beautiful Villa Rufolo, the stunning Duomo (Cathedral) of Ravello and the famed Church of San Giovanni del Toro, an 1,000-year-old structure that contains the Bove pulpit.