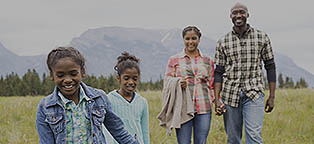 07/10/2017
The summer season is the perfect time to plan a family vacation - the kids are out of school, the weather is usually better and plenty of seasonal attractions are up and running. Planning for family travel can be a lot of fun, but requires a different approach than you might take when planning a solo trip or an adult-oriented vacation. Getting to your destination with kids in tow doesn't need to be a challenge - just be sure to plan ahead for an easier trip.

Traveling with kids at the airport
The best way to simplify family travel is to give yourself plenty of time. That means packing ahead of schedule and leaving extra early for the airport. Your kiddos don't usually have the same sense of urgency that you might. Rather than get panicked and frustrated that you're running late, leave yourself plenty of time to adjust if your little ones need an additional pit-stop on the way. To save time, print off your boarding passes at home, or pull them up on your smartphone. It will help you skip some of the lines once you arrive at the airport.

Parents Magazine suggested that you explain the airport experience to your kids before you get there. It will help prevent any anxiety-induced meltdowns kids can experience when they're in an unfamiliar and chaotic environment. Reassure them that any items they have to place on the security conveyor belt will come right back to them and that going through the metal detectors will be safe. Dressing your kids for the security line will help the process go quickly - no large jackets or sweatshirts or metal accessories. If your kids are under 12 they won't need to remove their shoes, but if they're older, have them wear flip-flops or slip-ons that will be easy to remove and put back on after.
If all goes well, you may find yourself with some extra time to kill before you can board your flight. Pack plenty of quiet activities to help keep your kids entertained. Coloring books, portable DVD players with headphones or games that can be played silently are all good options for waiting in the terminal and being on the plane. Remind your children that there will be many other people in the same space they're in, so it's important to be respectful and quiet. Once you've made it through security and found your gate, going for long walks through the airport with your kids can also help them burn extra energy before they're forced to sit still on the flight.

Take everyone to the restrooms before you get on the plane - you won't be able to get up again from the time you board until you're in the air. Likewise, make sure your kids use the facilities before the plane starts to descend into its landing. If your child is small enough to still need a car seat, the Federal Aviation Administration has recommended using it on the flight. This will require you to purchase a seat for your child - only kids under the age of two can sit on a parent's lap during a flight.
Keep snacks and beverages in your carry-on bags. You can't carry liquids through airport security, unless they're in containers of three ounces or less - but you should be able to buy juice or water at kiosks in the airport terminal. Though some airlines will have food and drinks available for you to take or purchase, it's better to be in control of your kids' eating schedule and keeping food ready for them when they need it.
Speak positively about the airport experience with your kids before you arrive. If you show them that you're stressed about the process, it will give them a reason to worry. By staying calm and optimistic about the "adventure" you're all going on, you can set them up to approach air travel in a favorable way, which could greatly improve their mood and behavior once they're there.

Traveling with kids on a road trip
There's so much to love about going on a road trip, from the unique sights to the freedom of controlling your own travel schedule. Long car rides aren't always a kid's favorite activity, however. If you need to travel by road this summer, plan with your kids entertainment in mind for an easier trip. Travel Pulse stated that parents should try and stick to their usual schedule when traveling with kids. That means meals should be eaten around the same time, and if you need to stop for the night, try and time it so your kids can follow their usual bedtime.

As with air travel, you should pack plenty of activities for your kids to help them stay entertained on the road. Travel-sized games, movies and books can be great ways to keep them occupied. Of course, you can't forget about classic car games, either. From "I spy" to "20 Questions," make sure your kids unplug from time to time and engage in other activities during our trip. Make fun stops at interesting roadside attractions and point out unique sights as you pass by. Some of the best memories you can make when driving to a destination occur while you're on the way there, so don't let you kids just check out and only focus on a screen.
Travel + Leisure added that it's important to let your kids get some exercise on the road as well. Stop from time to time just to get out and stretch or walk around. It will help prevent any cramping or soreness, and may help antsy kids burn some built-up energy. If your schedule allows for flexibility, let your children plan parts of the trip as well. It will keep them more interested if they have a say in what they're doing. Whether it's the choice between the hotel you stop at, a restaurant they can pick for dinner or an option on the route you take, letting your kids have a say can help them feel more invested in your travels. However you decide to travel this summer, the same principles will apply. Just plan ahead, keep your kids entertained and stay positive, and you can have a smooth trip full of fun memories.
Contact your travel insurance provider for further assistance.

The information contained here is provided by Brafton. AIG Travel assumes no responsibility for the use, accuracy, or interpretation of the information contained herein.